RIMM is a stock with strong believers and some skeptics, the latter of which are mostly analysts influenced by the declining performance of its US operations or the questions regarding the long-term potential of its technology proprietary mobile platform.
Current Recommendation Opinion by 51 Analysts
Strong Buy 5
Buy 20
Hold 19
Underperform 5
Sell 2
Fundamentals
Market Cap

36.6B

Beta

1.94

Revenue (FYR)

$18.4B

EPS (TTM)

$5.84

Shares Out.

523.4M

Book Value

$15.41

P/E

12.0x

Price/Sales (FYR)

2.0

P/Cash Flow (TTM)

9.0x

Operating Margin

23.92%
S&P's risk assessment is high for RIMM. It refers to intense competition from larger and better-capitalized companies, RIMM's need to enhance its current products and develop new products to increase its BlackBerry customer base, and dependence on carrier partners to sell new BlackBerry devices. While the company benefits from the success of its older handsets, S&P expect new models in FY 12 to drive growth. Handheld revenues should generate the strongest growth, with service revenue and a new contribution from tablets. Enterprise adoption of Blackberry 6 and the new Torch should continue to drive growth throughout FY 11.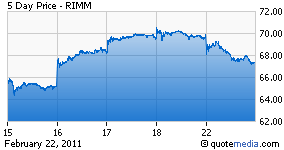 The stock trades at about 8.8X S&P's FY 12 EPS projection. The company forecasts above-average earnings growth of 8% over the next three years. There is a 12-month target price of $80, which is based on a peer average P/E-to-growth (PEG) ratio of about 1.5X and a below average P/E of 12X for their FY12 estimate.
RIMM has recently succeeded in penetrating the consumer market. While traditionally focused on the enterprise market, the company has launched new consumer-oriented products, increasing its handset base to over 50%.
BlackBerry handheld units represented 81% of total revenue in the third quarter of FY11 (Feb.), up from 79% in the preceding quarter, relying on strong unit growth. RIMM's service revenues contributed 15% in the third quarter, down from 17% in the second quarter, and other software, OEM, accessories and other revenues accounted for 3%, down from 4% in the second quarter. Handheld sales were the driver in FY11, and S&P expects this trend to persist in FY12, due to new devices, the new operating system introduced in the August quarter, and the introduction of tablets in FY12.
RIMM said in February that it plan to launch new Playbook tablets, which would be Android compatible in the second half of 2011, for LTE, WiMax and HSPA+ networks. It plans to launch in June a second venture capital fund of US$150M for mobile computing. RIMM acquired Swedish mobile software designer The Astonishing Tribe AB, last December.
The Blackberry App World had US$165M in revenues in 2010, according to IHS. The market share increased from 4.3% in 2009 to 7.7% in 2010. RIMM is in second place after Apple (NASDAQ:AAPL), but before Google's (NASDAQ:GOOG) Android.
RIMM's revenues segmentation
| | |
| --- | --- |
| 2010 Revenue by industry | 2010 Revenue by market |
| Devices: 81.0% | Canada: 5.6% |
| Service: 14.4% | United States: 57.6% |
| Software: 1.7% | Other: 36.7% |
| Other: 2.8% | |
Tim Long of BMO argues that the distribution channels of RIMM are encouraging. He expects strong demand from Latin America, Europe, Asia and Africa, which should easily offset the stable growth of USA. Torch price levels should provide more revenues to RIMM. Several stock analysts focus on the USA markets, while international represents now two thirds of its sales and it's growing at a three digits level. It has changed quickly.
The average price of a Blackberry is around $300, while iPhone is at $600 and Nokia (NYSE:NOK) at $200. However, the OS of RIMM is much better than the one of Nokia and its ecosystem is growing faster. Some argue that RIMM could sell more than 1M additional devices in the Nokia-Microsoft (NASDAQ:MSFT) transition. For Kris Thompson of National Bank Financial, this transition could bring $1.3 billion more revenue for 2012 (around $0.30-$0.40 more EPS).
RIMM recently acquired the start up Gist for the possibility to re-invent the phone address book and make it integral to its core offering. It is related to its core strength - namely, messaging. By making the address book more networked and more social, RIM can build a social inbox, much like the one being promoted by Facebook. Research in Motion is betting that its present customers (and new customers) would like to be shown this kind of information about their contacts quickly and easily. [Source: ReadWriteWeb]


RESEARCH IN MOTION

Current P/E

Industry

Market

11.9x Trailing

69.2x Trailing

21.7x Trailing

10.3x Forward

16.0x Forward

14.6x Forward

11.1x 2011

16.5x 2011

14.7x 2011

10.5x 2012

14.4x 2012

12.5x 2012
Consensus Target Price of 44 Analysts: US$70.36
Consensus Information - EPS US$
| | | | | | |
| --- | --- | --- | --- | --- | --- |
| Periods | Date | # Ests. | Mean | High | Low |
| 2011 | Feb. | 55 | 6.31 | 7.03 | 5.94 |
| 2012 | Feb. | 56 | 6.68 | 7.84 | 3.98 |
| LTG % | | 9 | 21.46 | 45.00 | 6.00 |
Source: Forecasts provided by Thomson Reuters I/B/E/S - Updated weekly

Assuming RIMM's P/E ratio reaching the average of the industry, it would give a P/E ratio of 16X. With an average forecast of $6.31EPS by 44 analysts, it would give a valuation around $101. With a share price of $67.42, it represents a 50% upside potential, in one year to 18 months. A conservative forecast would give half of this P/E ratio increase at 14x Fiscal 2011 EPS. A target price of $88 seems reachable in one year. This would provide a 31% growth potential over the February 22th share price.
I believe RIMM has a decent business model, with revenue growth driving its earnings gains and operating cash flow. RIMM is investing in research and development to benefit from demand for smartphones, with a variety of new devices, unlike peers which are rebuilding their product pipeline while looking to reduce their cost structure. The company has $2.5 billion of cash and short-term and long-term investments and nearly no long-term debt. In the November 2010 quarter, RIMM repurchased 2.9 million of its shares for $133 million.
In the enterprise vertical, data center consolidation, server virtualization, and cloud computing are gaining widespread acceptance. S&P forecasts that the industry is undergoing a technology shift toward convergence, where customers require a product platform that offers computing, networking, storage, and other applications all in one box. Thus, market segments have blurring, with traditional data networking companies like Cisco Systems (NASDAQ:CSCO) finding themselves in competition with server and computing players. The need for integrated solutions should continue to push companies to aggressively partner or acquire missing technologies to cope with those trends.
Sources: Financial Post, First Call, Standard & Poor's


Disclosure: I am long RIMM.