Demand Media (DMD) reported its fiscal fourth quarter earnings, its first report as a public company, after the market close on Tuesday. DMD turned a profit of $1 million in the last three months of 2010, however, because of the conversion of preferred shares to common stock as part of the firm's recent IPO, the books show a loss of $7.6 million, or 54 cents per share. The $1 million profit compares with a loss of $3.9 million in the prior year period. Revenue for the fourth quarter hit $73.6 million, marking a 33-percent year-over-year increase. DMD shares closed up 1 percent, at $22.88, on Tuesday.

Highlights From the Call

DMD Chairman and CEO Richard Rosenblatt spoke at length about some of his company's recent successes. The highlights surround DMD's three primary owned-and-operated websites -- eHow, Livestrong, and Cracked -- and its direct advertising sales and marketing efforts.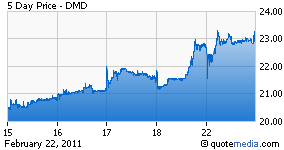 Rosenblatt noted that more and more people get to eHow.com, Demand's flagship property, by typing the URL directly into their browser. He pointed out that the growth rate of instances where people accessed eHow directly outpaced the growth rate of people coming to eHow via search engines in the fourth quarter.
Looking past eHow, which many DMD pundits rarely do, Rosenblatt explained that Livestrong.com has become the top website in the "health domain," according to comScore. Livestrong's calorie tracking mobile app became the "all-time top-grossing" Health & Fitness app in Apple's (NASDAQ:AAPL) iTunes store, according to the call.
Another site rarely mentioned as DMD-owned, Cracked.com, surpassed names such as the Onion and Funnyordie.com in terms of most visits to a U.S. humor website in the fourth quarter.
An increasing number of visitors to DMD sites are being referred from social networking sites, such as Facebook. For instance, Rosenblatt reports that Facebook users shared more than 100,000 eHow articles in the month of December.
DMD continues to work on securing deals to provide content for brands it does not own. It already has deals with outlets such as Hearst and NFL.com and is looking to add more of these types of arrangements.
Rosenblatt says the company will build out its direct sales and marketing team in 2011. It recently moved into a larger sales office in New York City and opened a new sales location in Chicago. It has inked sales and marketing deals with clients ranging from Dole to Charles Schwab.
Another key takeaway from the confernece call was when Rosenblatt addressed the quality of DMD's content, particularly on eHow. I think this point was more salient than when Roseblatt directly addressed concerns over DMD content not showing up if Google (NASDAQ:GOOG) tweaked its search engine in an unfavorable way. Roseblatt argued that DMD fills a gap in online content. He conceded that many of the articles the company commissions its freelancers to write serve a niche population. Using several examples, however, Rosenblatt argued that thousands of people search for answers to some of the world's most obscure questions, yet search results do not provide immediate and targeted answers. By writing about the seemingly mundane, DMD fills this gap and generates significant traffic to the specific article and eHow, generating meaningful revenue in the process.

Conclusion

If nothing else, Rosenblatt can describe, and even get somebody excited about, Demand's model quite well. As somebody who freelances and does contract work for the company, I have often found myself conflicted about what Demand does, where its headed, and its broader impact. As somebody with first-hand experience working with DMD, I can vouch for some of the things Rosenblatt had to say, particularly the fact that the company takes quality control vis-a-vis its online content quite seriously. An eHow article published today reads a heck of a lot better than an eHow article published two years ago.

That said, I am not ready to buy DMD shares just yet. Rosenblatt said a lot of the right things. It's encouraging to know that DMD experienced significant growth in visits to its properties outside of Google searches. DMD will have to show further, sustained increases, however, in people connecting with their sites through social media and other avenues, including typing URLs such as eHow.com into their browsers directly, for me to actually get excited. It's also a positive sign that DMD is building out its own sales force, which should make the company less reliant on revenue from Google ad clicks and its registrar business. Like most IPOs, post-2000, I prefer to stay on the sidelines until favorable news like DMD's 4th quarter results repeats itself for at two more quarters.

The notion that DMD fills a "gap" in the noise generated by the constant flow of online content proves most encouraging. In any crowded marketplace, if you can succeed at filling gaps with a quality product that people can attach themselves to -- from both utilitarian and emotional standpoints -- you stand a chance of enjoying long-term success.



Disclosure: I am long AAPL.

Additional disclosure: I freelance and do contract work for Demand Media. I do not own DMD shares, nor do I intend to initiate a position in the next 72 hours. I have no position in GOOG nor do I intend to initiate one in the next 72 hours.