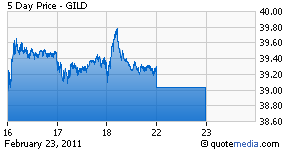 What a change a decade makes. Back in 2001, Gilead (NASDAQ:GILD) was a high-flying biotech, in the early legs of its growth projectory. Management at the time was laser focused on the company's HIV franchise, deciding to sell its oncology assets to a little company called OSI Pharmaceuticals (OSIP) for $200 million.
Since then, Gilead has grown into a monster stock with $8 billion sales and close to $3 billon in profits- becoming one of the best-run operations around.
Beginning in 2006, returned to diversification in a bid to maintain its growth momentum. The company's $365 million purchase of Corus followed by its $2.5 billion acquisition of Myogen made it a player in the pulmonary/respiratory space. CV Therapeutics was added on in 2009 for $1.4 billion, adding cardiovascular medicine its repertoire.
Simply put, investors were not impressed.
But management had decided on diversification and continued to follow through. In a sign of things to come, Gilead bought CGI Pharmaceuticals for $120 million in June 2010. This was a return to oncology for Gilead, for CGI specialized in designing kinase inhibitors to treat cancer and inflammatory diseases. The company's SYK kinase inhibitor may have drawn the most interest due to the efficacy seen by such an inhibitor from Rigel.
Before the year ended, Gilead had made another small acquisition, Arresto Pharmaceuticals, for $225 million. Arresto had a lead antibody in Phase I clinical trials for both solid tumors and Idiopathic Pulmonary Fibrosis (IPF). This was Gilead firs foray into antibody therapies. Arresto was a step up from the CGI acquisition; the drug candidate was further along in development and the price was higher. The molecule also took on increased importance when ambrisentan from Myogen (MYOG) failed in a trial for IPF. This new antibody was now Gilead's lead IPF candidate.
Now, barely two months after swallowing Arresto, Gilead has announced the acquisition of Seattle based Calistoga Pharmaceuticals for $375 million down and $225 million in future milestones. The trend continues, higher price, more mature compound. I posted an article on the merits of Calistoga back in June 2010. Their main product is CAL-101, a selective inhibitor of PI3K delta (there's an alphabet soup of PI3 kinases). Most PI3K inhibitors in the clinic today are not highly specific; the delta isoform has seen its profile increase substantially as understanding of the pathway grows. It is seen as a key mediator of inflammation and cancer cell survival.
With Calistoga in its fold, Gilead instantly becomes a legitimate player in concology. CAL-101 has shown impressive results in indolant non-hodgkin's lymphoma, and chronic lymphocytic lymphoma in early stage studies both as single agent and in combination with other drugs, including Rituxin. In comparison, most PI3K inhibitors in developmnet show only modest activity as single agent and are expected to be efficacious only in combination treatment.
Calistoga had been planning a registration trial for lead compound CAL-101, originally set to start this year. it will now depend on Gilead going forward.
By the end of 2011, Gilead will have a promising pipeline of oncology projects ranging from pre-clinical to Phase III. It may be time to give the company another look.
Disclosure: I have no positions in any stocks mentioned, and no plans to initiate any positions within the next 72 hours.