Last week, the reality was that the National Association of Home Builders' housing market index was flat (again) with a depressed reading of 16. And the reality was that housing starts rose 14.6% in January - but that's down 2.6% on a yearly basis. But more telling is that housing permits fell 10.4% (and are down 10.7% year-on-year).
But those realities didn't stop home builders from having a good couple of days last week [Toll Brothers (NYSE:TOL), Lennar (NYSE:LEN) and KB Homes (NYSE:KBH) jumped better than 2% on the housing starts report].
Until yesterday, when the S&P Case-Shiller 20-city index showed that home prices fell 1.0% in December - and are down 2.4% year-on-year. Economist Robert Shiller added another dose of reality, as he considers "the probability of another 15%, 20% even 25% real home price decline as substantial." And in short order, home builders dropped.
While reality sunk in for home builder stocks, it hasn't dampened optimism.
KB Homes plans to open 70 new communities in the first half of this year, and increase its average community count by 25%. And to achieve that goal, the home builder will spend between $600 and $700 billion on new land.
And then there's "EPG". That's Energy Performance Guide. KB Homes will now be stamped with an energy efficiency score, much like a car's MPG. The EPG rating will estimate a home's monthly utility costs, and "It's going to be a game changer in our industry", according to CEO Jeff Mezger.
It might change the game…but will it attract buyers? Maybe not. After all, when it comes to a vehicle's MPG, our "affection for gas-guzzling vehicles makes them seem like window dressing" (Wall Street Journal).
The reality of the housing market doesn't warrant too much optimism, particularly given that the Mortgage Bankers Association announced last week that 1 in 7 mortgages are overdue or in foreclosure. And really troubling: according to CoreLogic's U.S. Housing and Mortgage Trends Report, the National Association of Realtors' existing home sales data has been overstated by as much as 15 to 20%.

The bottom line: home builders are technically in a positive trend (as represented by SPDR S&P Homebuilders (NYSEARCA:XHB), which is trading 8% above its 200-day exponential moving average, after falling 4.19% yesterday. But reality, and the fundamentals of the housing market, suggest caution.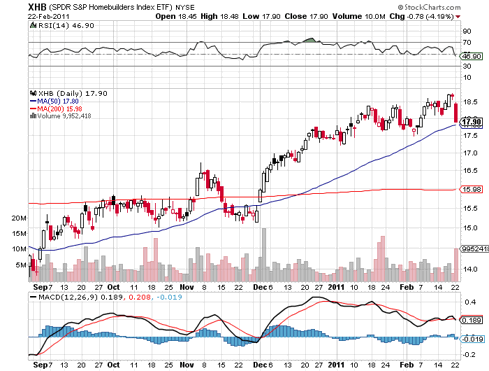 (Click to enlarge)

Disclosure: I have no positions in any stocks mentioned, and no plans to initiate any positions within the next 72 hours.