With most data center related companies having already reported their quarterly earnings, it may be time to have a look at how the market reacted to each company's latest numbers.
As you may notice, the picture is mixed. (click to enlarge)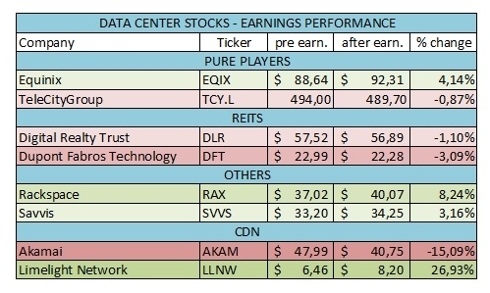 We divided the stocks into several categories: network neutral data center players, REITs and other data center related companies whose business model also includes hosting or cloud offerings. Lastly, we also considered the CDN players, as related to the main category.
The best and worst results come from the CDN sector, as Akamai (NASDAQ:AKAM) suffered a 15% decline after earnings, while competitor Limelight Network (NASDAQ:LLNW) experienced an almost 27% gain for the day following the release of its Q4 results.
Both REITs experienced a small loss in the trading day after earnings, with Dupont Fabros (NYSE:DFT) leading with a 3% loss, while Digital Realty (NYSE:DLR) suffered a small minus 1%.
The top performing sub-segment seems to be the "other" category, as good numbers and cloud computing hype seemed to support an uptrend for both Rackspace (NYSE:RAX) and Savvis (NASDAQ:SVVS), after earnings.
Equinix (NASDAQ:EQIX) delivered a positive 4% after earnings, in spite of suffering, at the open, from the negative sentiment after both Cisco Systems (NASDAQ:CSCO) and Akamai guidance for 2011 disappointed the Street. TeleCityGroup (OTCPK:TLEIY), listed on the London stock exchange, lost about 1%, in spite of a good earnings report.
It may also be worth noting that all stocks enjoyed a positive performance in January, with gains ranging from 2.7% (Akamai), to roughly 20.6% (Savvis):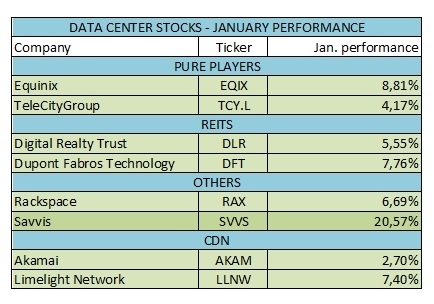 Disclosure: I am long EQIX.