The Washington Post Company (WPO) today posted fourth-quarter 2010 results. The quarterly earnings of $11.59 per share showed a substantial increase from $9.85 delivered in the prior-year quarter on the heels of strong performance in the Television Broadcasting division.
The quarterly earnings also came well ahead of the Zacks Consensus Earnings Estimate of $8.72 per share.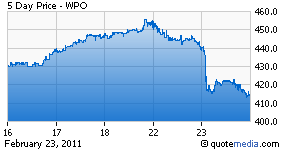 On a reported basis, including one-time items, quarterly earnings came in at $9.42 per share, reflecting a rise from $8.71 posted in the year-ago quarter.
Revenue for the quarter inched up 0.3% to $1,190.0 million from the prior-year quarter, driven by strong revenue growth at the Television Broadcasting offset by decline in Newspaper & Education divisions. The quarterly revenue also came ahead of Zacks Consensus Revenue Estimate of $1,187.0 million.
Education division's revenue inched down 1.0% to $699.8 million, reflecting 3.0% decrease in Higher Education revenue and with 19.0% fall in Kaplan Ventures revenue offset by 5.0% rise in Kaplan International revenue and 1.0% rise in Test Preparation revenue. Total operating income for the division tumbled 18.0% to $64.9 million.
Total Kaplan Higher Education enrollments plunged 8.0% to 96,701 as of December 31, 2010.
Kaplan Higher Education recently launched a new program called 'Kaplan Commitment', under which, the students of KaplanUniversity, KaplanCollegeand other Kaplan Higher Education schools may register to undergo classes to evaluate whether their educational experience commensurate with their needs before incurring a financial obligation. Kaplan will also carry out academic evaluation in order to gauge the probability of the student's success in the chosen field of study.
The company also notified that those students who wish to withdraw from the program during the stipulated period, defined as risk-free period, and students who do not clear the academic assessments will not be required to pay for the coursework.
New student enrolments dropped 47.0% during the quarter, negatively impacted by number of students that chose to discontinue after the risk-free period along with sluggish demand.
Television Broadcasting revenue soared 28.0% to $102.9 million during the quarter, whereas operating income surged 56.0% to $45.3 million, reflecting improvement in advertising demand in all of the markets and majority product categories, primarily automotive. Political advertising revenue grew $17.6 million during the quarter.
Cable division revenue saw a marginal increase of 0.4% to $191.3 million from $190.6 million in the year-ago quarter. The division's operating income was $37.4 million, down 20.3% compared with the previous-year quarter.
Newspaper Publishing revenue decreased 3.0% to $188.4 million. Print advertising revenue at The Washington Post declined 12.0% to $82.0 million, reflecting a fall in general, classified and retail advertising. Revenue from newspaper online publishing activities, principally washingtonpost.com and Slate, increased 13.0% to $35.5 million, whereas display online advertising revenue soared 12.0%. Online classified advertising revenue on washingtonpost.com climbed 5.0%.
The Newspaper divisions operating income stood at $19.9 million, reflecting a sharp improvement from an operating income of $3.2 million witnessed in the prior-year quarter.
The Washington Post repurchased 1,057,940 shares of Class B aggregating $404.8 million, during 2010.
Currently we maintain our long-term Neutral' recommendation on the stock. Moreover, The Washington Post which faces stiff competition from The New York Times Company (NYSE:NYT) holds a Zacks #3 Rank, which translates into a short-term 'Hold' rating.