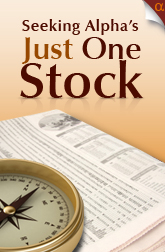 Several times a week, Seeking Alpha's Jason Aycock asks money managers about their single highest-conviction position - what they would own (or short) if they could choose just one stock or ETF.
---
John Del Vecchio is co-portfolio manager of the Active Bear ETF (NYSEARCA:HDGE), and principal and founder of short-only firm Parabolix Research. A CFA, he previously managed short portfolios for Ranger.
If you could only hold one stock position in your portfolio (long or short), what would it be?
One stock that we like short are shares of AsiaInfo-Linkage (NASDAQ:ASIA). The company is a provider of software and security solutions to telecommunications customers in China.
Tell us more about the company behind the stock.
Our primary concern with ASIA is our view that the company is likely overstating its sustainable revenue growth by a significant, and increasing, margin. ASIA's unbilled accounts receivable have surged in recent quarters, an indication of possible acceleration of revenue recognition. When a company utilizes percentage-of-completion accounting, it will have an unbilled receivable which represents revenue recognized in advance of billing the customer. Aggressive managements may use the unbilled receivables as a way to front-load revenue recognition from projects that are yet to be completed. In essence, it is an estimated account. What's more, the profitability of the projects prior to completion may be estimated as well.
This metric is a little bit obscured by an arrangement that they have with IBM where they act as a sales agent and generate service revenue. However, backing out the IBM arrangement to calculate the changes in unbilled A/R is startling! The unbilled portion of A/R had accounted for roughly 50% of the total receivables balance historically. But, beginning in March 2009, the account began to surge and eventually accounted for all of the increase in ASIA's receivables. In the September 2010 quarter, it increased approximately 100% on a revenue increase of 90% indicating that the unbilled receivable is still contributing an increasing proportion to revenue growth. In essence, the growth of the company has to be taken with a grain of salt.
While ASIA's unbilled A/R has been surging, deferred revenue has fallen sharply. The depletion of this account not only has served as a drain on cash flow, but also portends a slowdown in revenue in future quarters. Days in deferred revenue have dropped year-over-year for six consecutive periods. As DSOs [days sales outstanding] have grown, the relationship between DSO to deferred revenue days has ballooned to 184 days in September 2010 from 101 days in the year-ago period, and compared with just 13 days two years ago.
While percentage-of-completion accounting can lead to accelerated revenue recognition by increasing revenues booked in advance of billing the customer, it may also overstate profit margins as management estimates the profitability of the projects in the interim. Again, it's a management-estimated account.
So what about earnings?
Interestingly, while ASIA's unbilled A/R has surged, so did its profitability. Gross margin exceeded 61% in the March 2010 quarter, a 750 basis point improvement. Operating profit margin improvement topped 1,000 bps. Profit margins were above expectation and the tone of the quarterly conference call indicated confusion as sell-side analysts were modeling their estimates going forward. One very plausible explanation for higher top-line growth without corresponding expense is accelerated revenue recognition, as witnessed by the increase in unbilled A/R. Then the wheels started to come off as gross profits nosedived to 44% and 45% in the last two quarters. While margins have compressed, accounts receivable have continued to surge, which heightens the risk of a top-line miss that will filter through the entire income statement.
What could exacerbate the top-line contraction is that cuts of capex spending may be understated. Major telecom providers in China projected to upwards of 20% in 2011 and 30% in 2012, with the trend in capex falling from 25-30% of revenues down to 15-20% of revenues. ASIA has already pulled a lot of future revenue forward into current periods. The absence of accelerating demand is what increases the propensity for disaster ahead.
How does your choice reflect your fund's investment approach? Tell us more about your approach and goals.
The Active Bear ETF (HDGE) is a short-only, actively managed exchange-traded fund. We seek to find companies that utilize aggressive accounting to mask a deterioration in their business. We then trade around our positions and allocate capital toward stocks that fit our fundamental parameters but are also vulnerable from a technical perspective. So, we combine forensic accounting and tactical analysis to generate alpha on the short side of the market.
In our opinion, ASIA is aggressively booking revenues. I know of no better strategy to find potential time bombs than companies that are aggressively recognizing revenue. In an extreme case, if the revenue of a company were fictitious, the entire financial model would be smoke and mirrors. So, while Wall Street focuses on earnings per share, we focus on the top of the income statement along with the balance sheet and cash flows. The "bottom line" is meaningless if management is pulling multiple levers on the income statement to juice earnings that result in unsustainable profits.
How much is your selection based on ASIA's industry, as opposed to a pure bottom-up pick?
ASIA will get a premium baked into the expectations and stock price because China is a big growth story. The problem is, doing business in China is no sure thing. When I started my analysis on ASIA, I came across chatter that the government may begin to equalize the market shares of the three primary vendors: China Telecom (NYSE:CHA), China Mobile (NYSE:CHL), and China Unicom (NYSE:CHU). That's a wild card, but it could significantly undermine the growth opportunities there. ASIA generates its revenue from all three companies, but China Mobile has been the biggest component of its revenues, with about 50%.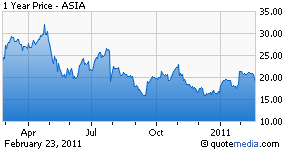 China Mobile is a clear leader in the space, with the largest market share, service, and brand equity. However, 65% of China Mobile's ARPU [average revenue per unit] is related to SMS messaging. According to Informa, this market is expected to grow at only 6.8% annually over the next five years. While mobile Internet is expected to grow more robustly at 19%, China Mobile already has 65% share. Other added services may grow faster, but they currently represent a nascent part of the market.
China Mobile also does not have the standard platform, while China Unicom does and is the biggest beneficiary of the standard. Of note are the product offerings by each company. China Unicom has partnered with Apple (NASDAQ:AAPL) to offer an iPhone, while China Mobile has decided to develop its own technology with its O-phone. The iPhone, with its hundreds of thousands of applications and billions of downloads, is quickly becoming an open architecture (a departure for Apple in some regards) and has allowed the iPhone to capture significant share. By partnering with Apple, China Unicom quickly gains a stronghold in smartphone technology due to the myriad of applications which dwarf all other competitors.
I am skeptical of the growth story in part because of pricing trends. While penetration is currently 60%, a survey by Sina.com suggests Chinese consumers are highly price sensitive. Nearly 50% suggested that they are not willing to pay additional charges for 3G service. Of the other 50%, nearly two thirds are willing to pay less than RMB20 per month more than they already do (approximately less than $3).
How is AsiaInfo positioned with regard to competitors?
They have an advantage in being a China-based company, and their customers that account for 89% of their revenue are China Mobile (50%), China Unicom (17%), and China Unicom (22%) - which is up from 83% a year ago. So, there is significant revenue concentration as opposed to other vendors of IT and security software in the telecommunications space.
How does the stock's valuation compare?
Relative to an Amdocs (NYSE:DOX) or CSG Systems (NASDAQ:CSGS), shares of ASIA are richer. I look at the multiple to revenue rather than earnings. My primary issue with the company surrounds its revenue recognition policies. The stock trades at over four times revenue. When you find multiples of 3x or more, or the company trades at 1.5x the revenue multiple of its sector and revenue is potentially overstated, I think there are excellent opportunities on the short side of the trade.
Earnings that are inflated, on the other hand, can make the P/E multiple look attractive. Accelerated revenue recognition that also overstates profit margins only compounds the distorted P/E. But, the "E" in the ratio isn't real or sustainable. To the contrary, the multiple is often much higher than what is reported. So, on a P/E basis at 13, ASIA may look cheap. But, in my opinion, it's a value trap.
Does your view differ from the consensus sentiment on ASIA?
There's a bit of hype around China as the greatest growth story on Earth. Others think it's the biggest ponzi scheme. My view is that every company is guilty until proven innocent and given the opaque nature of China in general, a more skeptical eye needs to be used when analyzing companies doing business there.
The stock has been incredibly volatile as I have followed it over the last eight months, with a couple of disappointing earnings releases and more recently a favorable view on performance. Since then, the stock is essentially unchanged to down slightly in a very strong stock market. Had the market been more conducive to shorting stocks in the past few months, I think shares of ASIA would have fallen into the $12 range.
My view relative to expectations is that the growth needs to come down even more. Expectations of 25% long-term growth were clearly overly optimistic, and I believe 18-20% is aggressive as well. It's also interesting that as margins were expanding from September 2009 to June 2010, Wall Street analysts didn't quite "get it." I didn't see anyone question the potential margin boost from the ramp in unbilled receivables. Therefore, gross margins may remain compressed, in my view. Certainly, prior levels of high 50%-plus gross profit margins will be tough to achieve with a slowdown in revenue given that the receivables continue to balloon and margins have compressed.
Analysts have a median price target of $27 (ASIA closed Tuesday at $19.58), and shares still jumped after earnings a few weeks ago. Is it possible observers are still looking too much at contributions coming from the merger with Linkage, and not enough at margin problems?
With respect to Linkage, we are skeptical of the acquisition. It was announced as the company increasingly utilized aggressive accounting, which is telling us the underlying business is slowing. In addition, cash flow has been weak. Generally, acquirers get a benefit when they collect on A/R or liquidate acquired inventory. This tends to overstate cash flow. The fact that it's weak indicates it is probably much weaker than reported on a sustainable basis.
Does the company's management play a role in your selection?
As a short seller, I have found it difficult to glean much from management. As soon as you start asking a CFO very specific questions about line items on the income statement or balance sheet accounts, they know you're sniffing around to assess the red flags and potholes in the story. There are some management teams that historically have been aggressive, and I may note that for additional consideration, but it is not the primary area of analysis that leads to a high level of conviction on the stock.
What catalysts, near-term or long-term, could move the stock significantly?
The biggest catalysts are the deferral of new projects that slow down future revenue generation. If a company has accelerated its revenue recognition, as we think ASIA has, it becomes increasingly difficult to find new sources of revenue to plug the hole from the revenue that was "stolen" from the future.
These tend to be shorter-term trades. The long-term fundamentals for a company might look very favorable, and the communications business in China is certainly going to evolve. But every company faces challenges in their business at one point or another. To the extent that significant amounts of revenue have been pulled forward, management is under increasing pressure to meet expectations. Combine that with a rich multiple to sales, and a significant downward move in the stock price is highly probable.
What could go wrong with your pick?
Conversely, a significant reacceleration in growth would be detrimental to our thesis. This would allow the company to have successfully bided time to find new sources of growth while they pasted over a slowdown in their current business. The problem is, if demand were robust in the first place, management has no incentive to reach into the future and pull revenues forward. Everything takes care of itself when your product is flying off the shelves. When it's not, and you try to cover it up, then it gets ugly. I have seen that movie many times before, and it never has a happy ending.
Thanks, John, for sharing your thesis with us.
You're very welcome!
Disclosure: Short ASIA.
Read more Just One Stock interviews »
If you are a fund manager and interested in doing an interview with us on just one stock or ETF position you'd hold, please email us at Just One Stock.