Salesforce.com (NYSE:CRM) is a fast growing player in the cloud computing market that offers products such as cloud-based customer relationship management (CRM) software, Force.com, AppExchange and Database.com. The cloud-computing market is a fast growth area in which Salesforce.com competes with Oracle (NASDAQ:ORCL), SAP SAP), Google (NASDAQ:GOOG), Microsoft (NASDAQ:MSFT) and Amazon (NASDAQ:AMZN).
SAP is currently the largest player in the CRM software market, but Salesforce.com is quickly gaining market share and closing the gap.
Cloud-based CRM software accounts for roughly 63% of our $128 price estimate for Salesforce.com stock, while other cloud computing products represent an incremental 26%. Our price estimate stands roughly in line with market price. Below we highlight recent growth trends in Salesforce.com's customer base, emphasizing the company's CRM software market share outlook.
(Slideshow created by using Trefis Pro app)
Fast Subscriber Growth Helping Salesforce.com
We estimate that the number of paying Salesforce.com subscribers increased from about 230,000 in 2004 to 1.7 million by the end of 2009, as shown in the chart below. [1] We expect this number to continue to increase to around 7.8 million by the end of our forecast period. The fast subscriber growth has largely come from the introduction of new customers to the platform. The number of Salesforce.com customers increased from around 13,900 in 2004 to around 68,000 by 2009, [1] registering an annual average growth rate of 37%.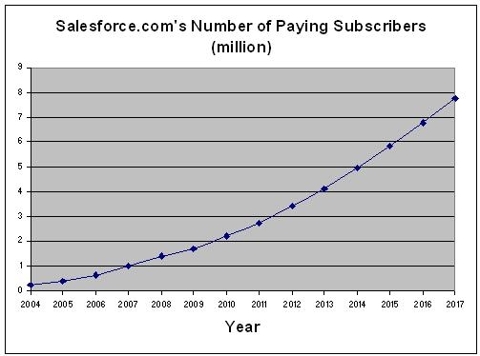 (Click to enlarge)
We estimate that the revenue per paying subscriber per month is around $60 and will likely remain at this level through our forecast period. [2]
Salesforce.com has increased its CRM software market share from around 7% in 2006 to 14% in 2010 by our estimates, [3] and we anticipate further growth towards 25% by the end of our forecast period.
(Chart created by using Trefis' app)
Stock Upside from Acceleration of Market Share Gains
While we currently anticipate a steady increase in Salesforce.com's CRM market share, the company's current growth momentum and new product initiatives could position Salesforce.com for further upside to this metric. A growth in market share over our forecast period to 30% (vs. our base estimate of 25%) would imply almost 13% upside to our $128 price estimate for the company's stock
Notes:
Estimated by dividing the Salesforce.com's CRM revenues for each year with Number of Paying Subscribers as estimated above
Estimated based on the quarterly results of first three quarters of 2010
Disclosure: None