While it's easy to think that gold and silver will continue to outperform all other asset classes, especially if this 2 day drop in the markets gathers steam, that may not be the case and here's why:
Negative divergence on RSI as it has made lower highs and lows since it peaked in December
Failure of this commodity to set a new high as Silver blasts through old resistance levels
ADX is pointing down, indicating a weak trend, while the +DI is also making lower lows
I think this recent attempt to make new highs is a fake out and it will fail. When/if it does make new highs, the media will be all over it. This will cause the lemmings to jump in, but when it reverses there will be a mad rush to exit and we'll get a decent correction. I would be very careful trading these commodities as I don't think they have had a proper correction that will allow them to move significantly higher.
Here is a short
video
from MarketClub that has an interesting take on how to play potential weakness in Gold (
click to enlarge
):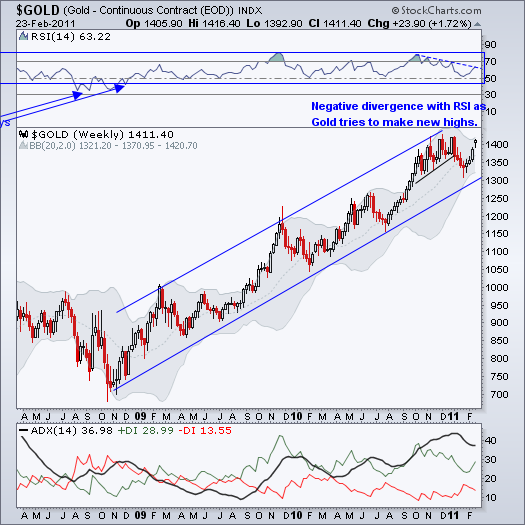 Disclosure: No positions