HPQ was down close to 10% in Wednesday's trading due to an earnings miss and revenue that fell short of expectations (see earnings report here and earnings call transcript here). I won't get into any of the short term quarterly sales numbers or the management turmoil at the company; as a value investor, I am looking to buy future cash flow streams for less than their net present value.
HP offers investors an interesting value proposition as the shares are currently trading at $42 with earnings this year projected to come in at $5.20 per share. Current guidance represents an 8.46 P/E ratio, which likely makes these shares the cheapest of all of the "legacy" tech stocks that nobody wants to own. HP admitted that their services division will be gearing up their cloud computing department, as everyone in tech has now seen the ray of sunshine that is the insane valuations given to cloud computing firms.
Benjamin Graham used to say that a company which displays no growth but can manage to maintain current earnings for the next ten years is worth 8.5X earnings -- so in essence, the market is saying that HP will not grow earnings at all over the next ten years. While Apple (NASDAQ:AAPL) is certainly the 3 billion pound gorilla in the room, I would rather own shares of HP as I feel they can grow earnings by 2-4% per year over the next ten years by focusing on the cloud and on making value priced products and services. While HP has not exhibited any growth for several years, over a ten year time frame HP has managed to grow earnings by a very impressive amount. In fact, 2005 full year EPS was just $2.23, which represents an 100% plus growth rate over the past six years, or an EPS growth rate of around 20% per year.
Earnings, not sales, pay the bills -- someone should tell the Wall Street analysts covering SuccessFactors, (NYSE:SFSF), that you can't spend top line revenues unless they can flow to the bottom line somehow. The title of the articles yesterday on HP read "HP down on sales miss" -- who cares about sales if earnings are growing and the stock is trading at 8.5 times with a 20% historical earnings growth rate?
Not me, and that's why I bought HPQ stock at $43 and hedged it with some SFSF short calls - I'll go long a legacy tech name moving into the cloud at 8.5X earnings and short a cloud stock at 300X earnings for a pairs trade every time. This trade should be as easy as shooting fish in a barrel.
click to enlarge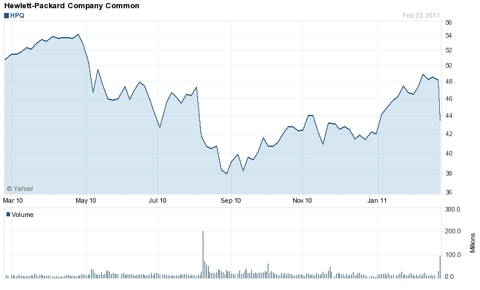 Disclosure: I am long HPQ.
Additional disclosure: Short SFSF calls.