NOTE: This is part 3 in a series. Read part 1 and part 2.
China Sunergy (Nasdaq:CSUN)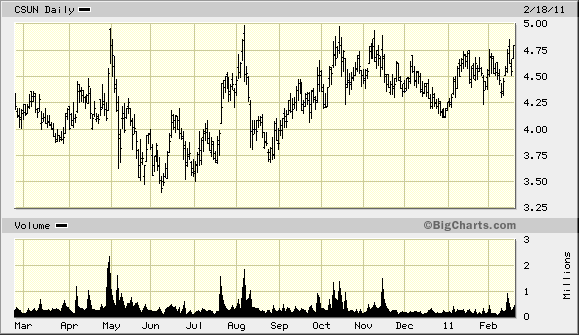 The sun is shining on microcap solar stock China Sunergy (Nasdaq:CSUN). Fueled by strong growth — and just as importantly collections of accounts receivables — CSUN shares look poised to break out of a 9 month ascending triangle pattern. Outlook: long and holding. I think that if China Sunergy breaks resistance at 5 over the next two months, it could go another $2.
DeHaier Medical (Nasdaq:DHRM)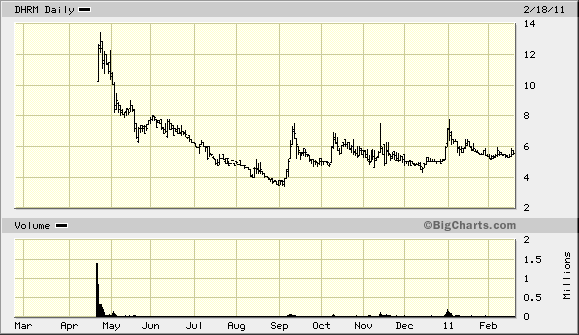 Medical device distributor DeHaier is a great stock to trade. See how many times it put in clear, buyable bottoms followed by quick 30-50% pops? DHRM was in the original Chinese microcap basket, but I sold shares after the $2+ spike in the final days of 2010. Now DeHaier seems to be offering another solid risk-reward setup. Outlook: may repurchase DHRM shortly.
Eastern Environmental Services (OTCBB:EESC.OB)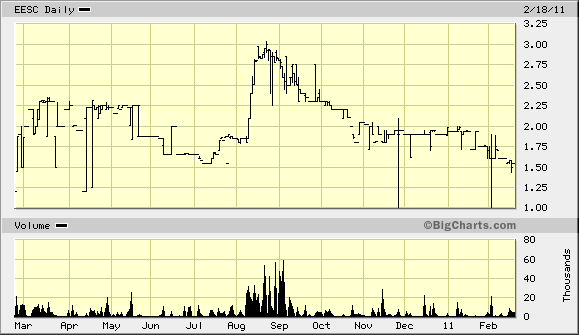 I like trading thin stocks. Sure they are hard to sell, but I try to put the volatility in my favor by buying and selling with aggressive limit orders. But few stocks in my portfolio trade as thinly as Chinese municipal junkyard/recycling center operator Eastern Environmental Services (OTCPK:EESC). I think that buyers anywhere under $2 will be rewarded, but we'll have to see if EESC delivers strong annual earnings results. Outlook: murky but I think favorable. I'm somewhat underwater with EESC but still holding.
Giant Interactive (NYSE:GA)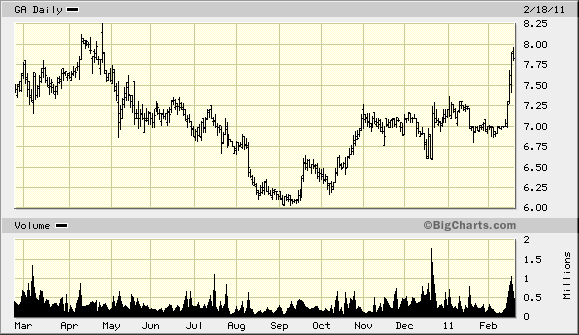 OK I cheated a little here…with a $1.87B market cap, Chinese gaming company Giant Interactive is no microcap. James Altucher calls it the cheapest stock in China. Go read his article, and you will understand why I bought. Look at the past week's action and you will understand why I'm digging the position. Outlook: GA is at resistance after a sharp spike so a little setback wouldn't surprise me, but the mid-term looks good.
Kingtone WirelessInfo Solutions (Nasdaq:KONE)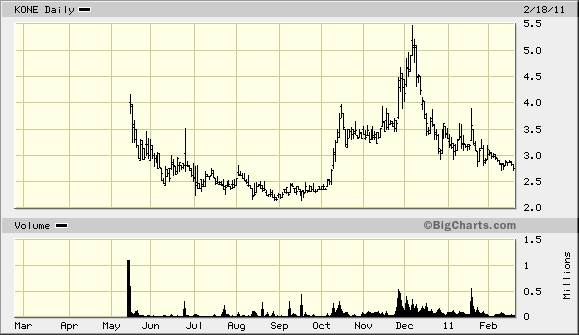 Kingtone WirelessInfo Solutions (Nasdaq:KONE) just posted strong annual results with revenues up about 65% year-over-year and earnings up over 40%. With about a dollar per share in cash and no debt, KONE shares are supported by a strong balance sheet. That's the good news. The bad news — investors have largely deserted the stock after it went parabolic then broke in December. Outlook: though I am underwater in KONE, I am holding as the story remains solid. I'm not a fan on the declining wedge pattern it is currently in, but expect the breakout to be to the upside.
Linktone (Nasdaq:LTON)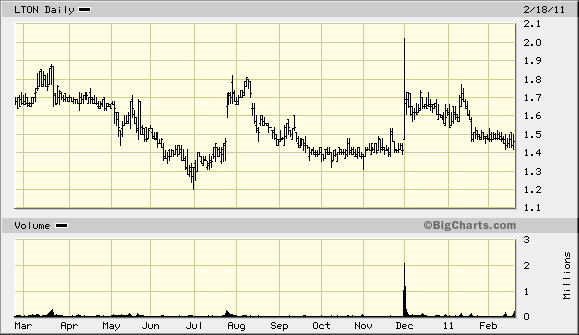 Think of Linktone as two companies: one, a provider of SMS and other value-added services to Chinese cellular operators, and the other, an investment portfolio with an emphasis in high-yielding South Asian fixed income, like its recent $20M investment in the senior notes of an Indonesian pay TV operator. Investors hate the second part of Linktone, and have sold off shares so substantially that LTON now trades under the value of its cash+investments. Outlook: I'd love to see a spinoff or a huge buyback, but even without that kind of a move I think LTON could easily move into the $2 range.