Earlier this month, Bionovo (OTC:BNVI), a development-stage pharmaceutical company, announced a plan of action for its lead product candidate, Menerba, an oral, botanical, drug candidate for the treatment of menopausal hot flashes. In the press release, the company clearly communicated its goal with regards to Menerba's development timeline (click to enlarge images):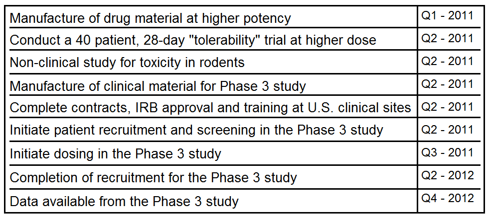 This new timeline is a stark contrast to what management previously thought was achievable. Throughout 2009, management believed that they could begin enrolling patients as early as the first quarter of 2010. What exactly was the hold up?
Throughout most of 2010, Bionovo's management had met with the FDA on several occasions to finalize Bionovo's chemistry, manufacturing, and controls plan ("CMC"). In September of 2010, the FDA finally accepted the CMC plan. One major issue was that Menerba is a botanical agent, not exactly the typical new chemical entity that the FDA often evaluates. Secondly, Menerba has multiple, active ingredients, again not typical for a drug candidate to be reviewed by the FDA.
But nonetheless, Bionovo's CMC plan was approved, and in December of 2010 the clinical development plan was approved. Bionovo has also progressed on the European front. In July 2010, Bionovo's CMC and clinical development plan was accepted by the EMA.
As Bionovo dealt with regulatory agencies, its cash evaporated. In January of 2011, Bionovo raised $30 million in a public offering that plummeted the stock by about 25%. This came after another, recent public offering in October of 2010, just a few months prior. While the entire market has risen over the past 2 years, these dilutional events have caused nothing but pain for Bionovo's shareholders as they watched the value of their shares decline.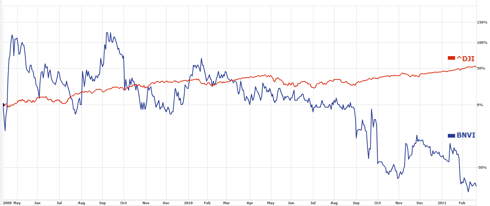 Is the Worst Over?
With about $30 million in cash, Bionovo has enough capital to advance Menerba through Phase IIIa dose-ranging clinical trials. Its also possible that this new funding could restart Bionovo's other lead candidate, Bezielle, a potential treatment for advanced breast cancer.
Clearly the market potential for Menerba and Bezielle are sizable. My previous report estimated the potential market size of a novel, hot-flash treatment between $500 million and $5 billion. And despite several competitors vying for the same market, Menerba's mechanism of action may be the most compelling.
Women's Health Initiative: Demand for Treatment Persists
The WHI, a large study that demonstrated several lethal adverse events from Hormone Replacement Therapy ("HRT"), has left many pharmaceutical companies scrambling to advance alternative treatments to meet the unique market demand created by the drop in hormone sales. It seems that the more popular approach among pharmaceutical companies was to advance centrally acting agents for the treatment of hot flashes. In May of 2010, Pfizer (NYSE:PFE) completed its enormous 2200 patient study with its SNRI, Pristiq, for the treatment of hot flashes.
But almost 10 months after data collection, results have not been announced. This sudden and prolonged silence could mean that trial results were poor. Noven's (NASDAQ:NOVN) Mesafem, an SSRI, is slated to report Phase III data in Q4 2011. Depomed's (NASDAQ:DEPO) centrally acting agent, Serada, is also slated to report Phase III data in Q4 2011.
Currently, physicians have nothing to offer patients besides HRT since there are no other FDA approved treatments for hot flashes. Stuck between a rock and a hard-place, patients have sought over-the-counter treatments. In fact, over 100 million in sales dollars are now spent on unregulated bio-identical hormones, black cohosh and red clover.
Unfortunately, none of these therapies have proven safety or efficacy. Nonetheless, those sales figures demonstrate the strong demand for a "natural" treatment, perceived as safe. To further illustrate this demand, examine the still robust hormone sales figures. Despite several black box-warnings including, the risk of uterine cancer, thrombo-embolic events, and heart disease, the current prescription-hormone market for the treatment of hot flashes is around $1.8 billion annually.
Menerba Is Unique, Safe
Menerba seeks to accomplish what physicians believed they were accomplishing with HRT. The now-defunct concept of prescribing HRT was based on the idea that physicians would be replacing the hormone's that would typically decrease in menopause. The idea was that by replacing estrogen and progesterone, that physicians could prevent osteoporosis, heart attacks, and preserve a woman's youth. But since WHI, the medical community has become extremely cautious when using HRT.
Menerba is a selective estrogen modulator, in the same class of drugs as the blockbusters Evista and Nolvadex. Menerba specifically binds to a sub-type of the estrogen receptor, the beta receptor. Menerba has a low affinity for the alpha receptor, which is implicated in tumor formation in the breast and uterus. By having a very high-specificity for the beta receptor, Menerba has shown to be effective in treating hot flashes, without the adverse events seen in typical hormones. In fact, the only adverse event to date, in any human or animal study, has been transient loose stool.
Final Thoughts
Most biotech investors have realized that many early stage companies face several 'hiccups', financial, clinical, or regulatory. Bionovo has had its fair share of financial and regulatory hiccups. And despite recently raising capital, it is possible that Bionovo may dilute again within the next two years.
But, the bio-medical approach represented by Menerba is very unique. The bottom line is women want a "natural" product, like Menerba. Physicians want to prescribe a safe, selective estrogen modulator, like Menerba.
The problem is, will Bionovo's management be able to preserve enough capital to initiate Menerba's trial and remain in a position of strength when negotiating a partnership?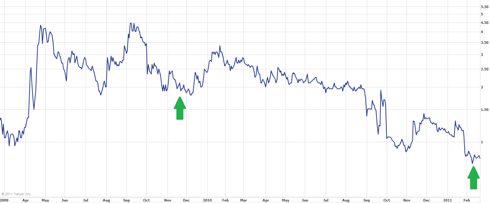 The recent corporate presentation is here.
The corporate fact sheet is here.
My initial article on BNVI is here.
My article on opportunities in women's health is here.
My article on the Women's Health Initiative is here.
Disclosure: I am long OTC:BNVI, VVUS, DEPO, ABT, MRK, SNTS, OTCPK:NGSX, DRRX.