NOTE: This is the final installment of a 4 part series. Read part 1, part 2 and part 3.
Sky-Mobi Holdings (Nasdaq:MOBI)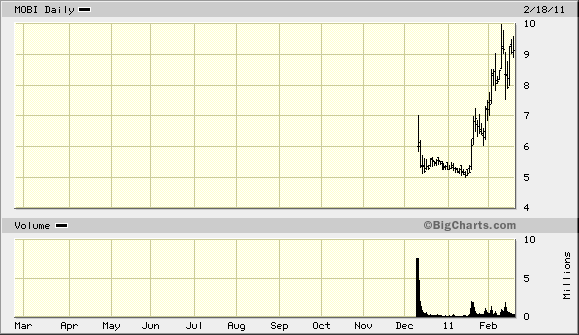 Like Bona Film Group, MOBI was a busted IPO. It priced far below the $8-10 expected range, and went nowhere but down for the first five weeks of trading. When that downtrend broke MOBI became a very strong risk-reward play. I caught just under $2 of the move, clearly taking profits too quickly. Outlook: after taking profits, I am out of MOBI. No plans to repurchase.
Tianli Agritech (Nasdaq:OINK)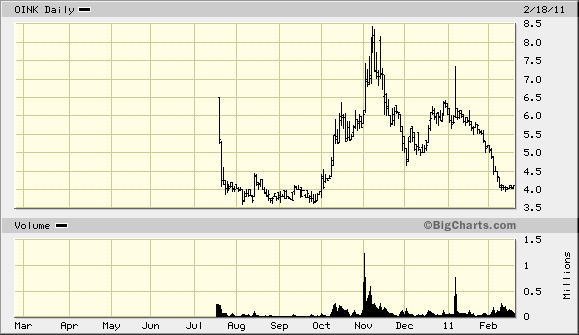 You gotta love the symbol for Tianli Agritech (OINK). OINK was a huge winner last fall, and has now returned back to support. OINK just reiterated FY 2010 earnings guidance of $.90-.92 per share, and projected an increase to $1.04-$1.14 per share in FY 2011. Outlook: I just added Tianli Agritech to the China microcap stock basket. I think it could make another 60% move up just like last fall.
Weikang BioTech (OTCBB:WKBT.OB)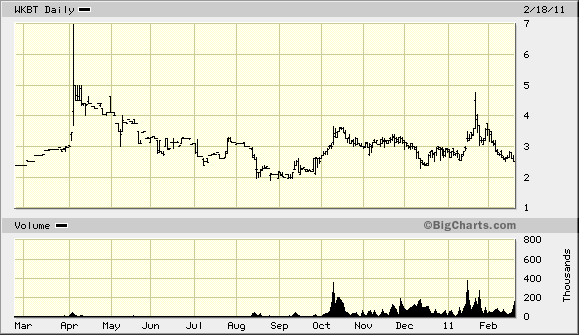 Weikang Biotech (OTC:WKBT) is another stock taking a second turn in my portfolio. Weiang was part of the original China stock basket trade put on December 2010, but within five weeks had spiked about 40% so I took profits. This week it gave me a chance to repurchase at my original buy point, so I leaped at the opportunity. WKBT expects to report FY 2010 earnings of $1.04 per share. Outlook: with solid earnings and shares at support, my purchase this week reflects my assessment that WKBT will likely move up soon.
Yongye International (Nasdaq:YONG)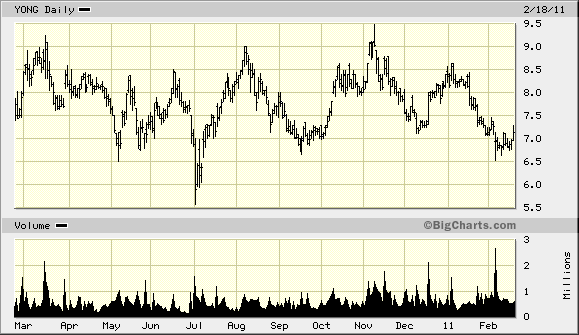 Microcap fertilizer manufacturer Yongye International (Nasdaq:YONG) is another stock I purchased over the past week. Yongye has been depressed on accusations I find unconvincing, mostly challenging the company's store count. But the company never claimed to have company-owned stores; it operates through distributors. At any rate, with a big 4 auditor (KPMG) its numbers should be given the benefit of the doubt. Outlook: I was fortunate to pick up shares at $6.90. I think YONG trades at least $2 higher within the next six months.
Qiao Xing Universal Resources (Nasdaq:XING)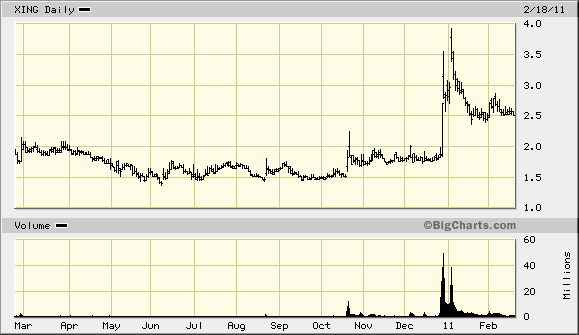 Sometimes you make money through prescient research, and sometimes you just get lucky. My XING trade definitely fell into the latter category. I bought XING on a breakout to 2.17 on December 29, 2010. Within days it was up more than 60%. I took profits and hadn't looked at the stock again until today. Outlook: no current plans to repurchase, but XING may be buyable if current support holds around 2.5.
DISCLOSURE: Long YONG, WKBT.OB, OINK.