The recent crisis in Libya has paved the way for much higher oil prices. Oil has finally came back to peak over $100 a barrel for the first time since the global economic implosion in 2008.
Can $100 oil really be sustainable?
In the chart below (click to enlarge images) we can see the steep jump in oil prices. Oil has risen roughly $10 in the past five days.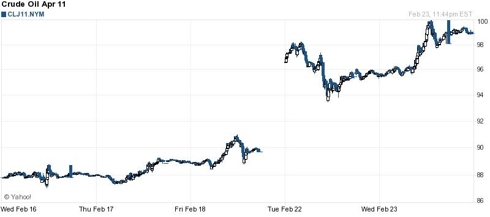 The chart for PowerShares DB Crude Oil Long ETF (NYSEARCA:OLO) is depicted below in a 6 month chart and a 2 year chart with technical indicators.
6 months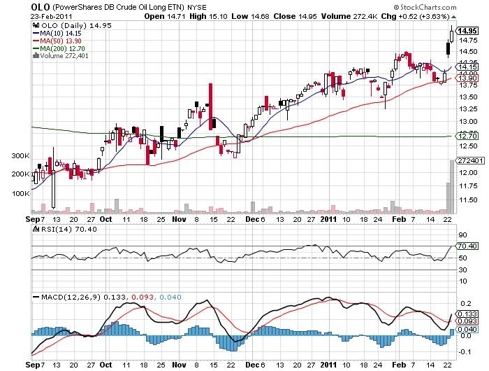 2 years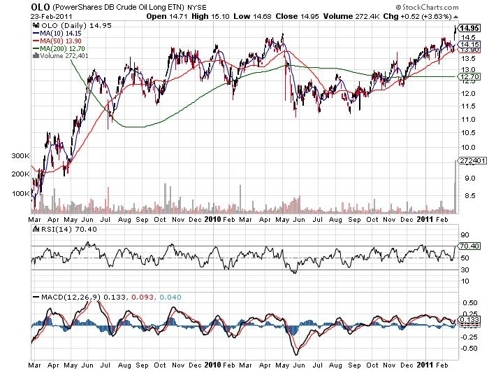 Based on the above charts it would appear that oil in the short term is overbought. Contrarian investors would be taking profits as the oil ETF is demonstrating that it is above the 10,50 and 200 day moving average. The price, being over the short and long term moving averages, is bullish but would be an opportunity to take profits as the price should retest towards the prior resistance level or come back down to retest its trend line.
One of the most prominent indicators demonstrating that in the short term oil will most likely pull back is the RSI. The RSI, in all previous attempts has peaked near the 70 level and then pulled back. The RSI is currently at 70.40 which could signal that oil should pull back in the coming days. The longer term chart also depicts the previous 2 year high as near $14.75 which would signal that we have reached a new 2 year high.
For a trader this can be a bullish signal but may also come with a short term pull back as contrarian investors take profits of stocks hitting new highs, which sends the stock downwards before it can continue an uptrend. Note that the trend may change and we must keep a look out at oil prices in the next few weeks. If oil retraces and successfully tests its trend line continuing its upwards movement we could continue to see higher oil prices in the future after this healthy short term pullback.
A Few Facts Against Higher Oil Prices:
Although technicals may not always be accurate common sense, would agree that a $10 jump in oil prices is quite excessive in such a short period of time. This jump is simply an overreaction to Libyan concerns and once everything settles so should the oil prices.
The facts are also that excessively high oil prices were one of the factors that lead to the recession as these prices where not only harsh to consumers but also some industries that use oil in their business operations such as the airline industry. If oil prices continue to go higher it could bring the economic recovery to a halt which some say could trigger a double dip recession.
As well, the argument of supply and demand also holds that oil prices should not continue too much higher. As prices rise, demand eases. As demand eases, prices should consequently drop. The same applies to supply - as prices increase oil projects, production and exploration increases. As this supply rushes into the market, prices should drop.
Some investors do believe in much higher oil prices due to the economic recovery, the drop in the unemployment rate and the rise in corporate profits, as well as worldwide uncertainty. These arguments have yet to compel me since the American economy still has an unemployment rate of roughly 9% and the economy has not shown enough growth and recovery. The economy is simply running on constant stimulus and extremely low interest rates; other than that the economy has no other way of being stimulated.
Oil prices may run to higher highs after a pullback, but in my opinion oil prices cannot have too far left to go. As many technical experts say "the trend is your friend". Therefore, it should not be ignored that the past 6 months have shown a healthy uptrend in oil prices and that unless it shows signs of weakening investors, should be cautious in entering short positions. Although this trend may persist, within this bullish trend traders may take advantage of overbought or oversold short term cycles as seen recently through the Libyan crisis.
As for bearish investors on oil, buying the following ETFs or buying calls for the following ETFs provides an easy way to make money when oil decides to pull back to reasonable levels.
On the other hand, investors can also short sell the long ETFs to make money when oil falls. Many investors prefer doing this as many of the bull ETFs tend to be more liquid then the bear ETFs.
The following are a list of long ETFs that can be used to short sell or buy puts on to make money when oil pulls back. Investors may also consider taking a long position or buying calls for the following ETFs once the oil pullback has been completed.
PowerShares DB Crude Oil Long ETF (OLO)
PowerShares DB Oil (NYSEARCA:DBO)
ProShares Ultra Oil & Gas (NYSEARCA:DIG)
Disclosure: I have no positions in any stocks mentioned, but may initiate a long position in DUG over the next 72 hours.