At this point in time, it's really hard to argue for any particular strategy.
We have some reason to believe our economic fundamentals continue to head in the right direction, even if not as quickly as we'd like. We also have a typical array of problems like bickering in Washington, governmental money-printing programs like QE2, and food price inflation that would probably be noteworthy even without the extra money supply. But we always can list a variety of problems and the market has more often than not shown itself remarkably able to climb the proverbial wall of worry, even if said wall is located in Cairo.
Now, however, we have a whole different thing to deal with: Libya.
We have no right to be surprised that things continue to happen in the Middle East. Broad historical precedent tells us that major political-cultural-social initiatives such as we saw in Egypt and Tunisia tend to be aspects of very broad trends (i.e. the European transition from monarchy to democracy in the 19th and early 20th century; widespread transition from command to market economies in the late 20th century, etc.). We've long taken it for granted that Israel aside, autocracy is the norm in the Middle East with the variations focusing on secular versus religious. That seems to be changing and at the moment, Libya is on center stage.
The problem is that in Libya, it looks like their established regime is not inclined to go without a big fight, and it's way too early to say how big a fight it will be. Qaddafi might even win in the short term.
Wall Street may have gotten a bit lulled into believing every autocrat will fade as "easily" as did Mubarak. We're now being reminded that such a view is likely naïve.
None of this is reflected this week in my weekly ETF Pullback strategy. It's a technical approach and all such protocols need a bit of time to accumulate data and assess what's going on. It hasn't yet had time to come to grips with what's happening in Libya. Some such strategies take longer to catch up than others. As a technical model (see Appendix below for detailed explanation and performance data), this one should adapt sooner rather than later, but for now, I have to be realistic about interpreting what I'm seeing from the model.
Here's this week's list:
This was last week's list:
If the Libya situation cools enough to give the current list a chance to do what it might normally be expected to do, I'd be quite happy.
A decade ago we were bombarded by stories about how everything was going on line and how bandwidth was as precious as anything could possibly be. Financially, many got their heads handed to them because the investment conclusions often drawn back then were absurd (billion dollar-plus market caps and trivial levels of loss-producing sales have always made for a combustible mixture and contrary to the pontifications of the it's-a-new-era crowd, this was as true then as at any other time). But the core stories (lifestyle, not finance) were spot on; if anything, the changes we've seen may be even greater than what we had anticipated. Now, however, the financial story is much better, not because it's a new era but because the decade-ago excesses were washed out of stock valuations while at the same time, revenues and profits actually had a chance to come around.
This is the case for most of the ETFs on the current list. The question is whether events in Libya will give the ETFs an opportunity to do what fundamentals suggest they ought to do. We'll find out when the model is reviewed again next week. Don't you wish we can really predict the future as well as so many commentators pretend they can? Oh well.
For what it's worth, I'll at least continue to take comfort in the fact that as long as the market's attention continues to bounce from theme to theme too quickly for the model to keep up, at least my downside has pretty much been a level of performance that more or less matches the S&P 500, as has been the case in the latter portion of the model's live performance, as depicted in Figure 1, a screen shot from the FolioInvesting.com account I use to trade.
Figure 1
click to enlarge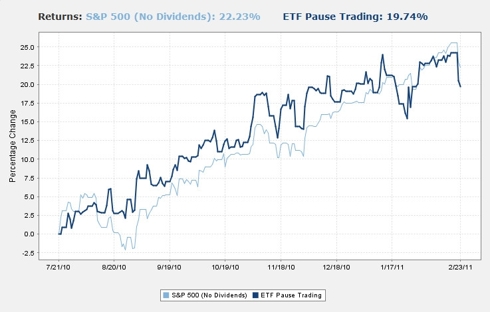 Click to enlarge
The highly-tolerable nature of the punishment I'm experiencing for being in a bad spell leaves me quite willing to stick with the strategy pending a potential return to the sort of trend persistence (not just a statistical trend, but also persistence of the themes that occupy the market's attention) experienced early in the live period and during a large portion of the backtest periods depicted in the Appendix.
APPENDIX
To create this model, I started with a very broad-based ETF screen I created in StockScreen123.com.
Eliminate ETFs for which volume averaged less than 10,000 shares over the past five trading days

Eliminate HOLDRs (I don't want to be bothered with the need to trade in multiples of 100 shares)

Eliminate leveraged and short ETFs (I think of these as hedging tools rather than standard ETF investments of even trading vehicles)
Then I sorted the results and select the top 5 ETFs based on the StockScreen123 ETF Rotation - Basic ranking system, which is based on the following factors:
120-day share price percent change - higher is better (15%)

1-Year Sharpe Ratio - higher is better (15%)

5-day share price percent change - lower is better (70%)
The idea of using weakness as a bullish indicator is certainly not new. But often, it's an add-on to other factors that, on the whole, emphasize strength. Here, the weakness factor is dominant, with a 70 percent weighting.
This model is designed to be re-run every week with the list being refreshed accordingly. I trade through FolioInvesting.com, where I pay a flat annual fee rather than a per-trade commission, so I don't care about the fact that turnover form week to week is often 80%-100%. If you want to follow an approach like this but do have to worry about commissions, the strategy tests reasonably well with three ETFs, or even with one. (Cutting the number of ETFs is far preferable to extending the holding period.)
Figure 2 shows the result of a StockScreen123 backtest of the strategy from 3/31/01 through 12/30/10.
Figure 2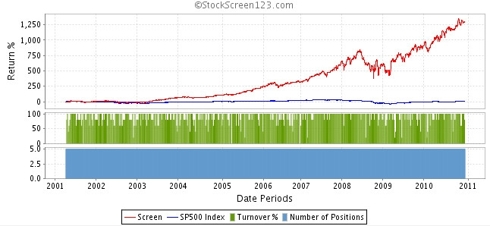 Click to enlarge
Figure 3 covers the past five years, a very challenging market environment that witnessed the fizzling of many strategies that had succeeded for a long time.
Figure 3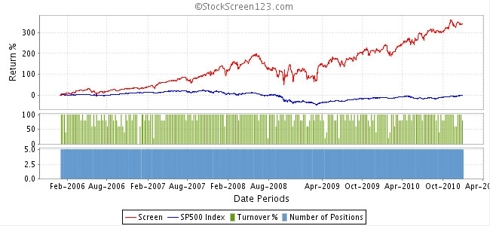 Click to enlarge