This morning I placed a buy order for Enbrigde Energy (NYSE:EEP) in the Barchart Van Meerten New High portfolio for technical factors.
[Click to enlarge]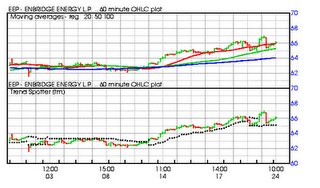 Enbridge Energy Partners, L.P. owns the U.S. portion of the world's longest liquid petroleum pipeline. Enbridge Energy Company, Inc., an indirect wholly-owned subsidiary of Enbridge Inc. of Calgary, Alberta, holds an effective 14.5% interest in the Partnership.
Technical Factors:
96% Barchart technical buy signal.
19 new highs and up 7.83% in the last month.
Relative Strength Index 66.13% and rising.
Trades around 66.13 with a 50 day moving average of 62.20.
Fundamental Factors:
Wall Street brokerages have three buy and eight hold recommendations based on increases in sales, earnings and a 6.80% dividend.
Sales are expected to increase by 13.40% this year and 9.80% next year.
Earnings are expected to increase by 3.80% this year, 5.00% next year and 3.00% annually for the next five years.
Investor Sentiment:
On Motley Fool, the CAPS members vote 326 to 15 that the stock will beat the market.
All Stars agree, 134 to 4.
Fool notes the last five articles on the stock have been positive.
Disclosure: I am long EEP.