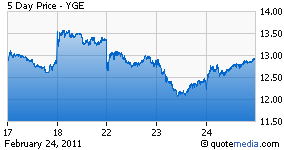 Yingli Green Energy (NYSE:YGE) closed out 2010 with another solid quarterly report. Fourth quarter earnings per share totaled .52, surpassing Wall Street consensus of .44 and my estimate of .49 on slightly higher than expected shipment and average selling prices.
Unit shipments increased 21.6% sequentially to around 346mw as recently installed new capacity was further ramped to higher utilization. On the year, Yingli experienced slightly over 100% shipment growth in 2010 compared to 2009 as total shipments reached 1.06gw. Based on average industry estimates of 15-16gw for the solar market in 2010, YGE's market share stood around 6%. In fact, the company lost some market share last year due to capacity constraints as global demand grew at a slightly higher rate. Still, 2010 was a meaningful year for Yingli as the company made steps to further its brand, technology, and industry position while compiling respectable annual earnings of 1.37 in EPS.
In 2010, global pv solar demand more than doubled from approximately 7gw to around 15gw based on average estimates by industry research groups. Not only did established producers all expand aggressively fulfill demand, but many new module manufacturers entered the market. In many cases, some producers experienced zero module shipments in 2009 to over 100mw in 2010. There were still reports by many key industry players how demand was double the ability to supply. With the supply demand curve so imbalanced, branding probably only played a small role last year as everyone was selling out.
That made Yingli's branding efforts last year a bit more interesting. Although the exact amounts were not disclosed, it appears YGE spent in the tens of millions (based on incremental marketing expenses amortized quarterly throughout 2010) to sponsor the 2010 FIFA World Cup last year. The amount YGE spent was clearly more than any industry peers have spent on branding in the past. The company had already made similar efforts to make a name for itself within China with a money losing .69rmb/kwh feed in tariff bid for the Dunhuang solar pv power plant in 2009. The bid was ultimately thrown out as unrealistic, but may have been a successful marketing ploy for Yingli. Late last year the company announced a very significant market share gain for one of China's domestic solar programs when they won approximately 70% of volume for China's Golden Sun program. Although the primary reason for YGE's Golden Sun market share gain was probably linked to a bidding process which reports noted average module selling prices below 1.60/watt(roughly 5-10% below asps in other global markets), the company's past branding efforts most likely also played a role. At the very least, Yingli in one form or another was willing to spend more on branding its name than others in its direct peer group.
Yingli also made significant technological progress last year that should help its branding efforts. Early last year YGE announced a 300mw expansion of fully integrated "Panda" capacity. Unlike the company's installed p-type multicrystalline capacity which represented all of YGE's capacity prior to Panda's launch, newer Panda cells are n-type monocrystalline based. As a result, these second generation cells not only have higher current efficiencies, but can also offer higher rates of efficiency improvements moving forward. In the most recent quarter, Panda cells averaged 18.5% efficiency compared to 16.8% for their multicrystalline cells. Moving forward, YGE targets cell efficiencies of 19% for Panda and 17% for multicrystalline cells in 2011, and 20% Panda efficiency coupled with 17.2%-17.5% multicrystalline efficiency for next year.
As a result of possessing higher efficiencies, Panda based panels should command price premiums due to their balance of system costs savings for installation. More importantly, Yingli can further differentiate itself from other low cost peers by offering Panda as a premium alternative which many of their customers may find more attractive. Although Panda is not as high in efficiency as U.S. based SunPower's (SPWRA) cells, which can top out at 23-24%, it does allow YGE to market an in between product which few peers currently offer in volume. As noted in its fourth quarter conference call, the company shipped around 66mw of Panda based panels last year in less than two quarters of operation. That volume is equal if not greater than production of Suntech's (NYSE:STP) long touted Pluto line for the entire of 2010, based on production statements of 4-6mw per month. The ratio of second generation Panda production vs. traditional multicrystalline production should improve moving forward given 600mw of the 700mw capacity expansion YGE has planned this year is Panda based. By the end of 2011, based on the company's planned expansion, the majority of Yingli's capacity will be Panda based.
Perhaps the most important factor Panda plays for the company is that its production does not increase blended processing costs. In absolute terms, monocrystalline wafers are more costly to produce than their multicrystalline counterpart, and thus results in overall higher costs for monocrystalline based panels. In order to offset this cost, monocrystalline based cells must possess a higher efficiency. For first generation monocrystalline vs. multicrystalline cells, the difference in efficiency is often not high enough to equalize overall processing costs. To offset higher per watt costs for monocrystalline products, manufacturers often sell them at price premiums. However, Panda based cells are approaching almost a 2% efficiency increase over first generation multicrystalline cells, almost doubling the general gap between first generation products. While other factors do play a role and increase Panda's absolute per piece production costs, the efficiency gains are high enough to keep their per watt costs more aligned with YGE's traditional low cost of production multicrystalline cells. In its fourth quarter earnings report, YGE's blended processing costs remained constant despite incremental Panda volume. Additionally, the company guided blended processing costs improvements of .01-.02/watt per quarter despite incrementally higher ratios of Panda based panels in overall shipment volumes. In combination with Panda's ability to command a price premium, YGE should be able to keep its per watt gross margins more stable than low cost peers without a similar product offering. With average selling prices widely predicted to drop over the course of this year, any factors that may help maintain per watt levels of gross profits becomes increasingly more important.
Looking forward into the first quarter of 2011, sequential growth should be slowing. Traditionally the first quarter has been a seasonally slow quarter for the industry. Officially, YGE only gave sparse guidance for the first quarter as outlined in its Q4 2010 earnings presentation. The company estimates shipments will increase in the mid single digit percentage sequentially with gross margins falling in the 30-31% range. As usual, I have compiled estimates based on statements the company has made in combination with derived figures consistent with company remarks in the past.
Revenues: 630m
Shipments: 360mw
Asp: 1.72/watt
Unit Costs: 1.15/watt
Gross Profit: 205m
Gross Margin: 32.5%
Operating Expenses: 60m
Net Interest Expense: 20m
Tax: 19m
Minority Interest: 25m
Net Income: 81m
Share Count: 161m
EPS: .50
Although YGE's shipments will increase by an estimated 5%, overall earnings per share will likely decline slightly on a sequential basis. Operationally, most of Yingli's metrics will stay stable or improve fractionally. Although slightly lower average selling prices will compress the company's per watt gross margins, higher volumes will make up the difference and generate a slightly higher level of overall gross profits. In general, this scenario will play out for most of the industry as also described in my recent JA Solar (NASDAQ:JASO) analysis. As average selling prices decline, which will result in per watt gross margin contraction for most companies in the industry, shipment growth will have to grow at a higher ratio for companies to maintain similar levels of gross profits. From YGE's statement in its latest conference call, a low single digit decline in average selling prices coupled with a mid single digit increase in shipments should be enough to keep overall gross profits stable if not slightly higher. With operational expenses and interest expenses stable, the key factors for YGE's first quarter earnings 2011 relative to fourth quarter 2010 earnings will be non-operational line items.
In the last quarter, YGE posted an unusually low tax rate as well as minority expense. A normal annual tax rate for the company should average to around 15%. However the company recorded a tax rate of slightly under 12% in the fourth quarter. In addition, Yingli also paid out a smaller portion of minority payments to minority stake holder Tianwei Baobian which owns a 24% stake in the company. In the past, payments have ranged from under 20% to over 30% of after tax net income, so this figure is impossible to estimate accurately due to different accounting standards in China, which affect the amount. However a 24% minority payout based on Tianwei Baobian's ownership stake should be a good reference to use. Last quarter YGE paid out only 17% of its after tax net income to Tianwei Baobian. A return to a more normalized level of taxes and minority payments would thus lower Yingli's Q1 2011 U.S. GAAP earnings relative to the prior quarter. As a final note, all foreign exchange impact has been left out of the estimates above. With over five weeks left in the quarter, it's impossible to know how currency rates will end the first quarter. Thus far, currency impact should be muted with the main currencies in question only 2% off their relative levels ending last quarter.
For fiscal year 2011, Yingli gave even less specific guidance. The company only gave a shipment range of 1.70-1.75gw, which would represent an annual shipment increase of roughly 60-65%. Much of YGE's shipments are back-end loaded as more capacity comes online in the middle of the year. Again, incremental average selling price declines each quarter will temper the company's gradual shipment increases. Since YGE has historically been conservative with shipment guidance and normally exceeds estimates, the top range of its shipment guidance may be a better point of reference.
In terms of average selling prices, YGE gave sequential declines throughout the year which appear less severe than what many industry analysts project. From top to bottom, the company gave an asp decline of approximately 10% with prices ending the year in the mid to high 1.50s/watt range. As noted above, Panda based module asps blended into the traditional panel line will help limit absolute per watt blended selling price declines. Without Panda's contribution, Yingli would probably have guided for 2011 year-end asps to hit if not fall below 1.50/watt for shipments of its first generation multicrystalline panels. That would represent around a 15% asp decline which is more consistent with the mean of industry consensus.
Yingli's guidance for unit costs declines average to slightly less than a 10% rate from top to bottom. Since unit costs are lower than average selling prices, this means per watt declines in unit costs will be lower than per watt declines in average selling prices. In simple terms, YGE will suffer per watt gross margin contraction in 2011. As noted, this isn't exactly a big surprise as most of the industry will suffer a similar fate. In Yingli's case however, its per watt gross margin contraction will be less severe than most peers on an absolute basis.
Using metrics described above and assuming historic levels of expenses below the gross profit line, Yingli would likely earn around 2.00 to 2.20 in annual earnings per share in 2011. While quarterly gains will be tempered on a sequential basis off YGE's Q4 2010 results, the company should still post an annual EPS increase in 2011 over the U.S. GAAP 1.37 reported in 2010. Since its shipment growth guidance is higher than the flat to up 30% solar demand growth expected in 2011, YGE should recapture some market share this year. If the sector dynamics became more competitive and challenging due to either slower demand or over capacity, Yingli's past branding efforts and strengthened relationships with top tier customers within the industry should also give the company a competitive edge over lower tier providers.
Disclosure: I am long YGE.
Additional disclosure: No position in either STP or SPWRA.