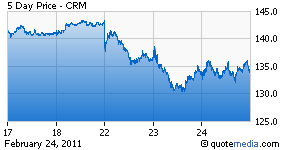 Salesforce.com (NYSE:CRM) gained 8% in Thursday's after-hours trade after the provider of enterprise cloud computing apps beat Q4 estimates and set mixed guidance.

Cumulus or nimbus, or maybe just another stupid commercial about people changing their TV channels from the airport. In the end, it doesn't matter, there's a long opportunity in CRM on Friday and buyers should take notice.

CRM favors widening between the sessions when it records earnings-driven after-hours gains, which it has done in 10 of the 25 quarters we've followed over the last seven years. Of those 10, the stock has widened six times and reversed direction four times. It's not jump out of your seat historical data, but it's enough when combined with some consistent upside support in Thursday's after-hours to look to play the positive momentum into Friday.

Longs may want to target any drops back near 140.50 to 142, an area where buy liquidity was most robust Thursday night and where a potential near-term floor support could develop for possible runs back into the mid- to higher-140s. More risk tolerant longs may want to tweak the entry closer to 144 to 145 as it's likely the stock starts the day closer to this area and perhaps sees an early pop to the higher 140s.

In Thursday's after-hours trade CRM jumped to an early after-hours high of 147.33 before dropping back to about 140.50. It steadied in a higher range between 142.35 and 145.87 through the rest of the session.

A pre-bell open Friday may have potential near 142 to 145.

Disclosure: I have no positions in any stocks mentioned, and no plans to initiate any positions within the next 72 hours.