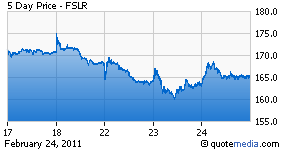 We're looking to go short on First Solar (NASDAQ:FSLR) Friday following the company's Q4 report Thursday night, which dropped the stock about 4.5% in after-hours trade.

It's a sketchy bet with crude oil pegged near two-year highs close to $100 a barrel and continued mayhem in the Middle East - two factors likely to keep longs hovering near the solar space. Nonetheless, there was definitely some near-term, built-in sell pressure in the shares tonight that should keep it in the red through the early-going Friday.

In addition, FSLR has a strong history of adding to its earnings-driven after-hours declines in the following day's regular session. Over the brief record of earnings performances that we've tracked, the stock has widened its extended-hours, post-earnings share move in nine of 10 quarters tracked. In the near-term, the stock has widened its move in five consecutive quarters. Looking deeper into the performance data, FSLR has recorded an earnings-driven decline in six of the quarters tracked in our database, adding to that downside in next-day trade in all six events.

Shorts may want to watch for potential entry levels near 162 to 159, an area that stood as a ceiling throughout Thursday's night trade and which withstood several upside tests.

In Thursday's night trade, FSLR took a hard dive to an early after-hours low of 156 before firming from 156.55 to a mid-session high of 161.75. It spent much of its second-half after-hours trade sliding from 160.71 to a late low tight to 157.

A pre-market open Friday may have potential near 158 to 156.

FSLR declined Thursday night after missing Q4 sales estimates, beating on EPS, and setting its 2011 sales guidance in line with the analyst view and EPS above estimates.

Disclosure: I have no positions in any stocks mentioned, and no plans to initiate any positions within the next 72 hours.