BEXP Reports Strong 4Q10 Results; Downspacing Plans Are A Go, Williston Basin Development Program To Continue To Accelerate and Montana Looks Good

The 4Q numbers:
As previously announced, 4Q10 volumes of 11,384 BOEpd were up 35% from 3Q levels and 125% YoY - welcome to the hockey stick.

Oil accounted for 80% of 4Q volumes, up 44% sequentially and 218% year to date.
BEXP continues its rapid transition to a liquids rich profile as 3Q had hold volumes at 75% of total, and the year ago quarter saw oil at on 57% of total.
CapEx:
2011 is $693 mm. That buys:

65.7 net Willistion Basin wells for $582 mm

2.4 net Wolfberry wells (they have a small position that may get monetized later this year)
They also list $27.4 mm for a leasehold. If you believe it will be that low you're in for a surprise later in the year.

Last year's budget was $425.5 mm ($280 mm for drilling) for which they drilled 45 net wells. This means that this year's budget implies a combination of fairly steep service cost inflation and more stages per well and will need to be addressed on the conference call.
Guidance:
1Q11: 11,300 to 12,000 BOEpd
2011: 14,000 and 16,000 BOEpd


On the mid point that equates to 81%
This is the first look at official BEXP 2011 guidance and it should be higher than most on the Street are currently modeling.
Balance Sheet:
8% net debt to cap
$248 mm cash
$325 mm undrawn credit facility
Operational Highlights:
Data from their density drilling test at Rough Rider now supports four Bakken and four Three Forks Sanish wells per 1,280 acre unit. That's a big deal when you have:

205,600 net acres of what you'd call core Willston acreage spread over their Rough Rider, Ross, Parshall/Sanish and east Montana areas

This takes the potential well count from 590 to 782 net locations.

And you are in the early stages of evaluating another 162,000 net acres that are prospective for both the Bakken and Three Forks in the various parts of the Williston, including eastern Montana.
Oddly, they did not comment on the Brad Olson 9-16 #3H wells which was the one we have been waiting to get data on regarding the first Rough Rider pilot. That will be a pointed question on the conference call.

Montana Drilling Results (Rough Rider west)

2nd well, the Swindle 16-9 #1H, IP'd at 1,065 BOEpd, improving on their initial results at the Rogney well (IP of 909-- BOEpd) despite undergoing an incomplete frac job (only 19 stages).
Their 3rd well, the Jonson 30-19 #1H, is currently being fracced with 30 stages and we should get news in BEXP's next monthly update (sometime in March).
They are recompleting a purchased existing horizontal well now and drilling another well as well.
BEXP includes about 9,000 acres that are in Roosevelt county near the border (near their Sedlecek well) as Bakken core at present, but they have another 115,000 net acres in Montana that this year's program will be aimed at derisking.

Smart Pads

Adding walking rigs and seeing efficiencies of short rig moves and simultaneous fracs saving them 10 to 20%, look for a dollar quantification on that figure on the call to support the capex vs net well count listed above.

Williston Rig Count to Climb. Due in part to the downspacing comments above, BEXP is going to continue to increase its rig count from a planned 8 in May to 12 rigs by September 2012 (adding a rig every four months).

Two more high rate Bakken completions are included in the press release and at the bottom of the table that follows, showing their initial results to date in the play.
click to enlarge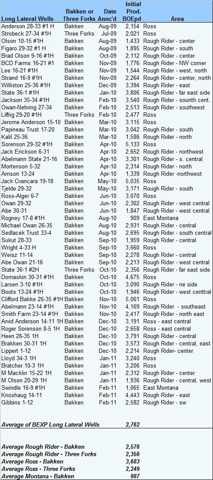 Nutshell: The capital budget growth may give some investors pause today since BEXP is likely to outspend cash flow by nearly double based on current guidance (unless oil prices go back above $100 and stay there this year). This will probably re-ignite fears that an equity offering is on the front burner for BEXP despite recent comments by management that would seem to push a deal further away.

Were they to do one now however, my guess is that investor appetite would easily soak up a 10% dilution which would would keep cash balances healthy and the revolver untapped while giving them firepower to accumulate more leasehold as some large tracts become available this year. The name has run hard of late and is probably due a bit of a digestion phase, especially if oil should fade away from triple digits in the near term, but I plan to continue to own the name as one of my largest core holdings in the ZLT as they continue to under promise and over deliver.

Conference Call: Friday, 11 am EST

Disclosure: I am long BEXP.