Salesforce.com's ability to differentiate solutions is the key to its success
Salesforce.com's (CRM) ability to differentiate products quickly to stay ahead of competitors Oracle (ORCL), Microsoft (MSFT), and other systems vendors, is driving growth. Full fiscal year revenue reached $1.66 billion, growing 27% year-to-year (see recent earnings results here and earnings call transcript here). Salesforce.com is staying ahead through investments in both employees and acquisitions that provide new features to products, and investments that enhance its ecosystem through attracting developers and customers.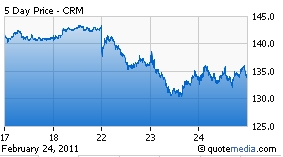 Salesforce.com increased its headcount by 1,337 year-to-year, especially in the functions of S&M and R&D, to enable the company to sustain growth. Customer growth increased 28.2% year-to-year, reaching 92,300. As a result of $935 million in deferred revenue, an increase of 33% year-to-year, Salesforce.com increased its full year expectations for FY12 to a range of $2.03 - $2.05 billion. This marks Salesforce.com crossing the $2 billion threshold, doubling in revenue compared to FY09. In that time period, Salesforce.com doubled its customer and subscriber base. Delivery of Chatter and second generation core applications for CRM and HR are driving adoption.
Sustaining a healthy ecosystem perpetuates growth among partners, developers, and customers
Salesforce.com recognized the importance of applications and supporting key development languages to enhance its ecosystem. Salesforce.com's ability to maintain double-digit growth of 30% year-to-year (in a subscription model business) centers on its ability to create a virtuous cycle around partners, developers, and customers. The more users, the greater the value for everyone in the ecosystem because partners and developers are drawn to growth opportunities, and users are drawn to an abundance of custom applications. As a result, Salesforce.com spent most of 2H10 expanding its app development services and opening its doors to out-of-house developers. Salesforce.com had a record turnout at its Dreamforce event in December of 30,000 customers, developers, and partners.
New application development services, coupled with the acquisition of Heroku will help alleviate some of the difficulties associated with application development. Heroku provides a developer base and a Ruby-based application Platform-as-a-Service (PaaS). These capabilities will help Salesforce.com extend its PaaS capabilities while opening new opportunities for developers by supporting Ruby, a language used to develop collaborative applications. As a more diverse variety of applications are created, Salesforce.com will increase its footprints among customers, who will drive growth among partners and developers.
Acquisitions provide Salesforce.com with the capabilities to differentiate offerings
Salesforce.com will maintain and extend its installed base by continually delighting and satisfying customer needs through product enhancements. Small acquisitions that can be incorporated into new and existing product lines will reduce customer attrition and encourage adoption.
As vendors realized the value of delivering products via the internet like Amazon (AMZN), Cloud 2 is vendors creating value by behaving more like Facebook, and combining collaborate, open, and interactive features to help the enterprise run better. Salesforce.com's vision of Cloud 2 is a socially driven platform with users gaining real-time information through collaborating in an environment that resembles Facebook. As Salesforce.com moves its strategy into a social cloud, it will re-energize the cloud market to increase its footprint within large and small enterprises. Chatter, launched in June 2010, was Salesforce.com's initial step in creating a collaborative cloud-based forum for users to communicate and share information with employees internally.
The acquisitions of Manymoon and Dimdim will ultimately enhance Chatter capabilities by bringing new features to the platform. We believe ManyMoon will continue to exist as a free productivity tool, but that the technology will be used to enhance Chatter. Dimdim brings cloud collaboration and conferencing services to Salesforce.com, as a well as a team of experienced developers. We believe that both acquisitions will not only improve Chatter's capabilities, but also play an important role in expanding Salesforce.com's developer community to maintain a healthy ecosystem of partners, developers, and customers.
Disclosure: I have no positions in any stocks mentioned, and no plans to initiate any positions within the next 72 hours.