Evidence is mounting that the auto industry is springing back to life.
The auto industry worldwide is on the mend, and that signals opportunity for investors to become reacquainted not only with the big vehicle makers, but some of the smaller parts suppliers.
The days of the General Motors (NYSE:GM) and Ford (NYSE:F) profit machines cranking out generous earnings and dividends may be over. But that doesn't mean that there aren't solid dividend paying stocks in the auto sector.
I recently explored an index that tracks the parts suppliers, the Dow Jones U.S. Auto Parts Index. As you can see below, this group of stocks has been on quite a tear since September.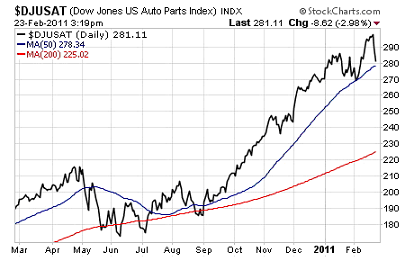 One of the six stocks in this index is Gentex (NASDAQ:GNTX), a $4.3 billion market cap company that's paying a 1.4 percent dividend right now. The company is pushing the small-cap limit, but with analysts projecting revenue and earnings per share growth over 20 percent in the coming year it's a great growth prospect, with a value component as well.
Gentex makes electro-optical products include those auto-dimming rearview mirrors that minimize nighttime glare. The company's share price increased 69 percent in 2010, outperforming the DJ Auto Parts Index, which gained 56 percent.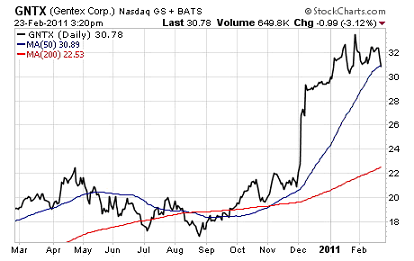 The company's sales increased 50 percent and net income more than doubled in 2010, leading Gentex to raise its dividend by nine percent, to $0.48 cents annually. Unlike many pre-recession dividend payers, Gentex stayed the course by paying dividends without interruption.
Gentex is far from being the only dividend-paying supplier of auto safety equipment. Autoliv (NYSE:ALV) pays a 2.1 percent dividend and makes airbags and seat belts. The stock rose by 84 percent in 2010, outperforming both Gentex and the DJUSAT. Its market cap has also grown into the lower mid-cap range in the past year; now it's valued at $6.4 billion.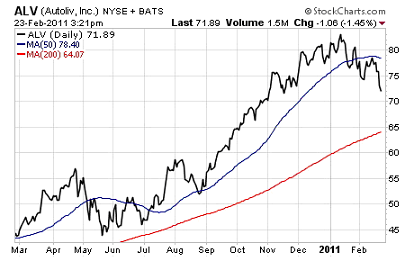 Autoliv sprung up from a 1997 merger of Swedish company Autoliv and the auto safety business of America's Morton International. The company's headquarters are in Stockholm.
Half the company's business comes from Europe, a quarter from North America and a quarter from Asia. This mix could change, however: Autoliv recently announced an expansion of production capacity at its Shanghai plant as it makes more inroads into developing nations. The company predicts double-digit revenue growth in 2011.
Currently shares of Autoliv are trading around $70, but the Thomson Reuters consensus analyst estimate is a price target of $86 -- 23 percent higher than the most recent price.
For the March quarter, earnings per share are expected to increase 23 percent to $1.71, with revenue rising 19 percent to $2.05 billion. For the full year, EPS growth is expected be 8 percent, to $6.92, and revenue should grow by 12 percent, to $8.05 billion.
Investors clinging to Autoliv during the recession were probably surprised when the company suspended its dividend in early 2009. However, it was reinstated about a year later. It's that dividend -- which had a pre-recession yield of more than 7 percent -- that is likely to bring more investors into the fold, and the reason that I'm bullish on this global company.
Gentex and Autoliv have rapidly bounced back from the recession, and are sharing their good fortunes through their dividends. That's not true at other suppliers: For instance, Visteon (NYSE:VC), Dana Holding (NYSE:DAN) and TRW Automotive (NYSE:TRW) don't pay dividends. Lear (NYSE:LEA) just reported it will pay a small dividend of around $0.13, after a 2-for-1 split becomes effective.
Disclosure: None