ACOM (Ancestry.com) reported fourth quarter earnings and gave guidance after the close today. The report was better than I expected on several fronts and the stock was higher in after hours.
Sequential subscriber numbers are estimated to increased by 10.75% in the first quarter of 2011 vs. recent quarter.
Churn rate was 3.9% vs. prior September quarter of 4.0%.
First quarter guidance was above estimates 86M to 88M vs. analyst guidance of 81M.
ACOM expects 2011 total revenue at 372M vs. analyst estimates of 357M.
The company expects 2011 full year subscribers to total 1.7M by the end of 2011, an annual increase of 22 %.
2011 revenue growth of 23% and earnings growth of 40% are solid numbers.
On a subscriber model comparison basis, I have ACOM trading at a forward 2012 p/e ratio of 21.29 vs. NFLX at 35.61, so at present prices ACOM offers good relative value. Below is a chart of ACOM which has good support at the 50 day moving average, green line.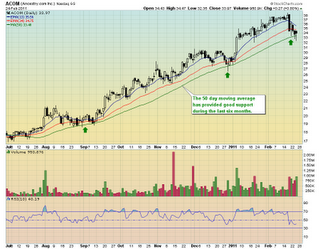 Bottom Line: ACOM had a good fourth quarter report and guided revenues higher for the first quarter of 2011 and entire year.


Disclosure: I am long ACOM.