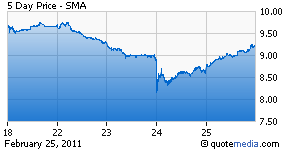 Symmetry Medical (NYSE:SMA) reported fourth quarter fiscal 2010 adjusted earnings per share of 14 cents, missing the Zacks Consensus Estimate of 16 cents while exceeding the year-ago earnings of 5 cents per share. For fiscal 2010, adjusted earnings of 42 cents per share missed the Zacks Consensus Estimate by a penny and were well below the year-ago earnings of 66 cents per share.
Adjusted earnings exclude facility consolidation costs, employee severance payments and debt extinguishment charges. Net income for the fourth quarter catapulted more than seven-fold year over year to $4.3 million (or 12 cents a share) powered by a healthy double-digit expansion in the top line.
Revenues
Revenues for the quarter zoomed roughly 26% year over year to $96 million, matching the Zacks Consensus Estimate. Growth was boosted by higher demand across the Indiana-based company's orthopedic implants and medical devices businesses. For the full year, sales inched down 1% to $360.8 million, mostly in line with the Zacks Consensus Estimate.
By product category, surgical instruments revenues surged 32% year over year to $42.3 million. Orthopedic implants sales rose 6% to $26.2 million. Revenues from orthopedic, endoscopy and dental cases clambered 46% to $21.6 million while other revenues surged 23% to $5.9 million.
Margins
Gross margin for the quarter climbed to 23.4% from 18.3% a year ago owing to higher sales and increased manufacturing efficiency. Operating margin jumped to 9.4% from 1.5% a year ago as the company spent considerably less on facility closure and severance, assisted by higher gross margin.
Balance Sheet
Symmetry exited the quarter with cash and cash equivalents of roughly $15.1 million, up 6% year over year. Total long-term debt declined marginally year over year to $88.7 million.
Outlook
Looking ahead, Symmetry expects revenues in the range of $363 million to $383 million for fiscal 2011. Adjusted earnings for the year are forecast between 57 cents to 65 cents a share. On a reported basis, earnings are expected in the range of 50 cents to 58 cents per share. The current Zacks Consensus Estimates for revenues and earnings per share are $382 million and 60 cents, respectively.
Symmetry is the largest OEM provider of orthopedic implants and instruments to orthopedic devices manufacturers. The company has created a distinct competitive niche in the orthopedic devices market with its "Total Solutions Approach."
Symmetry Medical has adopted a three-pronged strategy to tackle the economic downturn by preserving cash, developing an extensive supply chain and focusing on bottom line improvement. Its major customers include Johnson & Johnson (NYSE:JNJ), DePuy, Stryker (NYSE:SYK) and Zimmer Holdings (ZMH). Currently, we have a Neutral recommendation on Symmetry Medical.