There was only one real market mover this past week, but it was significant and its potency is far from exhausted: the budding civil war in Libya and speculation about its effects on oil prices.
There was other noteworthy news, like an earthquake in New Zealand, continued German obstruction of the current plans for keeping the PIIGS out of default, an Irish election Friday that was nearly certain to seat a government determined to renegotiate its debt with the EU, etc.
However markets moved almost solely with news on Libya and the corresponding changes in oil prices. Specifically:
Markets had continued to rally February 14-18, mostly ignoring the climb in oil prices from $85 to $90/barrel. However, Monday's news of rioting in Libya, the 8th largest oil producer, changed everything.
Oil prices shot higher from $90 to $97/ barrel Monday, with global stocks and other risk assets predictably plunging as the cost of everything that uses oil was now set to rise. As the situation deteriorated through the week, oil prices moved higher, and stocks moved lower.
Assurances on Friday that OPEC and the US could make up for any shortfall brought a modest pullback in oil Friday, and a corresponding bounce in stocks and other risk assets. Never mind that Friday's economic news was quite bad, including:
Lower revised GDP for both the US and UK

rising consumer prices in Japan
Who cared? As with the rest of the week, markets were transfixed by oil prices. That was the prime market mover.
Oil ended the week around $98 for WTI [West Texas Intermediate Crude] and $112 for Brent Crude, up well over 9% for the week.
With Libya, the popular uprisings in North Africa and the Middle East have now hit their first large oil producer. Production was cut by as much as 75% per Italian driller ENI. Libya produces about 2% of the world's oil, 1.7 million barrels/day, most of it of the higher quality lower sulfur content light 'sweet' crude that is not as easily replaced by much of the lower quality higher sulfur content 'sour' crude of the Saudis.
Background: Typical Relationships Between Key Commodities And Other Assets
Here's some key background information for those in need:
Commodity Prices Usually Follow Stocks
As with virtually all essential commodities, oil prices tend to move in the same direction as overall economic optimism, aka risk appetite. Because they encompass all major economic sectors (including those that benefit from government spending), the largest global stock indexes are widely viewed as the best overall gauge of risk appetite. The larger the overall capitalization of the companies in the index, the better an indicator of overall risk appetite it tends to be, making especially the S&P 500 a particular favorite barometer of optimism or pessimism.
Typically, the S&P 500 and other major indexes as a group have tended to lead oil and other key commodities higher.
In sum, the general rule is that stocks lead, oil and other risk assets like commodities or currencies follow.
Drastic Price Changes Alter That Relationship
However if there is a sudden sustained price spike in oil due to some unforeseen growth in demand or reduction in supply, two very important changes occur:
Oil becomes the prime market mover: Instead of growth expectations (as depicted by major international stock indexes) driving oil, oil now drives stocks and other asset markets as these markets adjust to the higher costs of everything that uses energy.
Correlations Between Oil and other risk asset prices diverge: Instead of moving higher or lower together, they move in opposite directions. Higher oil means lower stocks, commodities, and other risk assets like the AUD, NZD, and other currencies that tend to rise with optimism and stock prices.
This is what happened with oil this past week.
The same changes generally occur for sustained price spikes in any essential commodity, though perhaps not quite to the same extent, given that oil prices affect the cost of almost everything.
The Big Question
Will other MENA (Middle East/North Africa) oil producers suffer a similar fate to that of Libya?
While OPEC can replace lost Libyan production due to ample free production capacities, the ongoing political uncertainties in the region will keep the political risk premium on oil prices high. The real risk is that other major producers will suffer a similar fate, risking a genuine production shortfall too large to fill by others.
While that risk remains, the roughly $15/barrel increase in oil of the past 2 weeks, 17%, in oil isn't going away.
Oil's Impact On Economies
Per a Deutsche Bank Study, for every $10 increase in oil, expect a 0.2% drop in GDP for oil importers – virtually all of the developed world and leading global economies. Virtually all were experiencing at best weak recoveries characterized by stagnant jobs and spending growth. Most are facing government spending cuts to reduce their debt/GDP ratio to lower, more sustainable levels. The new 'tax' of drastically higher oil threatens plans to achieve both growth and debt/GDP reductions.
That 70's Show (Again): Lower Growth, Higher Prices Mean Stagflation
That means for the foreseeable future we risk a return to the stagflation of the 1970s, which also came about from an oil price shock.
This means:
Prices Revised Higher: We're raising our forecast of oil prices for 2011 from $95 to $110. That would be the highest annual average ever recorded. Although the political risk premium should decline over the medium term, we nevertheless expect the 2012 Brent price to average USD 105 per barrel.
Lower Growth Risks: Oil is used in almost every aspect of modern societies, thus a sudden spike in oil means less cash available for all other spending. A Deutsche Bank (NYSE:DB) report about the effect of rising oil prices was widely circulated in the media this past week. The key point was that for oil importing states a $10 increase in oil results in a roughly 0.2% cut in GDP.
Higher Inflation Risks: Already heightened inflationary pressures will increase further, especially since food prices will rise again beyond short-term corrections, as food production is energy intensive.
In sum, we have real risk of stagflation, stagnant growth with rising prices, similar to that of the 70s, which was also brought on by a sudden and sustained rise in oil.
Winners & Losers
Here are just a few ideas to get you thinking in the right direction:
Losers: Should Trend Lower
Most Libyan oil goes to the EU, so supply affects will be felt there most of all. Note the pie chart below (click to enlarge).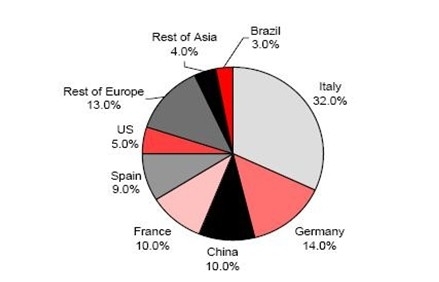 Libya's Oil Exports Courtesy of Unicredit Bank. 15feb27 0239 d
In short, 78% of that 1.7 million barrels/day, 1.33 million barrels, goes to Europe, over 540 million/ day just to Italy.
Therefore global stock indexes in general suffer, especially those with more Libya, MENA and EU exposure.
EU stock indexes and related companies, especially those with heavy Libya ties, including:
Germany: Index DAX (.GDAXI), and its components with strong Libya ties
Oil companies in Libya: ENI (ENI), BASF (OTCQX:BASFY), Total SA (NYSE:TOT), Marathon Oil (NYSE:MRO), ConocoPhillips (NYSE:COP), Repsol (REP), OMV AG (OTCPK:OMVKY), Hess Corp (NYSE:HES), Occidental Petroleum (NYSE:OXY), Statoil ASA (NYSE:STO)
See chart below for their relative exposure (click to enlarge):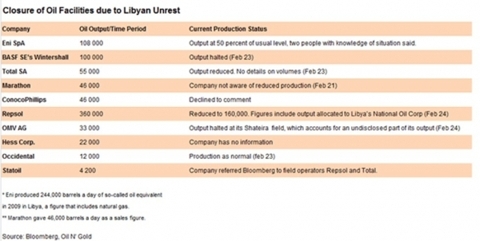 Chart Courtesy of Bloomberg via Oilngold.com 17feb 270306 d
Winners: Should Trend Higher
Commodities & Related ETFs:
DISCLOSURE & DISCLAIMER: AUTHOR SHORT THE EUR FOR PERSONAL PORTFOLIO. THE ABOVE IS FOR INFORMATIONAL PURPOSES ONLY AND NOT TO BE CONSTRUED AS SPECIFIC TRADING ADVICE. RESPONSIBILITY FOR TRADE DECISIONS IS SOLELY WITH THE READER.