We've seen an eventful week, with a sharp jump in oil prices driven by what amounts to civil war in Libya, a rally in Treasury bonds, and a selloff in stocks. After a string of humdrum weeks in which the dominant trend seemed to just roll on without an end in sight, we finally have some counter-directional movement. Now we have to review those trends to see whether they remain in effect.
Week in Review
Stocks: The SPX and NDX fell nearly 2% during the short holiday week, recovering a bit with Friday's lower volume bounce. Every SPX sector except energy lost ground, with the industrials dropping more than 3%. All the primary stock indexes held above their 50 day simple moving averages, but the lagging Dow transports, which we mentioned last week had given a Dow Theory buy signal, fell nearly 4.5% and broke below the 50 day. At this point it looks like it might have been a Dow Theory head fake, which is not surprising - oil price inflation hits transports hardest. Brazilian and Indian markets look particularly soft.
Bonds: Bond investors enjoyed a second week of gains on what we must presume was safe haven buying. TIPS once again led the way, no surprise with the specter of inflation wandering about. What was perhaps a bit surprising was that the longer maturity Treasuries caught a nice bid, as the curve flattened appreciably. Junk bonds were the losers on general risk aversion, but it was only a very slight markdown. Munis appeared to benefit from continued bargain hunting.
Commodities: The grains index pulled back sharply at the beginning of the week but rallied on Friday to close above the 50 day, corn remaining stronger than wheat. Precious metals recorded another week of solid gains. Natural gas had a quiet week until Friday's nearly 9% jump. It closed just below the converging 50 and 200 day moving averages. Of course the big story in commodities was oil. On Monday WTI shot up in heavy trading to the highest price since 2008, but the action on Thursday was most interesting: opening just under $99, it was bid up above $103 before falling to actually close with a loss on the day.
Currencies: The US dollar index recorded another losing week, falling below 77 before a small relief rally on Friday. Yen and Swiss francs gained, the franc reaching a new multi-year high vs. the dollar. Aussie and Canadian dollars also gained, and remain technically strong.
The Week Ahead
Stocks: For all the noise we heard last week, the little bit of weakness we saw in stocks was very modest indeed, and can hardly be called a correction - at this point it is not even as deep as the very mild November correction, and has not yet touch the 50 day. Techs and small caps sold off a little more deeply but recovered more strongly Friday. At this stage, while we may be at the beginning of the more significant 7-10% correction we have been looking for, there isn't enough evidence of it yet. I am very overweight cash and underweight equity in my own portfolios, but can't really recommend that position unreservedly. US stocks refuse to break down, and continue to climb that wall of worry. Click on chart to enlarge: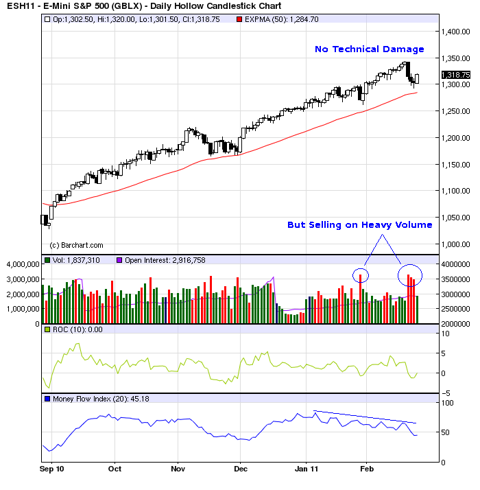 At the same time we should remember that the longer view, which we explored last week, is that we want to see the SPX get through that 1370-1400 resistance zone to set up another major leg in this bull run. Short term risk reward here is still, in my view, more weighted toward risk than I would like.
Bonds: Treasuries in particular present an interesting dilemma here. In the short run, as a safe haven asset they are acting almost as a sort of alternative call option on stock market volatility; as we showed last week, in the long run they remain in a bull market until the 10 year yield holds above 4%. But what to make of the yield curve flattening slightly in a week when oil prices spiked, and with commodities having a sustained rallying for some time now? Is the bond market not buying the inflation theme, trying instead to signal economic headwinds coming at the recovery? Click to enlarge: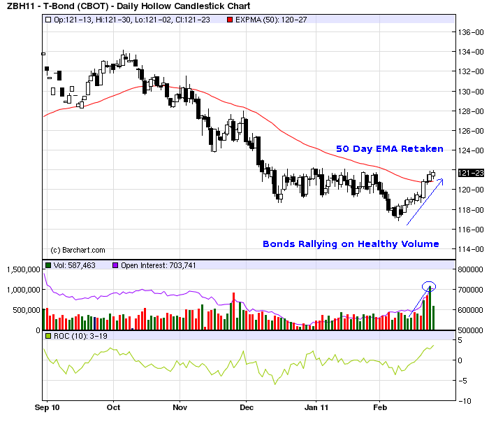 Whatever the case, what we have on our hands is a developing bond rally. For traders, it looks reasonably tradeable from a technical standpoint. For longer term, fixed income allocation purposes, the question remains whether these yields are attractive enough to commit capital here. To me at least, the answer is no.
Commodities: We have to begin this discussion with oil, and the first thing to say about oil is that we have a high level of event risk here. While my position on both the supply fundamentals and market technicals had been to trade this on the short side, looking for a significant correction in WTI, that outlook has been completely overtaken by events in the Middle East. I'm not inclined to play around in this kind of environment: you can be short, some kid in Jeddah throws a rock through a window, and you get your head handed to you. My expectation is to see another short opportunity but we'll look at that when the time comes. Certainly for this week, there's too much event risk to take a position. Click to enlarge: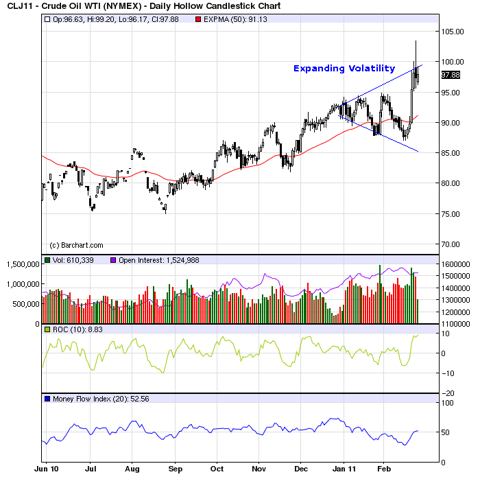 Grains and soft commodities are in the midst of an extended bull rally, with wheat looking like the weak link, but the trading bias is bullish. Commodity ETFs don't look so very different from stocks, showing a modest pullback in a strong rally. However, like stocks, the risk/reward isn't very attractive: to me these ETFs also look extended and vulnerable to a material correction, but we don't have a signal on that yet. Click to enlarge: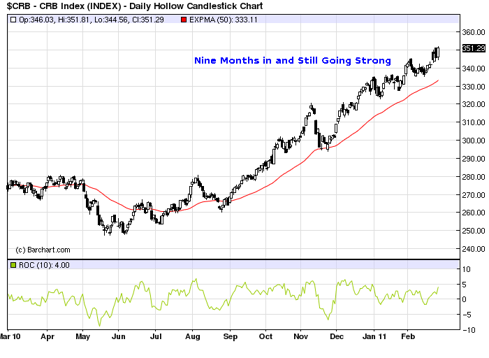 Currencies: The Dollar index has been falling again with bond yields, but seems to be trying to hold near term support at the 77 level. Holding it would help stem the disruptive rise in commodity prices, but with chaos threatening abroad and a game of chicken over the Federal debt at home, continued volatility may be in store; we should hope not - this will be a key level to watch in the coming week. Click to enlarge: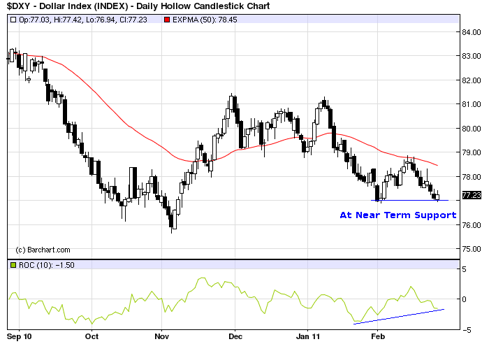 Summary: The market outlook for the coming week is exceptionally uncertain due to the geopolitical environment. On a fundamental and technical basis, with the exception of bonds the trends of recent weeks remain firmly in place, and there is no objective reason I can show to trade out of or against them - the trend is still your friend. Earnings are still coming in strong, economic data on balance are showing improvement (well, except for housing), it's hard to make a bear case on the data. However, given the backdrop, a very unsettled feeling about this market has me positioned quite defensively. Taking profits isn't the worst mistake you can make in the markets.

Disclosure: I have no positions in any stocks mentioned, and no plans to initiate any positions within the next 72 hours.