Company Overview
Amazon.com (NASDAQ:AMZN) is the largest online retailer in the world. AMZN sells merchandise directly on its websites, on syndicated sites and on third-party sites powered by AMZN technology.

1.0 Investment Thesis - Introduction
Amazon's long-term dynamics remain fascinating. It is an e-commerce leader in terms of market share and margin growth potential. The company's strategy is right for the internet, where the next competitor is only a few clicks away. Having focused on investments in infrastructure and technology while maintaining low prices with a positive customer experience, the company has been able to repel the competition while building operational scale.
We believe that its "Fulfillment by Amazon" service is at an inflection point. Over the past few quarters, Amazon has been ramping investments in fulfillment infrastructure to satisfy the strong appetite for both its retail e-commerce and third party businesses and in a bid to lay the foundation for sustained international growth in years to come. In 2010 the company added 13 new distribution centers to reach a total of 52, pairing volume unit growth with one of the fastest paces of infrastructure addition for some time.
In addition to the continued growth in users actively using Amazon.com and its syndicates (now at 130m users), the company has been able to increase the amount it sells per customer. This has been achieved through the offering of its "Amazon Prime" service. We aslo see the company's third party platform as the biggest earnings growth driver over the next 5 years, and the company also has the potential to benefit from its cloud computing and digital media (Kindle) initiatives.
Even if this capex on infrastructure means lower 2011 EPS estimates, we believe that investment in growth is the right long-term strategy for the internet, which should help maintain a premium P/E multiple.
1.1 Investment Thesis - The Future - 3rd Party Sellers
Given the strong interest from 3rd party sellers in the US that are currently onboarding inventory into Amazon's facilities, we think that these investments are necessary to ensure continual growth for years and to fend off competitive threats from other e-commerce platforms. We have also come to believe that these investments would not only help drive purchase frequency, but would also help expand internationally and add new categories and services (such as same-day delivery of groceries).
1.2 Investment Thesis - Conclusion
Therefore, we continue to express our view that the combination of Prime, Fulfillment by Amazon, Amazon Web Services, additional facilities, shipping programs, and now on-demand streaming video content should further fuel growth for years to come and drive returns.
2.0 - Company Update - 1Q Guidance
Management provided 1Q guidance which was above street expectations on the top line but was below on operating profits. Revenues for 1Q are expected to be in the $9.1bn-$9.9bn range (+28% to +39%Y/Y), benefiting from strong unit growth, international and category expansion and Kindle sales. The company also expects pro-forma operating income to be $400mn-$525mn. At its mid-point, the guidance translates into a non-GAAP operating margin of 6.0% (vs. 7.1% in 4Q 2009).
2.1 - Company Update - News
S&P raised the corporate credit rating to "A" from "A-" and assigned a stable outlook for the e-commerce giant.
Amazon launched instant on-demand streaming of more than 5,000 movies and TV shows for its Amazon Prime members at no additional cost.
On January 20, 2011, Amazon announced that it has reached an agreement to acquire the remaining shares in LOVEFiLM (LOVEFiLM.com), a European subscription entertainment service which combines the DVD and games rental-by-post as well as streaming films and TV shows instantly over the internet.
3.0 - Competitive Advantages
Economics of scale: With over 130 million active users, and roughly 13% of these users Prime members, Amazon has an growing dependent user base.
Furthermore, AMZN's low-cost operation coupled with its distribution of fixed costs across the vast user base and passing those savings to consumers has protected the franchise against competition.
Customer loyalty, and the expanding network effect, has provided the company with sustainable competitive advantages, allowing it to generate high returns on capital.
4.0 - Positive Catalysts
Leveraging up LOVEFiLM - Streaming video content for North America and expansion in continental Europe
If you [reader] might know about any other positive catalysts, please let us know in the comments section.
5.0 - Risks
Competition: Digitization of Media (43% of revenue in 2010) - Amazon has the lead in books with Kindle but it is losing battles in other platforms.
Competition: Greater competition from the likes of Google (NASDAQ:GOOG) to create an outsourced storage/computing services business could impact adoption of Amazon Web Services.
Execution: The capital investment cycle takes longer than expected, and or fails to improve margins thereafter.
Economic: Potential weakness in consumer demand could adversely impact Amazon.com.
Economic: Slowdown in growth of international markets.
Economic: Foreign exchange rate volatility.
6.0 - Competitors
Apple (NASDAQ:AAPL), Netflix (NASDAQ:NFLX), eBay (NASDAQ:EBAY), Barnes & Noble (NYSE:BKS), Overstock.com (NASDAQ:OSTK), Google (GOOG), Rackspace Hosting (NYSE:RAX), Wal-Mart (NYSE:WMT), Costco (NASDAQ:COST), Target (NYSE:TGT), and all the retailers in the world where Amazon.com has the ability to ship.
Amazon competes with many more companies. If you think I missed anyone in particular, please post it as a comment.
7.0 - Valuation
click to enlarge images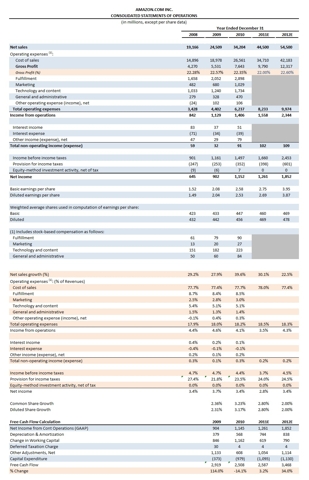 Click to enlarge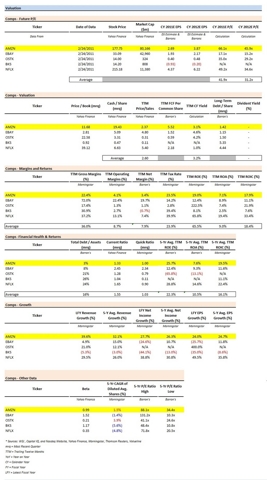 Click to enlarge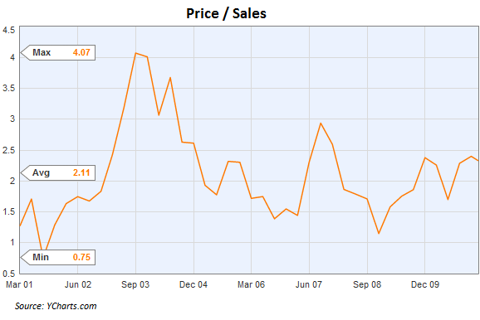 Click to enlarge