Commodities have seen a very fast move to the upside. Stabilization of the world economy has much to do with this, and it seems "The Great Recession" has passed. Since this has happened growth is being seen in many sectors, and as the United States has feared deflation, Bernanke and company are doing their best to do the opposite, create inflation. This seems to be with good reason, as one only has to look at Japan's battles with deflation to see what this can do to a country's economy.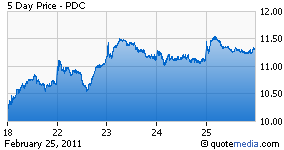 All of this has caused large moves in many of the world's commodities. The moves in wheat, corn and soybeans have been quite large. Precious metals have done the same with respect to platinum, gold and silver. We cannot forget energy such as coal and oil. As oil prices have increased, exploration and production companies have been buying up mineral rights in plays like the Eagle Ford, and the Bakken. The same technologies used to get access to shale gas are now being used to get oil. Now that the United States is able to do this, there has been a mad dash for the shale.

I have covered many oil and gas names recently on the premise that this sector should do well on high oil prices, and new plays in the United States just being developed. Many of these plays have resource potential to be collecting oil for the next four decades. Since so many companies have moved at once, a problem with accessing rigs and services are just beginning to be seen. It is my guess this bottleneck will be here for some time. When this happens, companies raise prices and begin to see widening margins. I have been following a small drilling company for some time now, and they look to be well positioned going forward.

Pioneer Drilling company (PDC) is a $614 million market cap drilling company. They are positioned in the MidContinent region and have capitalized on the quick development of the Bakken shale. It wasn't long ago this company was trading a rather large discount to the replacement value. It seems some investors have taken notice to this, as the company was trading for $8.81 a share at the end of 2010 and now Pioneer is trading at $11.33.

A little history on this company show a parabolic move in its stock price beginning in 2000. This stock traded at $2 per share in July of that year, and at its peak in less than six years later at $21.60. Pioneer was able to ride the run on shale drilling for natural gas through those years. It is easy to say they were good at it, but then the market slowed and natural gas was being overproduced, creating a glut in the market. Pioneer has made a conversion, and seems to be on the right track as they are using those unconventional techniques, to pull oil out of the ground.

Currently 70% of Pioneer's rigs are under contract. 60% of its rigs are in shale plays. 60% of this company's rigs are drilling for oil. A recent bond offering has provided adequate liquidity going forward. Pioneer's three businesses seem to have good growth ahead in land drilling, well services, and wireline. Pioneer has 71 land drilling rigs, 74 well service rigs, and 84 wireline units. Drilling services are currently 65% of revenue, with production services being 35%. Drilling services are 55% of total segment margins, while production services are 45%.

Pioneer's strategy going forward is to emphasize new builds and greater technology within it core businesses. This company has been dedicated to getting long term contracts for its rigs. By the end of the third quarter of 2010, Pioneer signed 28 long term contracts for its rigs. At that time, all seven rigs were drilling in the Marcellus shale. eight rigs were drilling in the Bakken, six rigs were drilling in the Eagle Ford, one rig was drilling in South Texas, two rigs were drilling in the Uintah Basin and eight rigs were drilling in Columbia. Pioneer has seen its fleet increase from 40 in 2004 to 71 in 2009. 58% of its fleet is mechanical and 42% is electric. 20% of the rigs are 1500 to 2000 hp, 49% are 1000 to 1499 hp, and 31% are 550 to 999 hp. Pioneer's rigs are in several locations:
North Dakota 9 rigs with average of 1222 hp
Utah 3 rigs with average of 1000 hp
North Texas 3 rigs with average of 850 hp
South Texas 19 rigs with average of 1084 hp
East Texas 16 rigs with average of 931 hp
Oklahoma 6 rigs with average of 600 hp
Appalachia 7 rigs with an average of 1000 hp
Columbia 8 rigs with an average of 1375 hp

Since 2001, Pioneer has had a utilization rate of 85%. Just recently Pioneer has seen a marked climb in utilization rates, as the weakened economy had pushed utlization down to 33%. Historically, Pioneer has had close to the same utilization rate as its competitior Helmerich & Payne (NYSE:HP), which is impressive given H&P success over the past few years.

75% of Pioneer's fleet is shale capable. They have had a 31 new builds since 2001. 69% of its rigs are 1000 to 2000 hp. 49% of the rigs are top drives. 63% have iron roughnecks. 42% are electric. 12 walking/skidding systems are on rigs with three more to be scheduled to be applied as of the forth quarter of 2010. Lastly, there are 33 mud pumps with 1300 to 1600 hp.

Pioneers well service fleet is one of the most capable in the United States. Pioneer has:
Sixty-nine 550 hp rigs
Four 600 hp rigs
One 400 hp rig

66% are 2007 or newer. 31% were built in 2005 to 2006. 3% were built from 2002 to 2004. Average year in service is 2007. Most of the well service locations are in Texas, Arkansas, Louisiana, Mississippi, with one in North Dakota.

Pioneer has a very new wireline service. They have open and cased-hole wireline services. Pioneer owns 84 wireline units of average age of less then five years. They are established in the Bakken, Barnett, Marcellus, Haynesville, Niobrara, and Eagle Ford shales. Pioneer also has fishing and rental services used for both drilling and servicing wells.

There have been steady increases to rig counts in the United States beginning in 2009. Most importantly, horizontal oil rig counts have already surpassed the peak level in the fall of 2008. That peak was at 650 horizontal rigs, while in December of 2010 that number was already to 947. Oil service companies should stand to benefit from this increased number as horizontal wells generally tend to be less risky but need 3 to 5 times more service. Upstream spending increases are being seen, while well service companies are already starting to higher more employees. All of this is quite bullish for Pioneer. I still think this company has a ways to go with respect to growth over the next few years. This company, due to its size and young fleet, would be a takeover target as companies in this sector find that it will be quicker and more efficient to buy growth then to wait for the rigs to get built.



Disclosure: I have no positions in any stocks mentioned, and no plans to initiate any positions within the next 72 hours.