Seagate (NASDAQ:STX) is the world's leading provider of hard disk drives. It designs, manufactures, markets and sells hard disk drives. Hard disk drives are devices that store digitally encoded data on rapidly rotating disks with magnetic surfaces. The performance attributes of disk drives, including their cost effectiveness and high storage capacities have resulted in disk drives being used as the primary medium for storing electronic data.
A broad range of disk drive products are produced that address enterprise applications, where the products are designed for enterprise servers, mainframes and workstations; client compute applications, where the products are designed for desktop and notebook computers; and client non-compute applications, where the products are designed for a wide variety of end user devices such as digital video recorders (DVRs), personal data backup systems, portable external storage systems and digital media systems. In addition to manufacturing and selling disk drives, Seagate provides data storage services for small- to medium-sized businesses, including online backup, data protection and recovery solutions.
The company is nearly debt free. It has $2.2 billion in debt and $1.8 billion in cash equivalents. Revenue has almost doubled in the last 10 years, with half of the revenue coming from Asia, 29% from the U.S. and 21% from EMEA. The stock price in the last 52 weeks has traded between a high of $21.58 and a low of 9.48. It closed last Friday (February 25) at $12.83.
Seagate reported quarterly results in December that indicated that the company is still having a tough time. A revenue decrease of 10% and a gross margin decrease from 30% to 19% compared to the same period a year earlier. The total number of units sold was only down 2%. The decreases in revenue reflected the impact of the competitive pricing environment which the industry experienced during the middle of calendar year 2010. The company states the following about this in the quarterly submission:
Our gross margins continue to be impacted by the cumulative impact of the competitive pricing environment the industry experienced during the middle of calendar year 2010.
Let's take a look at the trend of key financial data over the last 10 years (Data as of end of fiscal year, which ends in June).
Graph 1: Financial Trend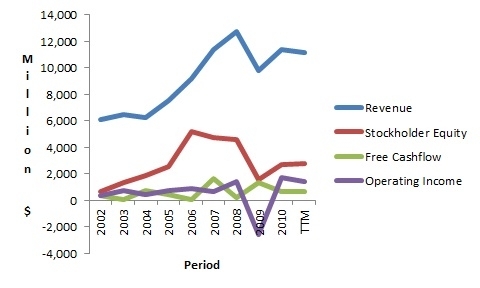 We'll try to get to an estimate of Seagate's intrinsic value by using the earnings power value method. First, earnings need to be adjusted to represent the cash investors can extract and still leave the company functioning. Second, we need to determine a discount rate. Lastly we'll estimate the future growth of the company
The following adjustment will be done on the TTM financials:
EBIT margin of 7.5%

SG&A, R&D, Depreciation adjustment

Tax rate of 37%

Discount rate of 12%
To estimate future growth we'll take a growth percentage of 5%, cost of capital of 11% and a ROIC of 18%. This gives an intrinsic value of $17 per share. The current stock price of around $12.83 gives a 24% discount to the intrinsic value.
Seagate's products are currently approaching the end of their life cycle and the company is rolling out a refresh of its product cycle. This should have a positive impact on margins in the second part of this year. Let's assume that the company is able to restore gross margins to the 22% - 26% range. We'll recalculate the intrinsic value this time by taking an EBIT margin of 10%. This puts the intrinsic value at $20.50. This would be close to a 40% discount to the last closing price.

Disclosure: I have no positions in any stocks mentioned, but may initiate a long position in STX over the next 72 hours.