Few stocks have been as hot lately as mobile app stock Glu Mobile (Nasdaq:GLUU).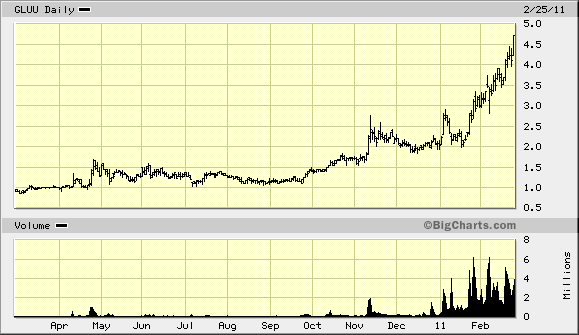 Glu Mobile's parabolic ascent has a lot of traders searching for the next big mobile app stock. Here are two under-the-radar stocks in the mobile app space.
Poynt Corp (Toronto Venture:PYN)
Poynt Corp., which trades primarily on the Toronto Venture exchange but is also cross listed in the US under PNYTF.PK, produces the eponymous local search app. Poynt also has a growing patent portfolio focused on the delivery of location-based advertising. Poynt's search app is widely lauded — one part Urban Spoon, one part Fandango, and one part Dex Knows.
Poynt works pretty well, and as a result has become quite popular. But the company thus far has been unable to translate popularity into meaningful revenues. In Q3 Poynt booked just over a quarter million, while losing about ten times that amount. Those (like me) who held out for increasing revenues lost out on a great trade. From its low in December, Poynt shares are up about four-fold.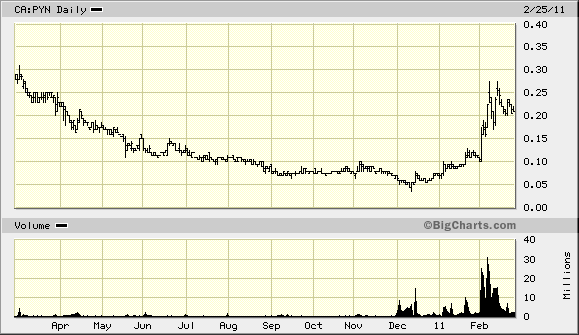 Mitek Systems (NASDAQ:MITK)
Mitek is up even more than Glu Mobile this year, yet few have heard of the microcap app maker. Mitek provides two exciting technologies that are starting to be incorporated into banking apps for all the major platforms (iOS, Android, Blackberry, Windows Mobile). Mobile Deposit allows users to deposit checks by snapping a picture of the check with their smartphone cameras, and sending the picture to the bank. Mobile Bill Pay allows users to pay a bill by taking a picture with a cell phone camera, which the app bridges with the user's bank account and causes it to be paid.
These apps are in the early stages of adoption – which is the principal reason why this $100 million market cap company had revenues just under $1.5M last quarter – but it's easy to see how it could quickly become ubiquitous. Mitek recently announced that 3 of the 10 top banks have signed contracts to use Mobile Deposit, and Mitek is in discussions with a number of big banks for Mobile Bill Pay. If Mitek apps become widely adopted, I expect the now-paltry revenues to skyrocket.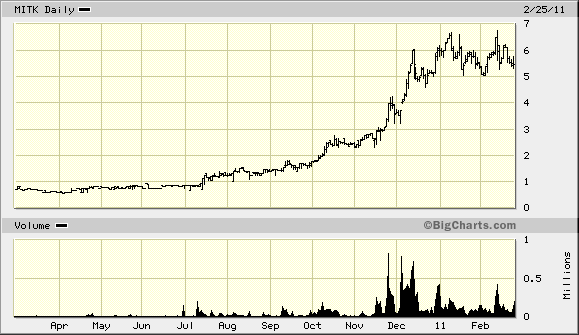 Bottom line: I added both PYN / PYNTF.PK and MITK.OB to my watch list, and may take a position in the latter as it consolidates near the top of its range.
Disclosure: No position.