Global unrest, economic uncertainty, rising oil prices and an excellent start in 2011 has caused the stock market to take a breather this week. While the markets are vulnerable to unrest in North Africa and the Middle East, we believe this to be temporary, and feel strongly that the uptrend will resume as large cap stocks lead the recovery. Cash rich high tech companies with strong earnings prospects should be in the forefront.

With that in mind, we screened our database of 5000 stocks for large cap technology companies in the consumer space with an excellent ROE, solid earnings history and bullish ratings. 3 stocks stood out : AAPL, GOOG and MSFT. These three together have defined technology and shaped the technology roadmap for the past 3 decades. With strong product offerings and cash flow in each of these companies, this trend does not seem to have an end yet. Despite the many and very common debates across the globe by those supporting one of these companies and trashing the others, we believe each of these giants is a winner in its own right and all 3 stand in a position to lead the rising markets to new highs. Obviously the case for Microsoft is more controversial but we believe that some of their recent initiatives such as their announced partnership with Nokia (NYSE:NOK) will be successful.

Our rating is based on a 20-factor model incorporating Financial Metrics, Earnings Performance, Price/Volume activity and Expert Opinions to determine a stock's potential over the next 3-6 months.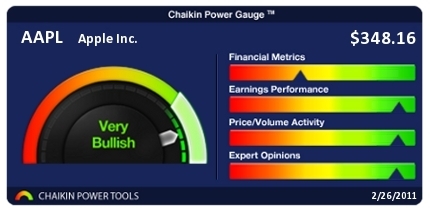 Apple Inc (NASDAQ:AAPL): $348.16

Apple continues to be in an enviable position as both Main Street's and Wall Street's darling. A strong balance sheet with lots of cash and no debt positions the company to continue to invest in building innovative products and generating new revenue streams.

Stellar earnings growth every quarter leads to very bullish Analyst Opinions and helps gain investor confidence. Very positive cash flow activity, a strong Volume Trend and favorable price strength when compared to the broader market bolster our already very bullish rating.

Apple's new partnership with Verizon (V|Z) stands to benefit Apple in the near term as many Verizon customers switch their handsets to the iPhone. Apple's big uncertainty is its heavy reliance on Steve Jobs, and since his health issues have resurfaced in recent months, Apple critics are back in the news suggesting a decline in the company's fortunes if Jobs departs.

Although that possibility cannot be overlooked, we believe that with a PEG ratio of 0.77, shares are undervalued and AAPL is well-positioned to continue outperforming the markets in the near term.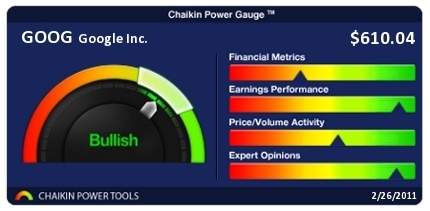 Google Inc (NASDAQ:GOOG): $610.04

With operating profit margins of over 30%, Google continues to post solid earnings and project even more growth going forward. Analysts, very impressed with Google's earnings have revised their estimates upwards. The company's strong balance sheet allows it to penetrate into newer markets.

From its humble beginnings as a search company taking on Yahoo (NASDAQ:YHOO), to Google Docs taking on MS Office, to Android taking on the iPhone, Google continues to position itself as David challenging the mighty Goliath. With the recent change in management resulting in founder Larry Page taking over the day-to-day operations as CEO, Google is handing its daily routine to a younger generation.

Although shares have lagged the overall markets in the last 3 months, a bullish rating driven by a low projected P/E ratio on 2011 earnings estimates suggests that they could lead this year's rally once the markets stabilize and recover.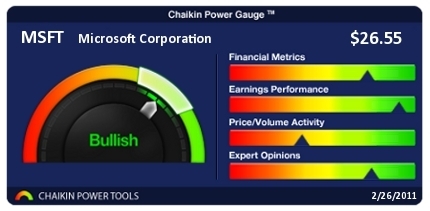 Microsoft Corporation (NASDAQ:MSFT): $26.55

Despite a strong balance sheet, consistent earnings growth with high profit margins and a positive Business Value*, Microsoft was one of the few companies that lost value in 2010 and has continued underperforming in 2011.

However, the company has started fighting back for its claim as the largest technology company in terms of market cap which it lost to AAPL last year, by penetrating into existing markets such as the search engine via BING, partnering with Nokia and creating newer opportunities by leveraging the newest technology trends such as cloud computing.

With a low P/E ratio on projected 2011 earnings, shares seem to be undervalued. Analysts continue to believe there is upside to the company's stock price and have revised earnings estimates upwards further bolstering a bullish rating.

Although, Microsoft is clearly not the growth engine it was in the 1980s and 1990s, it has regrouped and has made its presence known in all aspects of technology – from desktops to laptops to handhelds to TVs to Cloud Computing to CRM and ERP – and we believe that if we are correct and this is the year of the large cap tech stocks, then MSFT will make its presence known.

For more in-depth analysis on these stocks, please click here.

* Business Value is the most heavily weighted factor in our 20 factor rating. It measures free cash flow per share on a relative basis vs. 3000 stocks. It is similar to EV/FCF.


Disclosure: I have no positions in any stocks mentioned, and no plans to initiate any positions within the next 72 hours.