If you are long natural gas, Dorchester Minerals LP (DMLP - $27) may be an ideal, mostly conservative investment. If you are looking for MLP income and willing to withstand some distribution volatility, DMLP may be an ideal candidate. DMLP is a MLP that thinks it's a royalty trust.
Dorchester Minerals is a master limited partnership that invests in land and sells the mineral and drilling rights for a royalty override or net profit interest (NPI). DMLP has interest in 3 million gross acres, 378,000 net acres. The partnership has exposure to many of the nameplate fields with both producing wells and undeveloped acreage. Only about 30% of their overall holdings are developed and producing.
The company has interests In the Fayetteville Shale trend, the Horizontal Bakken/Williston, the Appalachian Basin, the Barnett Shale, the Permian Basin, and the Granite Wash.
The general partner has a fixed 4% of net cash management fee and there are no distribution rights or incentives that will increase this percentage over time. Unlike some arrangements where the general partners receive a larger share of growing distributions, DMLP unit holders will be credited with 96% of generated cash flow.
Management announced earnings last week. Considering the backdrop of low natural gas prices and an oversupply, the results were quite respectable. Royalty oil production increased 9.5% in 2010 to 332 mbbls. NPI oil production volumes decreased 9% to 10 mbbls. Royalty natural gas production increased 11.3% to 4,457 mmcf while NPI gas production decreased 6.7% to 3,351 mmcf.
Year end reserves were 3,330 mbbls of oil and 61,679 mmcf of gas. Both are up slightly from 2009 and about even with 2008. DMLP made 2 acquisitions, one in 2009 and another in 2010 that added to production growth and reserves. Historically, production declines have been replenished by new reserves on its acreage. As the MLP distributes most all its cash flow, additional reserves are occasionally acquired by issuing shares, such as in 2009 and 2010.
Earnings for the year were $1.11 per unit, up 54% from depressed levels of 2009. Annual distributions also rose to $1.60 from $1.50 in 2009. Revenues for the year 2010 were $61 million, an increase of 40% over depressed levels of 2009.
Net cash provided by operating activities increased 41.1% to $52 million during 2010 primarily due to increased oil and natural gas prices and increased natural gas production due to the acquisition of new properties effective March 31, 2010.
DMLP collects a royalty based on the sales volumes of each well. In many of their wells, the company defers its interest in favor of the developer shouldering the expense and risk of exploration. These arrangements allow for the developer to recoup 150% of capital expenditures before DMLP's royalty interest is funded. For example, for Fayetteville, out of the 219 new wells completed and producing in 2010, 156 were in payout status with the balance waiting developer payback.
Because royalty payments are directly affected by the selling price of natural gas, cash flow and distribution payments will vary. For instance, distributions in 2006 were $2.83, in 2007 were $1.97, in 2008 were $2.80, in 2009 were $1.50, and in 2010 were $1.60.
DMLP carries no debt, has 30 million shares outstanding and a market capitalization of $845 million. Insiders own its fair share at 28% and institutions own a paltry 12%. DMLP is not followed by the street and it rarely shows up on a listing of MLP investment selections. It was recently kicked out of the Alerian MLP ETF in favor of someone else. DMLP website does not provide much information, and that is the way management likes it.
Management has consistently generated excellent return on equity. As they have no debt, 5 year average return on invested capital is the same as return on equity: 28.2%.
More information is available from a previous article here.
Below is a 5 year chart, along with 200 day and 50 day ma (click to enlarge):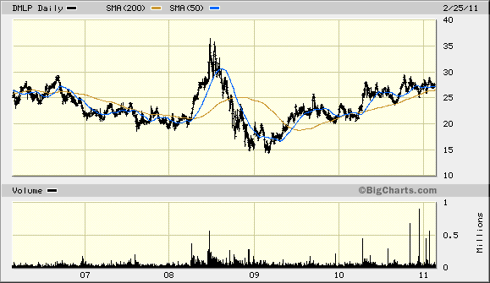 Currently trading at $27, share prices are about half way within its trading range of the last 9 months of between $25 and $30. DMLP offers an interesting total return based on share prices and distributions increasing as natural gas pricing moves up to and over $5. Current yield based on trailing distributions of $1.60 is 5.8%.
Over the next two years, if natural gas markets return to 2007 levels of pricing, before the big spike, and distributions reach $2.00, the current trailing yield could generate share prices in the $34 range. Yield on invested capital would be 7.2% and a share price 26% higher.
As always, investors should conduct their own due diligence, should develop their own understanding of these potential opportunities, and should determine how it may fit their current financial situation.
Disclosure: I am long DMLP and has been a shareholder since 2007.