In an effort to identify patterns indicative of markets swings, it is interesting to note the close association between the price return of Exxon-Mobil (NYSE:XOM) in terms of real money, i.e., GLD, and the SP500 in terms of real money. In particular, there is a strong association between the ratio XOM/GLD and the ratio SP500/GLD, as shown in the two monthly charts provided below. In July 2007, there was a co-occurrence of the peak price returns of XOM/GLD and SP500/GLD, after which a precipitous drop in the markets was observed.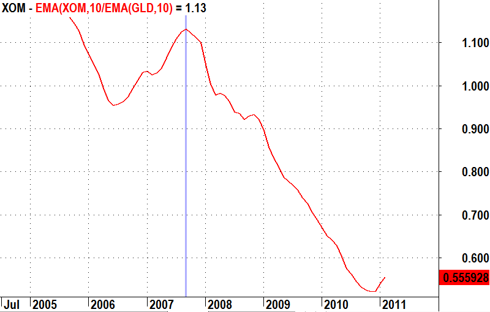 (Click to enlarge)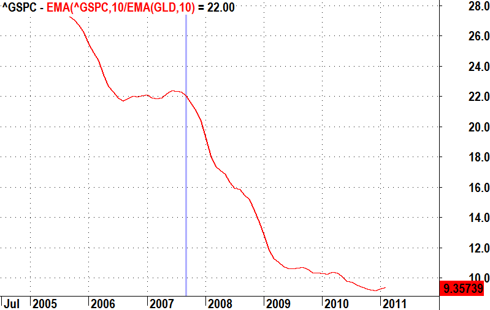 (Click to enlarge)
In addition to the association between price return spikes for XOM and the SP500 in 2007, add the effects of the subprime mortgage crisis that were ongoing at that time, plus the rising price of gas at the pumps as shown by the rise in price of USO until mid 2008, and the markets and economy inevitably cried "uncle."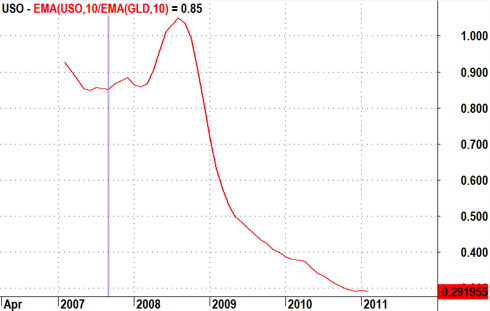 (Click to enlarge)
A rise in the oil/gold ratio over the next few years coupled with the already suffering sideways-moving economy, will only exacerbate existing problems. That XOM's monthly price return (first chart) is now rising greater than gold may be indicative of an unprecedented oncoming bull market that will likely result in higher gas prices at the pump within 2-3 years. This may also indicate a diminished gold play, which served as a safe hedge against QE1. The moratorium on exploration in the Gulf of Mexico after BP's (NYSE:BP) Deepwater Horizon spill has created an additional problem, for which there may be a ~2-3 year lag time before shortages are observed. Overall, the rise in oil prices over the next several years combined with worsening state budgets, layoffs, millions of home foreclosures, and millions of unemployed not likely finding employment during the next several years should be a stark warning. The ensuing sharp rise in oil prices will be enjoyable while it lasts, but it probably won't last forever.
Before we think about taking action, let's confirm some fractal patterns in price returns of XOM and GLD, and take a look at the fractal patterns for volume as well. The chart below shows the fracal pattern of daily XOM price trend for the following periods: 12 bar -- colored sky blue, 24 bar -- colored light blue, 48 bar -- colored blue, and 96 bar -- colored navy. There is a long existing trend in the price growth of XOM, based on the growing cloud heights for all four periods. Specifically, the growing dark blue cloud (96 bar) is suggestive of a long-term price trend. Note that all four clouds are growing in height as well. The middle panel shows the same periods, but for volume. The fact that the dark green cloud is observed indicates that a continual growing trend in volume.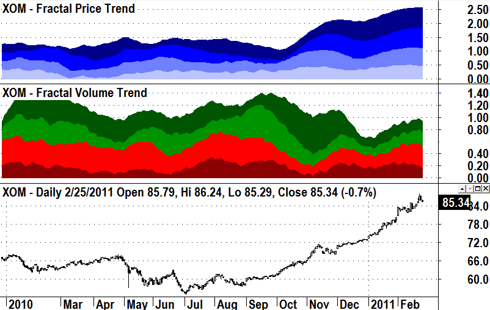 (Click to enlarge)
Now look at the same chart for GLD below, which portrays a decreasing trend in price return, and practically no long-term (96 bar, dark green) existing trend in volume. The diminishing green clouds in the middel panel suggests instability in volume.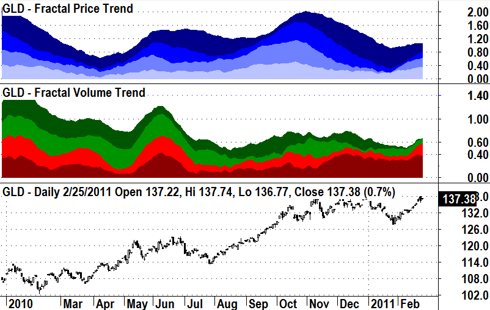 (Click to enlarge)
Overall, the fractal patterns shown above suggest a dying volume and price trend for GLD, while price and volume stability of XOM are increasing. USO has not picked up any trends as of yet (not shown), which may be due to the lag period between shared patterns for XOM and USO.
For actionable events, it may be beneficial to invest in XOM now, as well as some oil/energy REITS like LGCY, LINE, and CPNO which have much greater dividend dividend yields than XOM. From an optimistic viewpoint, there may be large potential price returns in XOM and other energy plays over the ensuing months. However, from a pessimistic viewpoint, higher oil prices negatively impact the consumer at the gas pump and transportation industries (airline, trucking, shipping, etc.) causing devastating effects on the economy.
While the growth trend in GLD seems to be slowing down, there nevertheless will be perpetual strong interest in GLD as a hedge against inflation. The main point of this article is that there now seems to be a transition between the relationship of XOM and GLD which heretofore has not been observed on a monthly scale. This observed dynamic should be watched in order to be prepared for higher fuel prices and associated energy plays.
Disclosure: I am long ETP, D, HCN, MCHP, LINE, TGP, NS, SUI, BTE, PWE, FL, CPNO, LGCY, AJG, NLY, AWF, HIX.