Worldwide Clean Energy Investments
A recent report states that the world invested a record high $243B in clean energy last year. This represents nearly five times the total amount invested in 2004 of $51.7B. China's investment in clean energy grew 30% to $51.1 billion in 2010, making it the country investing most heavily in clean energy.
As well, a recent article projects that Global biofuels demand will surge by 133% by the year 2020. It also explains that their will be a world wide supply deficit by 2020 representing an extreme demand for biofuels.
China's demand for biofuels is set to grow with the rest of the worlds demand but may be drastically higher due to its strong clean energy initiatives. According to the Biofuels Market in China 2010 Report, the Chinese market for bioethanol and biodiesel is estimated to reach a production capacity of 10 million and 2 million tons respectively by 2020. Most of this growth can be associated to the large growth in the number of motor vehicles in China. The following graph from China Clean Energy's slide show demonstrates the growth in the motor vehicle fleet in China (in millions of vehicles):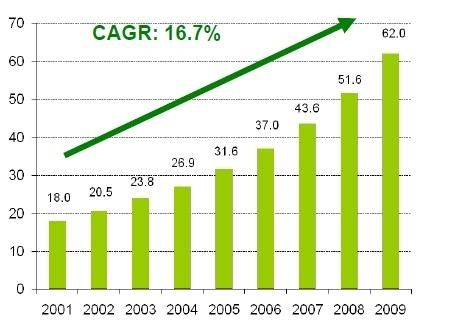 China Clean Energy (OTCPK:CCGY):
China Clean Energy (CCE) engages in the development, manufacturing and distribution of biodiesel and chemical products made from renewable resources.
This chart taken from China Clean energy's website depicts their process of turning waste into resources (click to enlarge images):

Click to enlarge
China Clean Energy has developed a proprietary and unique method of biodiesel production. CCE utilizes multiple vegetable oil feedstock sources to produce premium chemicals and biodiesel fuels which it sells to companies domestically and exports globally to Europe, America and Southeast Asia.
The following chart depicts CCE's portfolio of products and their proportion in terms of revenue: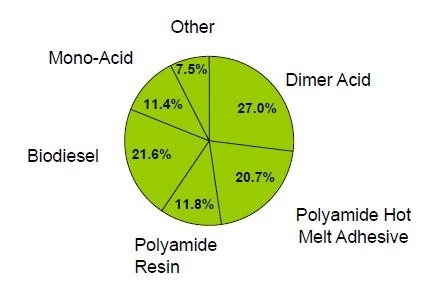 As seen above its large amount of production in specialty chemicals enables it to diversify its customer base, increase its margins as well as diversify the price risk associated to each product. Since biodiesel comprises only 21.60% of the companies revenue, it enables CCE to not only rely on the biodiesel market for its growth but to diversify trough specialty chemical sectors. These chemical sectors have experienced higher margins and rising demand which seems to have greatly benefited the companies earnings and future growth prospects.
Why Is China Clean Energy a Compelling Investment Opportunity?
CCE's has recently completed building a new factory which is now in production. The new factory has the flexibility of producing 70,000 tons of chemical products or biodiesel fuels.
China Clean Energy, excluding its share price meets all of the requirements to list onto a major exchange such as the NASDAQ or AMEX. It recently appointed three independent directors; Mr. A. Carl Mudd, Dr. Constantine Konstans and Mr. Yu Lin. China Clean Energy's management team has expressed its desire to move to a major exchange in the near term which would bring in more opportunities for capital expansion as well as raising investor awareness. Recently, the company got upgraded to a higher tier of the OTC market, the OTCQB which is operated by PINK OTC markets. This is why some CCGY holders have noticed the company no longer being quoted as CCGY.OB (OTCBB) but now as CCGY.PK (OTCQB).
The company is in a phase of major expansion which has already been funded for in the construction of a new plant. Cash is increasing and nearing $10M, revenue, margins and net income are also expected to drastically rise in the coming year.
They have a large diversified base of international and local customers such as air products and chemicals (NYSE:APD), Cray Valley, HBG export, and Total SA (NYSE:TOT)
Clean energy demand is drastically rising worldwide, especially in China. With the increase in demand, the price of CCE's chemical products and biofuels are sure to rise in the future. Their diversified portfolio of products also protects them from the price risk of individual products.
The company has a strong management team that emphasized that they will ensure future growth for the company. Management expressed that CCE may acquire one of the upstream feedstock suppliers to capture higher margins which would also ensure continued certainty over feedstock prices.
CCE has no debt and also has a very compelling current ratio of 3.46 which demonstrates its ability to easily meet its short term obligations.
Furthermore, the company is trading at a compelling forward valuation.
Company Risks
Stock performance and sector risk: Since China Clean Energy is in the China small cap sector it may be scrutinized and kept to a low valuation due to legitimacy fears and short attacks.
Price risk: CCE is subject to both the price risk of the feedstock it buys from suppliers as well as the market price for both its chemicals and biofuels.
Country risk: Due to China's heavily regulated environment CCE is subject to Chinese government regulations governing clean energy, biofuels and chemicals. It is also subject to Chinese economical and political risks.
Financing risk: Although the companies expansion plan is fully funded, if CCE did decide to make a large acquisition for which it did not have the equivalent cash on hand it would have to either take on debt or issue more shares which could create dilution for current shareholders.
Contract risk: Although CCE does have contracts with multiple large companies their is the risk that in certain circumstances it does not sell out all of its biofuels or chemical production. Lastly, since contracts are back-dated CCE's selling price may lag the market price.
Competitor risk: Risk of a larger competitor overcoming their current market share or acquiring them.
Highlights From the Past Quarter
With China Clean Energy's new plant, earnings have been drastically increased which could demonstrate what can be expected in the coming quarterly results.
For the last quarter, the highlights were as follows:
Revenue totaled $16.0 million, up 300% from the same period in 2009 and up 12.9% from the second quarter 2010
Gross profit totaled $3.7 million, up 382% from the same period in 2009 and up 35.4% from the second quarter 2010
Gross margin was 23.2%, compared to 19.3% in the same period in 2009 and 19.4% in the second quarter 2010
Operating income was $3.2 million, up 1,046% from the same period in 2009 and up 51.1% from the second quarter 2010
Net income was $1.8 million, (2.2 million adjusted net income) or $0.06 per fully-diluted share (0.07 adjusted), compared to a net loss of $0.7 million in the third quarter 2009
Cash and cash equivalents totaled $9.1 million at the end of September 2010, compared to $4.2 million at year-end 2009 and $7.3 million at the end of June 2010
As we can see, earnings are expected to increase drastically year over year and margins seem to be improving which should help drive the company's bottom line EPS and net income to higher levels. Cash also seems to be consistently increasing which should help them grow in the future by doing acquisitions of feedstock suppliers or even buying gas stations to distribute their biodiesel.
As per the company's press release for the last quarter, they expect some even higher results in the coming quarter. The CEO stated:
Based on our existing order book, we expect to deliver revenue of approximately $17.3 million in the fourth quarter 2010, representing an increase of approximately 253% over the fourth quarter 2009. Operating income is expected to reach $3.5 million, up from $0.3 million in the fourth quarter 2009. For the full year 2010, our revenue is expected to reach $58.1 million, representing a year-over-year increase of 265%; our operating income is expected to reach $9.9 million, compared to $0.9 million in 2009.
As described above, the CEO's projections were based on the existing order of books which should portray a relevant approximation of the upcoming earnings. Revenue and operating income are all expected to be higher than the past quarter which would demonstrate a compelling opportunity to buy CCGY at its current price. If these projection are close to the actual results the stock should jump on earnings in order for it to reach a more reasonable valuation.
Stock Valuation
As mentioned in a previous interview with the CFO of China Clean Energy, one of the main local competitors for biodiesel is Gushan Environmental Energy (NYSE:GU). Gushan has had its share of trouble since it had been hit by the consumption tax which has not affected CCE since its customers are not state-owned enterprises. Gushan will be starting back up production at some of its plants in 2011 but will not be operating normally until 2012 which should help CCE gain a better position in the biofuel market and increase customer loyalty.
As a valuation comparison, Gushan and its competitors of the specialty chemical sector were used. The following table depicts a comparison of Gushan (GU), China Petroleum and Chemical Corp (NYSE:SNP), CNOOC Limited (NYSE:CEO), PetroChina (NYSE:PTR), China Clean Energy (OTCPK:CCGY) as well as the industry averages that could be found.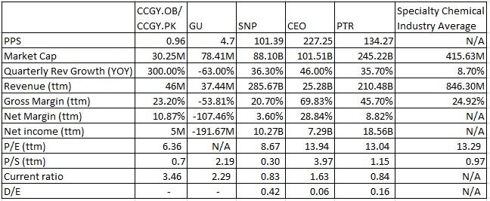 Click to enlarge
Based on the above comparison China Clean Energy appears to be undervalued. It has a much smaller price to sales ratio as well as the smallest profitable P/E ratio. It also has a gross margin that is relatively close to the industry average, but a net margin that appears to be better than most of the competitors mentioned. CCE's year over year quarterly revenue growth of 300% is astonishing in comparison to the industry average and none of the four other companies come close to meeting this growth rate.
China Clean Energy appears to be the best positioned out of all the companies to meet its short term obligations with current assets as its current ratio of 3.46 is the highest among all companies mentioned. CCE and Gushan also appear to be the only companies that have no long term debt which should be seen as a positive for shareholders since these companies do not need to worry about paying interest payments to debtholders.
Although CCE is a much smaller company, it has the opportunity to prosper as well as handsomely reward shareholders due to its evident under valuation and its upcoming growth.
Forward Valuation and Projections
1. Using an overly conservative estimate based on the last quarters unadjusted EPS of $0.06. If we were to estimate that this EPS were constant with no growth across all quarters, yearly EPS would be:
0.06*4=0.24-->at $1 the company has a forward p/e of 1/0.24=4.16
2. Using last quarters adjusted EPS of 0.07 and assuming no quarterly growth yearly EPS becomes:
0.07*4=0.28-->at $1 the company has a forward p/e of 1/0.28=3.571
3. Lastly, using a more appropriate estimate of 0.08 for the next two quarters and 0.09 for the two later quarters, yearly EPS would become:
0.08*2+0.09*2=0.34--> at $1 the company has a forward p/e of 1/0.34=2.94
Concluding Remark
As seen above the forward p/e of China Clean Energy is drastically low and is a compelling argument to demonstrate that the company is a stellar investment opportunity in China's clean energy sector. By using a P/E of 10 and the most conservative estimates of a yearly EPS of 0.24 the company should trade at $2.40.
With the company's imminent growth shown above, as well as the many ratios stating the companies strong financial position it appears that CCE is sure to become a success for investors willing to bare the risks associated to it. The company also has many upcoming catalyst on the horizon. Some of the many catalyst that investors should look for are the company's upcoming earnings release as well as potential uplisting news.
Disclosure: I am long OTCPK:CCGY.