Internap (NASDAQ:INAP) reported Q4 and full 2010 results on Thursday night, and the numbers seemed to be appreciated by the market, which greeted the company with a 6% increase on the following trading day, one of the best post-earnings performances among its peers.
A quick look at some of the highlights:
Q4 revenues were about $60.0 million, a 6% decrease from the same quarter of last year ($

63.5 million).
Revenues for the full-year 2010 were $244.2 million, compared with $256.3 million in 2009, for a 5% decrease that was mainly attributable to the IP Services segment (-8%).
Data center services revenues for the full-year 2010 decreased by 2 percent to $128.2 million; we'll see later on why this number must be analyzed in connection to some proactive churn in partner sites.
GAAP net loss was $(3.6) million, or $(0.07) per share for the full-year 2010, compared with a GAAP net loss of $(69.7) million, or $(1.41) per share in 2009, a negative result also impacted by a restructuring charge.
Annual segment margins were 47.8% in 2010, an increase of 360 basis points over 2009. Q4 2010 segment margins were 49.1%, the highest level achieved by the company in almost three years.
Annual data center services segment profits grew 27% over 2009 to $45.4 million. Data center services segment profit margins in 2010 totaled 35.4% and Q4 2010 data center services segment margins were about 38.5 %.
Those of you who might be interested in checking some Internap's metrics like revenues -- including revenues per segment, adjusted EBITDA, and customer and partner data center count over the last eight quarters -- may visit this interactive and downloadable spreadsheet that was part of our earnings preview.
For a proper understanding of the turnaround at Internap, it is necessary to spend a minute talking about its 2009 decision to restructure its data center business to emphasize the company-controlled data center footage, at the expense of partner sites where the company was reselling space at an unprofitable or very low margin rate.
Here is how Eric Cooney, Internap's CEO, described the issue at the company's Q3 2010 conference call:
As a reminder, in third quarter of 2009, we communicated that we would proactively churn out approximately $5 million of low margin or loss making revenue generated at partner data centers while increasing our focus on an investment in Internet control data center facilities. We expected this proactive churn program to increase partner site gross margins from approximately 5% to approximately 20% by the fourth quarter of 2010.

By the end of the third quarter of 2010, we had proactively churned more than $4 million, increased segment profit by $2 million, and reduced the number of partner facilities where we have data center customers from 40 in the third quarter of 2009 to 28 this quarter. With fewer partner facilities, more investment in company-controlled data centers, and a straightforward compensation plan, we're focusing our sales organization on selling Internap services and simplifying our business. This program is on track for a successful completion in the fourth quarter.
If we look at the additional data released by Internap during the last conference call, it appears that the company churned about $10.5 million of revenues in 2010, as part of this proactive effort, and increased data center revenues of about $ 8.0 million. Segment margins obviously increased, as the company moved away from the very low margin business experienced in some partner sites to the more traditional 50% margins it can achieve in its own data centers.
However, it should be noted that an $8 million increase still represents a relatively low number over the previous year's result, even lowering 2009 segment revenues to $110 million, to exclude the full impact of the churned business. A 7% (or 6% on full 2009 results) organic growth in data center revenues is still probably inferior to what its peers enjoyed in 2009, even if the company can claim that some data center expansions came available toward the year's end.
[Click to enlarge]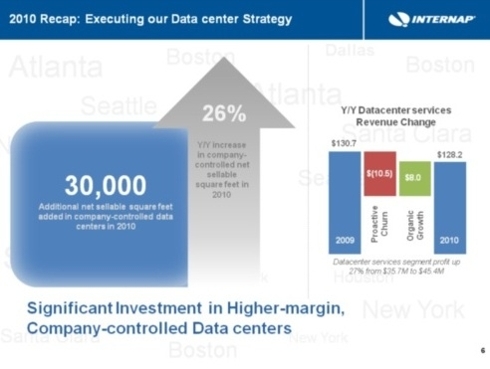 On Thursday night, Internap also announced its intention to open a new data center in the Dallas/Fort Worth market. The new DFW facility will also represent a new market with the company's direct presence.
Historically, Internap's colocation partners in Dallas have been Equinix (NASDAQ:EQIX), Layered Technologies and Navisite (NASDAQ:NAVI), which recently sold its Dallas Infomart assets to Cologix.
Demand for colocation space in the DFW metro area is expected to outpace supply through 2013, according to a recent report on multi-tenant data center supply from Tier1 Research, and Internap's presence in the market should allow the company to properly pre-sell data center space in the new facility and hopefully move existing customers over to its own place once it is ready, in Q1 2012.
For a more accurate look at the data center situation in Dallas, you may also read this interesting blog post by David Gross at DataCenterStocks.
As we noticed, the IP Services segment was suffering the highest percentage loss over the previous year (8%), as demand increase was more than offset by price declines.
Margins, however, are very healthy (around 60%), and the company remains confident in its long-term ability to drive top-line growth from this business unit, as Internap's CEO remarked during the Q&A session of the conference call:
Robert Dezego - SunTrust Robinson Humphrey, Inc.

I have a question on the IP Services side of the business here. The revenue continued to slide and it looks like the sequential losses accelerated a little in the quarter on a year-over-year basis. You spoke on the call about getting this back to growth. And I'm just wondering if you could just give us a little bit of more color on what gives you the confidence here to get to this growth? And really kind of how quickly you think this can make that churn? And is this churn you're going to think you're going to see in 2011 or is it more of a longer-term path?

E. Cooney

Without giving a lot of details, we indicated in the prepared remarks the metrics we're following are, of course, traffic in the IP Services segment, bookings and churn. George did specifically mentioned churn in IP Services segment reached its lowest level in about two years, at about 1.1%. And as we look forward into 2011, this is clearly one of the key questions for the business, and without giving explicit guidance, what we are prepared to say is that when we look at the first half of 2011, we do expect that we will be able to deliver sequential growth across both of the company's business units during the first half of 2011. So again, without giving explicit guidance, that's as close as we're prepared to come, but again, reiterate the point that we do clearly expect we can drive top line growth in the IP Services segment.
Recently, Internap launched an OpenStack-based, cloud-storage service, called XIPCloud Storage, co-developed by Cloudscaling.
The rolling out of additional hosting and cloud services is probably what Cooney hinted at in his answer; these products could also come at the right time, given the cloud-computing hype hitting the stock market.
With proactive data center churn behind the company, a good number of expansions now open, and new services forecasted or in beta, Internap is positioned to return to top-line growth in 2011, having already executed in its margin improvement efforts. Will the company's management be able to grow the business, too?
Disclosure: I am long EQIX.