When you think of chemical manufacturing companies, I am sure you think of DD, MON, PPG, or PPO first. All of these stocks plus many others have had great runs from the 2009 lows. We are talking incredible gains, some nearly up over 200%, with no technical indicators suggesting a slow-down. However, this article isn't about one of these high-flying beta names nor is it about one that you might see scrolling along the bottom of your CNBC telecast every other minute.
This is about the Georgia Gulf Corp (GGC). By all accounts, GGC is a mature chemical manufacturing company primarily in the area of vinyl-based building and home improvment products. These range from high-performance plastics, pulp and paper production, packaging, chemical intermediates, pharmaceuticals, and also medical applications.
In 2011, GGC recently acquired Exterior Portfolio by Crane free of debt for a total consideration of approximately $72 million with cash on hand. Exterior Portfolio, headquartered in Columbus, OH, is a leading U.S. manufacturer and marketer of premium siding products with 2010 revenues of approximately $100 million and adjusted EBITDA of approximately $10.5 million. With this acquistion (which should be accredive in the 2nd qtr of 2011), GGC is now the 3rd largest vinyl siding business in the worls.
GGC has 3 primary business segments: Cholovinyls, Aromatics, and Building products. The Cholovinyl and Aromatics division are the strongest growth drivers to date from strong export volumes and higher margins. For the full year 2010, sales grew $800 million to $2.8 billion. Adjusted EBITDA grew 29% to $208.5 compared to $161.5 million for the full year 2009.
The Building products division is flat due to higher material costs which couldn't be passed through to their customers. However, Yr over Yr this division is up 30% while Qtr over Qtr is still down. The CEO feels very positive that U.S. home remodeling market will continue to improve throughtout the next few years. GGC has just recently reported their 4th quarter 2010 earnings of .43 per share. That beat the consensus of 0.03 by 0.392, by a whopping +1031.58% difference.

One year view (click to enlarge):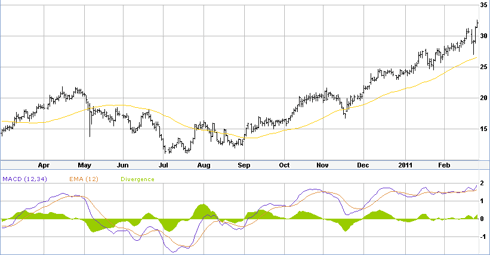 From a technical perspective, GGC has shifted and has started to breakout around $24 (currently GGC is $32). With strong momentum and all indicators pointing in a smooth upward direction, GGC should be able to move to that $50 area in the very near future.