INTRODUCTION
In my career in funds management, THE major edict of my former CEO was that the equities team add consistent alpha. Unfortunately, the team could not accomplish this mission. But for an institutional fund manager, or an individual investor, that mission - if chosen - remains relevant.
Over the years, I started to direct my research efforts away from fundamental stock analysis, concentrating instead on quantitative methods, focussing on risk measures in particular. Risk measures of themselves are based on historical stock prices and are of no more use in predicting the future than any other method. Despite that, as a consequence of my research, I serendipitously hit on a way of achieving the consistent alpha that eluded and continues to elude my (former) CEO.
I quantify stock returns based on their risk characteristics and then rank these stocks according to favourable comparisons to a benchmark. For example, stocks with a relatively strong positive skew relative to the benchmark would rank highly. Although I believe this computation to be necessary, it is not the critical element in achieving the mission.
Importantly, I achieve results using the above method that I could not otherwise achieve using fundamental analysis based on accounting ratios, valuations and the like.
WHAT I DO
On a practical level, the top ranking (TR) stocks based on my analyses are likely to be high performance stocks over a given analytical period. Thus, a portfolio of TR stocks would be expected to perform very well. My initial strategy was to invest in the top ranking stocks on the basis that favourable risk measures would result in outperformance. Over time, I found that:
The TR stocks lacked stability at the top, and trying to maintain the highest-ranking portfolio resulted in ineffective churn;

Portfolios built along these lines tended to have high beta, meaning that they have excellent performance in a bull market, but lose performance during a correction phases; and worse still...

The Alpha generation capacity of the TR stocks show limited persistence.

These portfolios tend to revert to average returns soon after formation.

In my view, this is a property inherent in momentum-based strategies.
So essentially, forming a portfolio of TR stocks will not reliably result in exceptional long-term portfolio performance. The serendipitous finding, for me, came from focussing on a TR stock's journey to becoming a TR stock – before it plateaus and reverts to average returns. As depicted in the following graphs, a portfolio of TR stocks leave a trail that has a remarkably consistent alpha.
Finding portfolios that fit this positive trajectory is the essence of my methodology.
AN EXAMPLE
For the moment, I will concentrate on demonstrating portfolio performance rather than the underlying stock picking functions.
I formed two separate portfolios of TR stocks, one on 14 Jan 2011 and the other on 18 Feb 2011. The alpha history of these are as shown below.
click to enlarge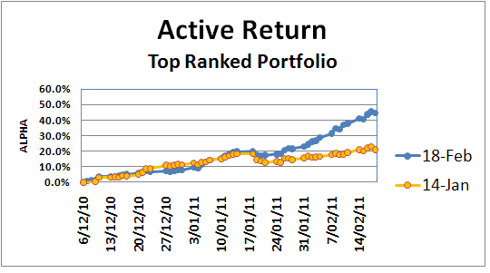 The results are typical and consistent and can be summarised as follows:
The 14 Jan 2011 Portfolio
o Alpha generation is consistent up to 14 Jan, reaching 20%;
The 18 Feb 2011 Portfolio
o Within the same period, there was another portfolio of stocks which outperformed and continued to outperform;
o Alpha generation is very strong, up to 45% for the period;
Alpha generation is remarkably consistent over a long period of time; and
o The consistent alpha, and clear divergence at a point in time to the previous portfolio points to an exploitable situation.
A SYSTEMIC APPROACH
Readers of Nassim Taleb might recognise elements of the melting ice cube example in this result. If we start with an ice cube, we can tell how large the pool of water will be when it melts. In forming a portfolio, we are starting with the water and trying to build the ice cube. However, with an alpha of 45% over 3 months, there is considerable room for error and false starts.
I see the opportunities as follows;
· Because of the consistency in alpha, ideas can be gathered and tested over a number of portfolios and over a significant period of time, say 2 to 3 weeks, prior to committing to a strategy. If done correctly, there is still 2.5 months of outperformance ahead; and
· Target stocks can be filtered on the basis of their contribution to
the trajectory

of alpha generation; and
o the likelihood of continued outperformance.
This latter point is desirable but not necessary. It tends to reduce portfolio churn by identifying stocks that do not appear to have the appropriate earnings profiles and eliminates them from the portfolio selection process. We have an attribution model that assists in this function.
Obviously, this is high conviction investing. In terms of appropriate size, larger portfolios are probably desirable (for diversification). These would still be manageable and exhibit acceptable alpha generation, but they require a higher level of analytical and management resources. To keep the situation manageable, I prefer a small portfolio of 10-25 stocks.
COMPARISONS
It is a relatively simple procedure to compare results from differing information sources.
For example, I have compiled a stock list from 13-F forms submitted by hedge funds for purchases made in Q4 2010. I compare these to a TR portfolio formed as of 3 Dec 2010 (at a comparable time). I have not been selective and could reproduce this analysis for any stock list for which I have data.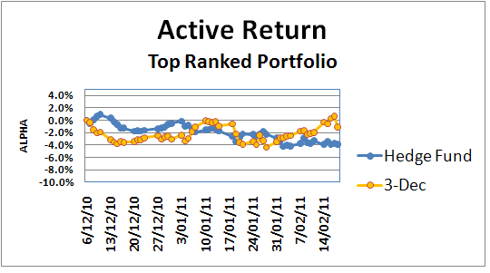 In my view, this shows that:
· I have identified a portfolio which is no worse in terms of subsequent performance, but which is not particularly good either; and
· Alpha generation has a hit and miss quality about it; and
· The limited persistence of alpha generation of TR stocks is very evident; and
· The subsequent performance of the hedge fund stocks is suggestive of momentum investing. Following into this information source is problematic.
WHY USE THIS PRODUCT?
The product has many advantages:
Computationally, it is easy to operate and maintain.

It operates on digital downloaded data, which facilitates the analysis of a large number of stocks.

The output is numeric, which results in the fast compilation and manipulation of TR stock lists.

At the moment I monitor 1,700 stocks, but with appropriate resources, this could be increased to 10,000 stocks, enough to manage a global portfolio on a consistent basis.
It has the inherent flexibility to adapt to the requirements of any particular fund.

Stocks, ETFs, commodities or bonds can be categorised, and ranked to produce lists with the "right" return characteristics for a particular fund.

Therefore, size, growth, value, income, sector and the like can be ranked separately or mixed in, as required.

Most satisfying is that I can see trends developing over all stocks and sectors monitored in a timely manner.
· I can review and consider sectors, stocks and ETFs performing in real time, rather than reading about them a month later in a stockbroker or fund manager's summary. By then, significant alpha generating activity has already taken place.
· It can assist in identifying value adding sources of investing information on a consistent basis.
CONCLUSION
If the mission is to achieve consistent alpha, then it is well on the way to being accomplished and with appropriate resources behind it, the returns could be quite profitable.
STOCK SELECTION
I have described a methodology here for achieving consistent alpha. The stocks used in forming the graphical output are shown in the following table.
14 Jan 2011

Portfolio

18 Feb 2011

Portfolio

3 Dec 2010

Portfolio

4Q Hedge Funds

Portfolio

AAI

SRZ

SRZ

BXG

SFI

MIM

HOC

NCT

SFI

NCT

ALU

BRY

FO

FCS

GDP
Disclosure: I have no positions in any stocks mentioned, and no plans to initiate any positions within the next 72 hours.