Timeless Wealth is compensated for research coverage, which denotes a clear bias to our investment opinion. We believe that our research is objective, weighing both the risks and rewards of an investment opportunity. However, our end goal is to highlight firms that we believe are innovative and offer compelling investment propositions. In the following, we explain why ImmunoCellular Therapeutics' recent activity denotes an exciting time for its investors.
The financing deal announced last week, which inks ImmunoCellular Therapeutics (NYSEMKT:IMUC) $8.1 million, goes further than simply settling cash woes on a going-forward basis. As it happens, the company now meets requirements for listing its common stock on the NYSE Amex. Observe "Standard 3" under the following schedule of requirements, as per the exchange.
According to the financing agreement, 5,219,768 common shares sold to investors (excluding an additional 1.3M shares currently in the form of warrants) brings the total number of issued and outstanding stock to approximately 27M. In turn, that equates to a market cap of $58M, easily surpassing the required threshold (see above schedule). And with cash topping $14M, shareholder's equity also surpasses the prerequisite.
Biomedical product developer Neoprobe Corp. (NEOP), whose common stock was listed on the Bulletin Board exchange until recently, has seen a flurry of trading activity following approval in listing on the NYSE Amex. Since the 7th of February, about a third of all publicly-held shares have traded hands; the company's stock price has jumped over 40%. Comparatively speaking, Neoprobe's advantage in attracting investors over ImmunoCellular Therapeutics, at this time, lies in the wider scope of broker-dealers that only recommend listed equities. That means a large number of firms will avoid all OTC issues, thereby forgoing investment in ImmunoCellular Therapeutics while it trades on the Bulletin Board Exchange. This suggests that should ImmunoCellular Therapeutics apply for listing on the AMEX, investors can potentially anticipate enhanced trading activity in a rising stock price and improved liquidity.
While catering to monumental investor developments, the newly raised cash will also aid in accelerating clinical studies of ICT-107 in Phase 2 trials. To quote ImmunoCellular Therapeutics CEO, Manish Singh, in a recent statement:
The proceeds from this financing should allow us to accelerate the Phase II study of ICT-107, where we are hopeful that we will further validate the efficacy results we saw in the Phase I study.
To reiterate from an earlier write-up on ImmunoCellular Therapeutics, ICT-107 is a dendritic cell-based vaccine targeting multiple tumor-associated antigens for glioblastoma, a common and aggressive form of brain tumor. On the basis on Phase 1 clinical trials, ICT-107 proved to be more effective than Dendreon's (NASDAQ:DNDN) Provenge, the first FDA-approved treatment for prostate cancer. Of course at a cost of $90,000 per treatment, there's considerable room and incentive for new market entrants, not to mention those with comparatively better products.
The lag between a FDA-approved cancer treatment and a similar product undergoing Phase 2 clinical trials affords Dendreon its near $5B market cap compared to ImmunoCellular's $58M. While the discrepancy is evident, I'm confident critics will unanimously agree that ImmunoCellular Therapeutics is taking the right steps towards bridging that gap. And in that lies opportunity.
Here's a look at ImmunoCellular Therapeutics' stock price performance versus Dendreon's over the last six months, which helps explain Zacks' recent outperform rating and $7 price target for the company.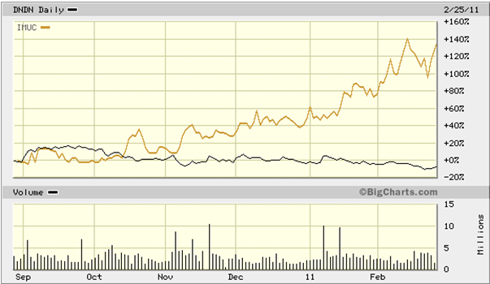 (Click to enlarge)
Disclosure: I am long IMUC.OB.
Additional disclosure: ImmunoCellular Therapeutics is a client company of Timeless Wealth, which receives a retainer for providing research coverage. In February, we agreed to provide coverage of ImmunoCellular Therapeutics for a period of three months. The views expressed are purely our own.