What is a 'hot sector'? A leading or hot sector could be described as the one with the most momentum. Uhhh, what is that?

Momentum investing carries the simple thought of previous winning stocks being future winners, and past losers continuing to slide downwards. The bigger the winner, the more likelihood that it may give gains.
Simple Momentum Ideals

There are a few different methods and flavors to this style of investing, but a simple strategy is to screen stocks with high relative strength (price performance exceeding the market) and to go long with previous winners. The holding period is often 3-12 months and it corresponds to the historically screened performance period. For instance, if you look to the previous 6 months of price data and pick the stocks outperforming the market over half a year, you can hold these same picks for 6 months before selling.

Note that there is much more to momentum investing than this; some will research the steepness of the price incline and the amount of volume. That is a discussion for another article as we will deal broadly with sector momentum on price alone.
Sector Momentum Strategy
Mebane T. Faber, a portfolio manager at Cambria Investment Management, wrote a brief abstract on sector momentum called, "Relative Strength Strategies for Investing" (2010). The simple strategy was to invest with value or capitalization weighted sector funds. Every month you buy the top one or two sector funds. The next month you re-balance so as to only be holding one or two sectors at a time.
How did his strategy perform versus the 'buy and hold' system from 1973 – 2009? The one-month relative strength system had a compounded annual growth rate of 17% versus 10% from buying and holding. Of great interest is the reduction in maximum draw-down, which is only 22.41% from the relative strength sector strategy versus 46.02% if you bought and held. (Market performance is generally tracked using a major index such as the S&P 500 or the (NYSEARCA:SPY).
As an example, examine the 1 month sector performance here. Select the option in the drop-down menu of tracking last month's price performance. The sector SPDR with the highest performance - when analyzing at the last day of the month -is the one to buy starting the first day of the following month. (A different approach using equal-sector-weighting portfolios can be found on Seeking Alpha here)
The sector SPDRs that you can potentially invest with are: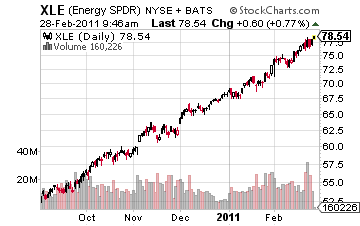 As an example, energy appears to be the leader as of the time of writing, so beginning on the first day of the next month I would buy last month's winner. So goes the tested sector momentum strategy. (You may also like 30 Explosive Stock Picks Based on Fundamentals and Momentum)
Refining the Strategy to Individual Stocks
Can we further refine the sector rotation strategy to differentiate between top stocks and laggards? Indeed we can. Remember that larger cap stocks get more weighting than smaller caps. In our scan we will limit the scan to mid-cap and larger to capture some of our original sector strategy.
Next, we want higher gains in the past month than the sector average. In this instance we are looking for Energy sector stocks, mid-cap and bigger, inclusion in the S&P 500 index, and more than 11% monthly performance. The goal would be to buy two or three of these stocks (preferably near the top of the list).
| | | | |
| --- | --- | --- | --- |
| Ticker | Company | Industry | Performance (Month) |
| | Tesoro Corporation | Oil & Gas Refining & Marketing | 29.46% |
| | Denbury Resources Inc. | Independent Oil & Gas | 29.36% |
| EP | El Paso Corp. | Oil & Gas Pipelines | 27.96% |
| | Chesapeake Energy Corporation | Independent Oil & Gas | 26.10% |
| | Helmerich & Payne Inc. | Oil & Gas Drilling & Exploration | 25.15% |
| | Rowan Companies Inc. | Oil & Gas Drilling & Exploration | 22.02% |
| | Nabors Industries Ltd. | Oil & Gas Drilling & Exploration | 21.16% |
| | Noble Corp. | Oil & Gas Drilling & Exploration | 17.12% |
| | Range Resources Corporation | Independent Oil & Gas | 13.32% |
| | Valero Energy Corp. | Oil & Gas Refining & Marketing | 13.11% |
| | Williams Companies, Inc. | Oil & Gas Pipelines | 12.62% |
| | Pioneer Natural Resources Co. | Independent Oil & Gas | 12.59% |
| | ConocoPhillips | Major Integrated Oil & Gas | 12.59% |
| | Cabot Oil & Gas Corporation | Independent Oil & Gas | 12.53% |
| | Cameron International Corporation | Oil & Gas Equipment & Services | 11.94% |
| | National Oilwell Varco, Inc. | Oil & Gas Equipment & Services | 11.62% |
Keeping in line with the sector strategy, we buy and sell at the beginning of each month. We keep the top few stocks of the leading sector for minimum 30 days, more if the sector continues to be a leader. While this should not be the sole trading strategy you use, it could easily make up a portion of your portfolio along with other value investing picks.
Momentum Not For Everyone
Of course, momentum is not for everyone. There will be draw-downs when the sector peaks and pulls back while you are holding it. The benefit is that you are only invested in a toppling sector for maximum of one month.

Remember that you are not expecting the sector to perform as highly as the previous month (you do not expect the energy sector to gain an additional 11% this month although that would be nice), yet you still hope to gain close to the 1.4% net monthly gain as was outlined during the 36 year sector study. Furthermore, if the momentum strategy holds true, then the top performing stocks within the sector could realize increased gains over the sector average.
Still, buying past winners, even though proven to be a profitable strategy, is not for everyone. It may require more frequent trades and transactions than some prefer, and weighs buying decisions more heavily on previous trading patterns than fundamental data. Many investors prefer to trade small caps with deep value ratios or even contrarian investing, which is largely at odds with momentum strategies. (Contrarian investors may be interested in these 8 Stock Near 52 Week Lows)
What is your preference for trading these stocks? Do you sector rotate or use momentum? Please leave a comment on any tips you use to enhance a similar strategy.
Disclosure: I have no positions in any stocks mentioned, and no plans to initiate any positions within the next 72 hours.