Chinese online game company Giant Interactive Group (NYSE:GA) recently reported strong 4Q10 results. In my view, there are two bright spots in the earnings report: Active Paying Accounts (APA) and Dividend.
Steady APA expansion has driven healthy revenue growth. As shown in the chart below, Giant's revenue has been growing squentially for four consecutive quarters. The primary driver of the revenue growth is APA, which have risen sequentially for five consecutive quarters. In my opinion, such APA-driven growth is healthier than ARPU-driven growth because Chinese online games' ARPU has already peaked and is lacking further upside momentum. In contrast, the industry's APA base still has plenty of upside because non-paying players still accounted for 43% of the total user base in 2010, according to latest data released by the General Administration of Press and Publication. At the macro level, I believe Giant is on the right track because its current growth pattern matches the industry trend of "More Reasonable APRU, Higher APA." At the micro level, I believe Giant has been launching the corrent type of games: Its ZT Green and ZT2 feature low-spending economic systems and have been Giant's major growth drivers since 4Q09.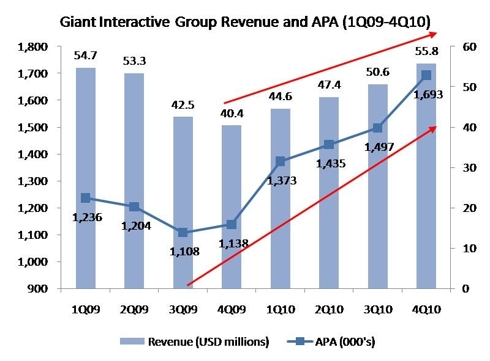 Consistent dividend issuances have solidified shareholder confidence. Giant has declared a dividend of $0.18 per share for three consecutive years: In its 4Q10 earnings release, Giant declared a cash dividend of $0.18 per share for fiscal year 2010. This implies a 34% payout ratio and 2.4% dividend yield based on last Friday's closing price. These ratios are very consistent with the 2.4% dividend yield and 27% payout ratio for 2008, and 2.5% dividend yield and 33% payout ratio for 2009. As I mentioned in a previous article, Giant's dividend policy is one of the major reasons behind the outperformance of its stock. The Chinese online game industry has entered a mature stage characterized by major opeartors' slower earnings growth and stable cash flows, which should be accompanied by regular dividends, in my opinion. I believe all major companies should start paying regular dividends to share profits with shareholders. In light of Giant's latest dividend announcement, I continue to believe its favorable dividend policy has created positive expectations among shareholders and has enhanced the trust between management and shareholders.
Disclosure: I have no positions in any stocks mentioned, and no plans to initiate any positions within the next 72 hours.
Additional disclosure: My virtual investment portfolio has a long position in GA.