Despite Friday's heroics, last week was the first loser in the last four, and the third in the last six. (It was also the sixth loser in the last twenty-six, though that gets into 'so what' territory.). So is this the shot heard round the world… the one that will finally put the long-overdue correction into motion? Maybe, though some folks were thinking that back in January, as well, and it didn't pan out then.
We'll take a look at the near-term odds in a moment, but first, let's run down the major economic numbers for last week.
Economic Calendar
It wasn't too busy of a week on the economic front last week, but a couple of data nuggets need to be highlighted.
Consumer confidence, despite how nasty things got last week, is at multi-year highs. The Conference Board's measure soared from 64.8 to 70.4, while the Michigan Sentiment Index for February moved from 75.1 to 77.5.
Existing home sales improved to an annual rate 5.36 million for January (up for six straight months), yet new home sales fell to an annual rate of 284K, from 329K, in January. That's teetering on record low sale rates.
Durable orders were up a whopping 2.7% last month, but it was all transportation. Without transportation orders, durable orders fell 3.6%.
Initial claims fell back under the critical 400K level, hitting 391K. Ongoing claims fell from 3.94 million to 3.79 million. It's a healthy trend, but we remind you that these figures are not counting a great number of people who are unemployed, but collecting no benefits.
Here's the rest of the story.

Economic Calendar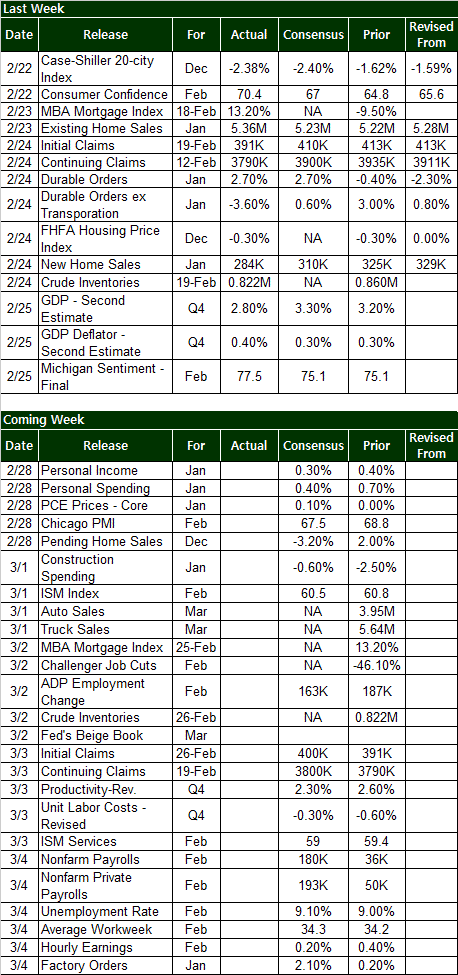 (Click charts to expand)
As for this week, it's going to be 'the' monthly look at the health of the average American worker. Incomes as well as spending should both be up for January, by 0.3% and 0.4%, respectively. Later in the week (Friday), the pros are looking for the non-farm payroll count to increase by 180K, and by 193K when just looking at private (non-government) jobs. January's unemployment rate is anticipated to inch higher, to 9.1%. [Thursday's unemployment claims should be basically flat, and there's no word yet on the ADP and Challenger job numbers.]
Business should have seen a modest lull in recent weeks as well. The Chicago PMI Index is forecasted to shrink a little, as is the ISM Index. The fourth quarter's productivity will likely be revised downward, from growth of 2.6% to only 2.3%. The ISM Services Index for Thursday is also apt to have fallen from 59.4 to 59.0. Friday's factory orders for January, however, should be up 2.1%… better than December's 0.2% increase.
S&P 500 Index
Once again we saw how too much of anything is simply too much. Rather than a gentle rollover action that sends the S&P 500 (NYSEARCA:SPY) (SPX) into a normal correction, Tuesday's 2.0% implosion and Wednesday's modest follow-through simply invited something of a buy-in beginning on Thursday, and following through on Friday. As a result, we still can't tell if we're actually starting a pullback, or if the blip is over.
The bulls will like the news that thanks to Friday's strength, the S&P 500 is now back above its 20-day moving average line again. That's the key near-term make/break line. And, the bulls will also like the fact that the CBOE Volatility Index (VIX) (NYSEARCA:VXX) (NYSEARCA:VXZ) is not only pointed lower now, but has room to move lower still.
The bears will appreciate that despite Friday's bounce, the volume is still widely on the bearish side of the table. Friday's buying was on the weakest volume of the week, and the weakest volume in several weeks for that matter, extending a long-standing streak of weaker and weaker bullish volume. See the chart below.
SPX & VIX Daily Chart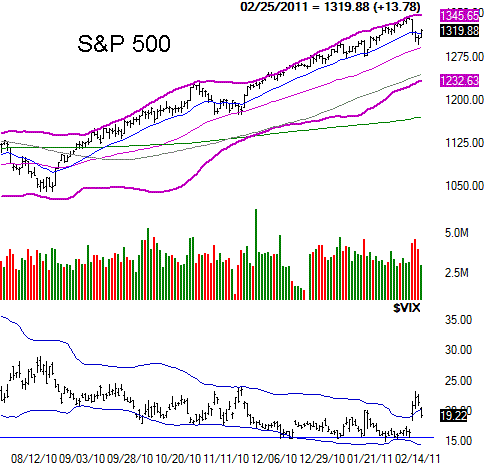 The arguments here really aren't a question of where the momentum is. The current momentum is actually still bullish, even with the implosion early last week. The questions here are one of extremes – how overbought or oversold can the market get in an appropriate timeframe.
In the very short run (as in a couple of days), the S&P become too oversold early last week, and bounced as a result. In the bigger picture though, in the last 26 weeks the market is still up 26%. It's overbought in that timeframe, even if we saw a 3.6% correction (from high to low) last week.
In other words, the higher-odds move here is still a bearish one.
The average bull market correction ranges from 10% to 13%; if we saw such a move now that would pull the SPX down to somewhere between and 1168 and 1208. Just for the record, the lower edge of that likely range is right where the 200-day moving average line (green) is now, and the upper boundary of that correction's range is just a hair under the lower Bollinger band (purple). Though such a move seems terrifying when talking about the numbers, in the grand scheme of things it's really not that big of a deal.
In the meantime, the market's in limbo…. short-term bullishness being fueled by gaps, but much more gravity pulling it lower here in the shadow of an amazingly-uninterrupted six-month gain.
What to do? The bulls are probably going to take a couple of good swings this week despite last week's red flags. That's fine. Ultimately though, the bears are apt to start winning this war (and likely before the end of the week). When/if the S&P 500 gets back under the 20-day average (blue), that should be the final blow needed for a while.
Sector Performance
Just to keep ongoing tabs on it, let's look at the latest sector performance through last week. Everything made up for lost ground late in the week, but we have observed a slight shakeup in the last few weeks. Namely, transportation stocks (NYSEARCA:IYT) have fallen to the bottom of the pile, while realm estate is quietly gaining momentum. Energy (NYSEARCA:XLE), of course, is still going like there's no tomorrow.
And if you're more of a number or stats person, here's the raw data for all the major timeframes. There's not a whole lot of 'new' information here, though it's worth mentioning that two of last week's biggest losers were two leaders in the six-month timeframe. Lots of profit taking, and more in store? Possibly.

Sector Rank – One Week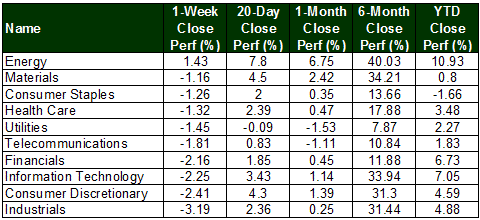 Disclosure: I have no positions in any stocks mentioned, and no plans to initiate any positions within the next 72 hours.