A pause in rising Aussie interest rates has yet to cause a severe decline in the value of the Aussie dollar (FXA). The Reserve Bank of Australia (RBA) has increased interest rates seven times since October 2009, through November 2010. Currently the RBA Cash Rate stands at 4.75%. A majority of economists do not expect the RBA and Governor Glenn Stevens to increase interest rates tomorrow. Most estimates are for an adjustment to the Cash Rate to come in the end of the third quarter as the RBA will resist increasing the interest rate in order to promote higher rates of growth in Australia.
Factors working against an expanding economy have been steps by China to tighten its grip on inflation and the recent geopolitical concerns in the Middle East. Also floods and a cyclone have severely damaged Queensland, limiting growth from the region.
However, inflationary concerns remain strong. Rising growth from the mining sector has expectations for 0.6% first quarter growth. Wages have also steadily moved higher.
Tomorrow's RBA comments addressing the timing of the next interest rate hike will be key to the AUD/USD. An increase in interest rate expectations will be a catalyst for the Aussie dollar.
Despite the pause in rising Aussie interest rates, the AUD/USD has held its own and is encroaching on a key resistance level at 1.0200. A breach of this price will then test the pair's all-time high at 1.0250.
Support for the pair is found at the rising trend line off the November low, which comes in today at 1.0000. Further support levels can be found at last week's low of 0.9960, followed by the January low at 0.9800, and the November low at 0.9530.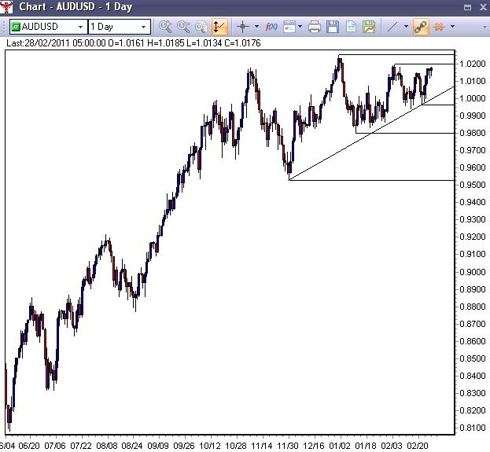 (Click to enlarge)

Disclosure: I have no positions in any stocks mentioned, and no plans to initiate any positions within the next 72 hours.