By Brad Zigler
It's been a hard slog this year for holders of junior mining stocks. The five dozen exploration and development companies that make up the index tracked by the Market Vectors Junior Gold Miners ETF (NYSE Arca: GDXJ) have collectively fallen 6.3 percent since the top of the year.
Not that gold's done all that well, but with bullion off only 1 percent, the juniors haven't been paying back their higher risk with higher returns.
Gold Miners Relative Strength Vs. Gold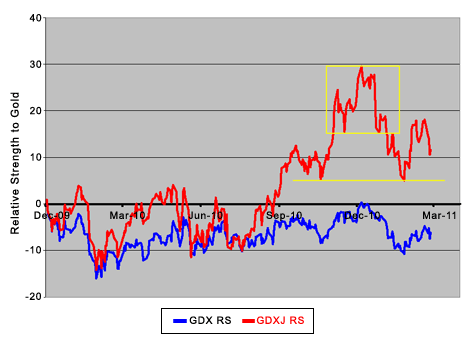 Obviously, in an index made up of 59 equity components, some stocks will perform above average, some will be subpar. Among GDXJ's laggards this year has been U.S. Gold Corp. (NYSE: UXG), which has lost 10.5 percent since New Year's Day.
Somebody, however—more appropriately, somebodies—thinks the stock's worth buying now. Granted, they're buying the stock at a discount to its market price, but they're buying nonetheless. UXG's CEO and Chairman Robert McEwen acquired 3.05 million shares at $6.50 a copy last week. UXG finished the week at $7.22. Also taking advantage of the discount, though in much smaller bites, were Special Projects Vice President Stefan Spears and Senior Vice President Ian Ball.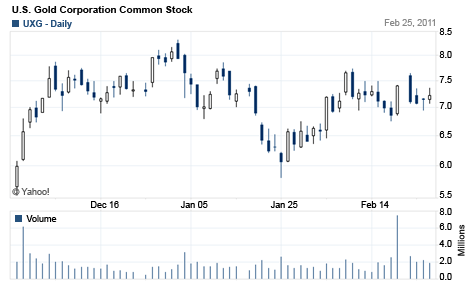 Splits: none
Messieurs McEwen et al. pretty much bought a breakout with their privately negotiated purchase price. The insiders effectively turned back the clock three weeks to pick up the reversal from UXG's January slump.
Still, insider buys are insider buys. UXG insiders haven't made outright buys of the stock since May 2009. Then the stock was worth only $2 a share.
You'd expect insiders to have the best knowledge of their companies' prospects, so the purchases, though discounted, lead us to believe these captains of industry thought January was a bottom.
Does this mean you should buy UXG?
The relative rarity of insider buys is compelling, but certainly shouldn't be one's sole determinant. A little more due diligence is, um, due.
Good luck.