By Lara Crigger
As Bespoke Investments reported last week, the ratio of oil prices to natural gas prices has never been this high. Crude currently flirts with the magic $100/barrel mark, trading early Monday morning at $97.23 per barrel, while natural gas presently languishes at barely over $4.07 per mm cubic feet.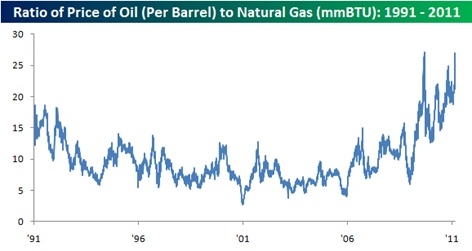 Source: Bespoke Investments
As Bespoke asks, "The big question ... is why more hasn't been done to exploit the discrepancy."
Indeed, by itself, the ratio looks pretty tempting. Natural gas offers a lower entry point for energy investors—and, conceivably, higher upside as well; after all, if the fuel remains so obscenely cheap compared to crude, then clearly massive incentive exists for energy consumers and transportation companies to find a way to switch over to the less expensive fuel, in turn generating higher demand and higher prices.
But ratios can be deceiving.
Even though the two petroleum-based fuels are intimately related—they're even found in the same deposits—comparing the natural gas market to crude's is like comparing apples to oranges.
Because natural gas is so hard to transport, Henry Hub remains a mostly local market, driven almost entirely by supply/demand fluctuations in the U.S., Canada and Mexico. WTI crude, on the other hand, can be easily distributed across the globe, enabling a worldwide market.
What's more, unlike crude oil, U.S. natural gas is a market out of sync, with domestic demand swamped by a veritable flood of supply. Recent technological advancements like hydrofracking have ballooned domestic gas reserves to their highest levels ever, which in turn has kept Henry Hub prices low. In fact, due to this supply glut, Morgan Stanley predicts that natural gas futures—which tend to peak in the winter heating season—are on track for their lowest winter peak in 10 years.
For those investors who see the low prices as a buying opportunity, futures (and more convenient for many) futures-based ETFs, offer exposure to the natural gas market. Both the iPath DJ-UBS Natural Gas Subindex Total Return ETN (NYSE Arca: GAZ) and the United States Natural Gas Fund (NYSE Arca: UNG), for example, provide access to the front-month Henry Hub contract. More contango-conscious investors could choose the United States 12-Month Natural Gas ETF (NYSE Arca: UNL), which spreads exposure across a year's worth of contracts, or the new Teucrium Natural Gas Fund (NYSE Arca: NAGS), which selects for seasonally attractive positions.
But the truth is: It may still be too soon to leap into the natural gas market.
Over the years, a multitude of analysts have predicted a price resurgence and/or bull market in natural gas—even on our own site. Yet the bull market never comes. Prices seem stuck in a long-term downward spiral.
That's not to say that we will never see natural gas have its day. But with so much supply overwhelming so little demand, the fuel will remain a losing proposition for investors until the fundamentals shift significantly—meaning, until we find new uses or demand sources for it. What natural gas needs is a good swift kick in the pants: Alternative transportation solutions (like nat-gas-fueled cars) to generate new sources of demand; revitalized LNG terminals to take domestic supply overseas; or upgraded pipelines to better deliver current supply across the country.
Only then, I suspect, will natural gas become the right play for the right time.