Lufkin Industries (NASDAQ:LUFK) recently celebrated one hundred years of business. Although this company has changed over this time, it is still a good business with a global brand. Lufkin looks expensive here to some but long term this may be a nice entry point when looking at the industries it services. Analyst estimates (Yahoo Finance) have Lufkin making $2.93 a year in earnings and $4.58 a share in 2012. Those are lofty expectations since Lufkin made a $1.46 in 2010. I will cover some information to describe why this company has a very good chance of not only making these numbers, but also beating them.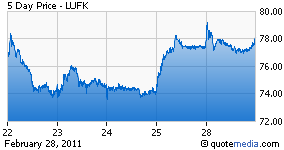 Lufkin now has two basic divisions within its company: power transmission and an oilfield division. This oilfield division is the revenue driver of the company and is the division this company will ride over the next few years. It should also be noted that 61% of its power transmission division is energy based.
Lufkin provides artificial lift to oil and gas producing companies. Lufkin has been known for its beam pumping units for rod lifts, but now they provide gas lift and plunger lift. Its engineered gearing solutions to energy and industrial companies are also very important to this company.
Lufkin has done an excellent job of marketing its artificial lift. This is synonymous throughout sectors that use artificial lift. Lufkin products offer differentiation across the energy sector. This company has an expanding global platform that offers a proven model for M&A and start ups. Lufkin's financial stability also offers the ability for expansion if needed.
Customers are everyday names such as ExxonMobil (NYSE:XOM) and GE (NYSE:GE). Customer choose Lufkin for its manufacturing expertise, excellent service, technological prowess, and great management.
The main reason I am bullish Lufkin is its artificial lift. There is rising demand through out this industry. Maturing fields need service and replacement, while new unconventional fields provide a whole new resource for this company to capitalize. Heavy oil also provides growth. Although Lufkin is primarily a United States company, it is beginning to branch out to other continents such as Europe, South America and Australia.
2010 was an exceptional year when compared to 2009. The recession created a lull in demand not seen in recent memory. This has provided Lufkin with the ability to invest in the company through capital investments, strengthening of the company and M&A. Lufkin's launch of its Romanian operation is just one of the ways Lufkin is expanding. This Romanian facility serves Eastern Europe, the Middle East and Central Asia. This facility also designs, manufactures and provides an aftermarket service. The eastern hemisphere provides a broad area to increase pumping unit revenue. From 2012 to 2015, it is believed the Eastern Hemisphere will provide revenue of:
Europe-$115 million
MIddle East and Northern Africa-$125 million
South Asia/Asian Pacific-$80 million
It is estimated by Lufkin that from 2012 to 2015, this is a very conservative number of $320 million per year. A midrange number is estimated between $400 to $500 million per year.
Lufkin's revenue per segment is:
2007 Oilfield-$397 million
2007 Power Generation-$158 million
2008 Oilfield-$552 million
2008 Power Generation-$190 million
2009 Oilfield-$349 million
2009 Power Generation-$172 million
2010 (first nine months) Oilfield-$334 million
2010 (first nine months) Power Generation-$118 million
These numbers show the effect of the recession on Lufkin, but also show where revenues were in 2008. Lufkin's backlog is also interesting:
2007 OIlfield- $76.9 million
2007 Power Generation- $122.2 million
2008 Oilfield-$188.1 million
2008 Power Generation-$129.3 million
2009 OIlfield- $43.3 million
2009 Power Generation- $97 million
2010 (first nine months) Oilfield- $105.6 million
2010 (first nine months) Power Generation-$101.5 million
Breaking down Lufkin's product line with respect to its oilfield 2009 revenue ($349.2 million) we see:
54% pumping unit sales
24% pumping unit service
15% Automation
4% ILS
3% foundry
Lufkin's revenue for the first nine months of 2010 ($333.7 million) in the oilfield division breaks down like this:
53% pumping unit sales
23% pumping unit service
17% automation
5% ILS
2% foundry
Artificial lift at Lufkin has several offerings.
Conventional Beam Pumping
Water Injection
Gas LIft and Plunger Lift
PCP Controls
Completion Products
In 2010, the first half of the year had signs of increasing sales of equipment and services to Latin America and other international markets. The second half of last year with North America driving revenue. A large increase in gross margins were seen for the first nine months of 2010 when compared to 2009. Expect this to continue through at least 2011. The global artificial lift market in 2010 was $6.4 billion. Lufkin's share of rod lift based on revenue was 25.3%, while rod lift share per well was 46.8%. Rod lift was a $1.245 billion market. This oilfield market for Lufkin is seeing more international activity. Growth in automation is one of the drivers to increased revenue for Lufkin. It is important to note that automation increases how much oil and how fast oil can be pulled from the reservoir. Lufkin is also bundling machinery, so if something is purchased from Lufkin, they will discount the price on other items associated with the initial purchase.
Lufkin's power transmission segment is broken down by revenue generation for 2009:
31% Oil and gas
19% Others
16% Power generation
8% Refinery
8% Marine
6% Petrochemical
4% Service work
4% Steel and metals processing
4% Rubbers and plastics
61% of the $172.2 million of revenue is related to energy. For the first nine months of 2010 revenues power transmission were:
29% Other
28% Oil and gas
14% Power generation
10% Service work
6% Refinery
5% Petrochemical
3% Marine
3% Rubbers and plastics
2% Steel and metals
Power transmission revenues are being driven the more so from oil and gas, refining, petrochemical, and power generation. The decrease in margins has been derived from decreased orders in 2009, which gas Lufkin little pricing power.
In summary, Lufkin is seeing large demand for its products linked to energy. This company is linked to just about every facet of this sector including coal, nuclear and green products. The current growth being generated by energy helps to solidify Lufkin as a great stock going forward.
Disclosure: I have no positions in any stocks mentioned, and no plans to initiate any positions within the next 72 hours.