If you're not a country music fan, you might not have heard Dave Dudley's "Don't Mess With U.S. Truckers". Country fan or not, the song's lyrics have a lot of meaning today: "....
don't come messing round with U.S. truckers".
Last week, the sharp eyes of an employee at Con-Way's trucking service center in Lubbock, Texas caught a suspicious looking package on the shipping line. The package turned out to be full of explosive chemicals, and was on its way to Khalid Ali-M Aldawsari, a Saudi student living in Texas and planning several attacks on nuclear power plants, dams and reservoirs.
The final score: "Truckers: 1, Terrorists: 0", as reported by Barron's.
But it's been tough year for trucking and for transports in general. The Dow Transportation Index has lagged behind the market year-to-date.
Are we going to see things pick up? Well, for starters, Alwadsari is in custody, and truckers are out trucking. The American Trucking Association Truck Tonnage Index rose 3.8% in January (seasonally adjusted), and up 8% year-on-year. That puts the index at the highest level since January of 2008.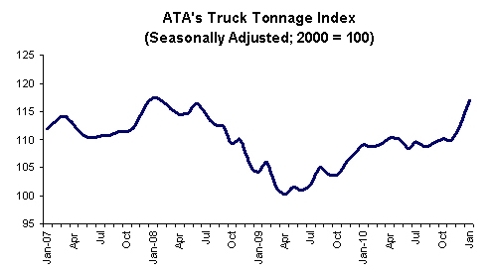 This matters. Truck freight accounts for 68% domestic tonnage. In 2009, the trucking industry accounted for 81.9% of total transport revenues.
And trucking matters by other measures. According to the most recent Transportation Department data, trucking accounts for 71% of goods shipped in the U.S.
Also picking up: asset-light trucking stocks (companies that serve as brokers for trucking services). A new Bloomberg index shows that this type of trucking stock is outperforming based on relative strength, in part because they have price flexibility since they don't own and operate their own trucks.
And we've seen some good signs in the manufacturing space: the Richmond Fed's manufacturing activity survey showed an improvement in shipping (up six points), and shipping expectations for six months out showed that businesses are optimistic. The index of backlog orders and new orders also improved.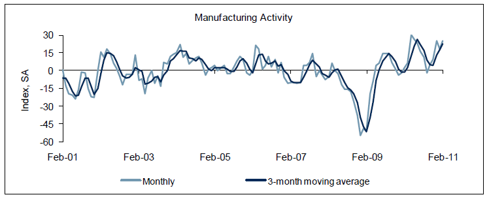 Still, there are concerns. The risk of higher oil prices threatens transports. But on the upside, the disruptions in the Middle East "are not large enough to substantially shift the global oil market balance", according to Goldman Sachs analysts. While Libya has the largest crude oil reserves in Africa, and its output is down by as much as two-thirds, Saudi Arabia has more than enough spare capacity to bridge the gap…but its oil is of a lower quality than Libya's.
The bottom line: don't mess with truckers. You might be better off investing in them.
For exposure to transports, take a look at Industrial Select Sector SPDR (NYSEARCA:XLI): this ETF holds a number of transportation stocks (including trucking and asset-light transport stocks), but is a more indirect exposure to the space. Despite recent volatility, the fund is in a long-term uptrend (currently trading 10% above the 200-day exponential moving average).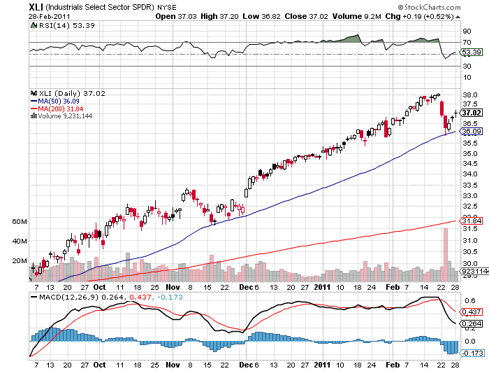 Disclosure: I have no positions in any stocks mentioned, and no plans to initiate any positions within the next 72 hours.