In 2009, Purdue Pharma's Oxycontin, an opioid pain reliever, reached annual sales that topped $3 billion. That represents a 300% increase over annual sales in 2001. Clearly, prescriptions for opioid drugs have increased without relent. But along with robust sales there has also been widespread and accelerating abuse. Tempering those abuses has been a focus for recent pharmaceutical development, as several companies seek to advance their "tamper-proof" products into the marketplace.
Widespread Opioid Abuse
The FDA is keenly aware of the abuses and misuses of Oxycontin and has been monitoring the issues for years. According to the Drug Abuse Warning Network ("DAWN"), oxycodone abuse resulted in over 40,000 visits to US emergency rooms in 2004. In 2008, the number of visits jumped to over 100,000, growing more than any other class of narcotic pain reliever.
click to enlarge images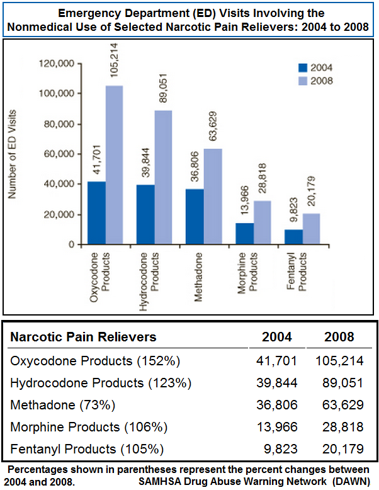 The problem has been growing. DAWN has estimated that in 2009, almost 6 million Americans used prescriptions pain relievers for non-medical use, which reflected a total cost of over $10 billion dollars. This phenomenon of increasing Emergency Department visits due to opioid abuse has been consistently growing since the early 90's despite several perceived innovations in the field.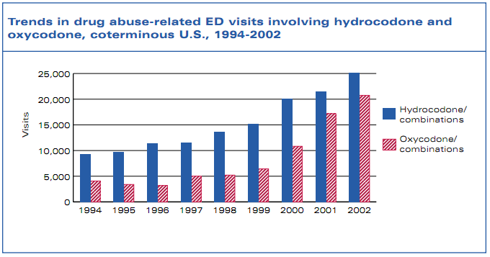 Back in 1996, in a response to continued abuse of oxycodone, Purdue Pharma released Oxycontin CR, a controlled release version of traditional oxycodone. The premise for the CR version was that potential abusers would be deterred from abusing the drug because the CR version would prevent the "bolus effect," limiting the instant "high". The "bolus effect" is a sharp peak in blood levels of an active ingredient, like Oxycodone, immediately post dose. The quick spike in blood levels gives the abuser the feeling of a heroin-like "high" or "fix."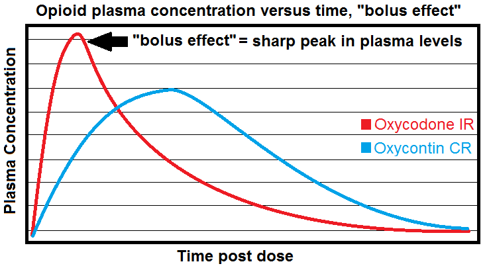 The CR version of oxycodone was developed to control delivery and prevent that "fix." But abuser's found ways to get a quick dose. By freezing, crushing and grinding Oxycontin CR, they could then inject or dissolve the pill in alcohol to give them a quick "fix." What was once thought to be an abuse deterrent, quickly became obsolete.
In 2007, the FDA began discussing with industry, how to prevent opioid abuse, in an effort to save lives and healthcare costs. In 2009, the FDA sent letters to various manufacturer's indicating that certain opioid products would be required to have a Risk Evaluation and Mitigation Strategy ("REMS") to ensure that benefits outweigh risks.
By requiring REMS, the FDA essentially spurred innovation in the industry and simultaneously created a market opportunity for potential innovators. Last year US sales of all prescription opioids surged to $8 billion. Clearly there is a large potential market for new formulations. Several drug manufacturers, biotechs, and pharmaceutical companies have worked diligently to introduce their respective formulations into this new market of tamper-proof medicine.
Tamper-Proof Opioid Formulations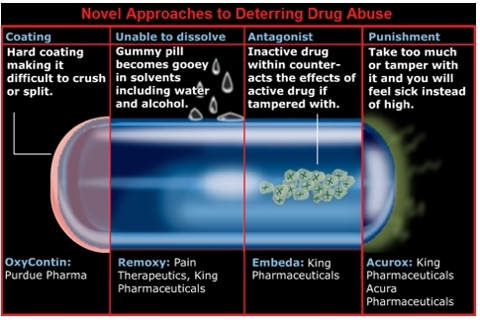 In this article, I will review recently approved products and late stage drug candidates that have employed abuse deterrant properties, from companies such as Durrect (NASDAQ:DRRX), Pain Therapeutics (NASDAQ:PTIE), Acura Pharmaceuticals (NASDAQ:ACUR), Purdue Pharma, and King Pharmaceuticals (KG), which is now part of Pfizer (NYSE:PFE).
Oxycontin OP
In August 2010, Purdue Pharma, released a new version of it's wildly successful Oxycontin. The reformulated tablet was designed to prevent abuse by giving it a rubbery characteristics. The stamp on the front of the new formulation is labeled "OP" instead of "OC." While the colors and the overall appearance are almost identical, the abuse deterrent properties are quite different.

The new tamper-proof Oxycontin pill is still a controlled-release formulation but the newly designed polymer system makes it more difficult for opiate addicts to crush, melt, or inject the pill. When heated, the polymer pill becomes a viscous gel, but doesn't release the active ingredient, making it almost impossible to inject. The polymer still surrounds the active ingredient even when forcefully crushed.
In 2009, Oxycontin's annual sales were more than $3 billion worldwide. Purdue hopes that it can transition patients to the new version. But according to some news reports, some patients feel that the new formulation is not working as intending. Although Purdue's product was the first to market, the moot reception may present an opportunity for competitors.
Remoxy
According to Durect's senior management, Oxycontin's pitfalls may lead to Remoxy's success. Remoxy, like the new Oxycontin formulation, is a tamper-proof version of oxycodone. The gummy texture of the capsule is difficult for abusers to convert into a form that can be injected or snorted: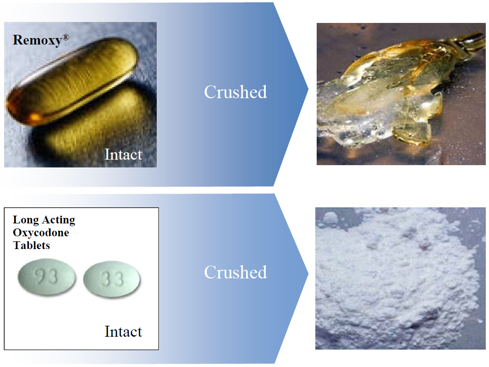 The capsule also resists dissolving in water or alcohol, below is a table that outlines the plasma levels of oxycodone post-dose after soaking the pill in alcohol or water. Even after 2 hours in vodka, Remoxy is able to retain most of the the active ingredient.

In December 2002, Durect partnered Remoxy to Pain Therapeutics. In November 2005, Pain partnered with King Pharmaceuticals. In October of 2010, King entered into a definitive merger agreement with Pfizer, which was completed today.

Durect retained a 6 to 12% tiered royalty rate, Pain retained a 15 to 20% royalty on Remoxy,which leaves Pfizer with about 67 to 78% of net total sales.
Clearly, several companies now have a vested interest in Remoxy's success. Durect's management believes that the total market for new opioid formulation stands at about $3 billion annually, in-line with Oxycontin's 2009 annual sales. If Remoxy is able to capture 10% of that market, this would bring in roughly $20 million annually to Durect, and $45 million annually to Pain.
King has loftier expectations. King's management indicated that they believed Remoxy could attain annual peak sales of $500 million, which would translate into $75 million annually for Pain, and about $35 million annually for Durect. But now, with Pfizer's recent acquisition of King, Durect and Pain feel that Remoxy's potential is now more attainable.
Remoxy's NDA was accepted by the FDA in early February and it's PDUFA goal date is June 23rd, 2011.
Embeda
Pfizer's purchase of King will also add Embeda to it's growing pain portfolio. Embeda is an extended-release morphine pill that has a kernel of sequestered naltrexone in the center. Naltrexone is an opioid receptor antagonist that competes for and prevents the binding of Morphine.
When taken as directed, Embeda's long acting pellets release morphine, while the Naltrexone core passes out of the body without effect.

If Embeda is crushed, chewed or extracted, the naltrexone releases and mixes with morphine and neutralizes it's effects. This prevents the sense of euphoria or "high" that abuser's seek.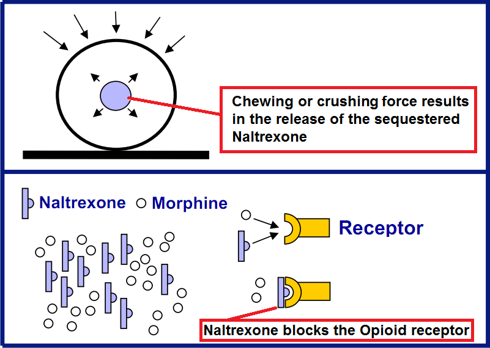 Embeda was approved by the FDA in August of 2009. Embeda's current annual run-rate is about $100 million. But King's management previously expressed that peak sales are closer to $400 million annually. And if that's the case, Pfizer stands to gain.
Acurox
Acurox is a short-acting oxycodone formulation that was developed by Acura Pharmaceuticals and partnered with King. Acurox is composed of gel forming agents which prevents IV drug abuse. Acurox also contains nasal tissue irritants that discourage snorting. A previous version of Acurox contained niacin, a vitamin that causes flushing if taken in excess. The premise was that if a potential abusers sought to get a "high" from swallowing excessive tablets, the dose of niacin will cause flushing. But in early 2010, in response to a FDA panel-vote against the niacin-containing Acurox, King and Acura created a version of Acurox without niacin. In December 2010, King resubmitted an NDA for Acurox without niacin. The PDUFA goal date for Acurox has been set to June 17th, 2011. Acura stands to earn a royalty ranging from 5% to 25% on net sales.
Investment Thesis
There are several ways to expose your portfolio to these upcoming catalysts.
Risk-averse investors, can focus their investment on Pfizer. Pfizer's purchase of King Pharmaceuticals, puts it in an unprecedented position to expands it's pain portfolio. Pfizer's blockbuster pain-drug, Lyrica, already brings in more than $2 billion annually. The addition of Remoxy, Embeda, and Acurox will give Pfizer the ammunition needed to topple Oxycontin's long-standing dominance in the market. These opportunities alone could add a potential $1 billion to Pfizer's bottom line.
Risk-tolerant investors, can focus their investment on Durect, Pain or Acura, which are all small-cap stocks. Durect has an interesting platform and several candidates in the pipeline. Pain Therapeutics stands to gain the most from Remoxy's approval and is protected by cash. Furthermore, given Pfizer's stated goals of expanding and focusing on it's pain portfolio, estimated peak sales for Remoxy may have now become more easily attainable. This makes investing in either Durect, Acura or Pain, potentially lucrative.
Resources:
Company Presentations and Information
The Durect corporate presentation is here
The King Pharmaceuticals corporate presentation is here
Purdue Pharma products are here
Product Information
Government-Sponsored Research
Disclosure: I am long ABT, OTC:BNVI, DEPO, DRRX, MRK, OTCPK:NGSX, PTIE, SNTS.