After hours on Monday, Northern Oil and Gas (Amex: NOG) announced that it expects to release fourth quarter and full year 2010 financial and operating results this Wednesday, March 2, 2011 prior to market trading.
If analysts are correct, the results should be 450% higher than the previous year (2009) and may go much higher next year (2012). Given the bullish stock price action the last few days, they may be right.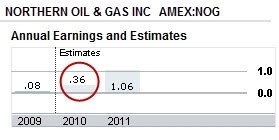 Comtex SmartTrend has listed NOG among one of the top five companies in the Oil & Gas Exploration & Production industry as measured by relative performance.
Given its increase in volume, it appears people have begun to take notice of the Wayzata, Minnesota based company which engages in the acquisition, exploration, exploitation, and development of oil and natural gas properties in the Rocky Mountain region of the United States.
Investors Business Daily has also just given the firm the highest possible composite ranking score of 99. The publication's unique ratings were designed to help both new and seasoned investors find the best stocks faster by measuring a company's key characteristics, like earnings growth, profit margins, share price performance and other traits.
Northern Oil And Gas has outperformed 90% of the other stocks in the market in terms of earnings growth and with oil prices seemingly headed higher, the stock is priced in an uptrend, trading at just under $32 per share.
According to the publication, NOG buys up the small farms the big oil operators can't be bothered with - staking their claims early and at the best price. While others pay as much as $10,000 an acre for large tracts of land in the area, Northern has been able to scoop up smaller tracts for an average cost of just under $1,100 an acre.
NOG then matches up its small parcels with the acreage of the drillers, gaining rights as minority mineral holders to a portion of oil production. As Bakken oil output grows, so grows the revenue stream of Northern Oil & Gas.
"The large companies are looking for scale. The smaller landowners are overlooked," SunTrust Robinson Humphrey analyst Jason Wangler told Investors Business Daily. Northern can pay less because "the 15-acre farmer is not going to have a lot of people knocking on the door."
Or, as Northern CEO Michael Reger puts it, "The reason we acquire acreage cheaper is because there is very little competition for non-operated acreage."
The company keeps their costs down (they only have nine employees) and they share in the direct costs of drilling. In addition, they do not pay for internal engineering, geology, legal and title functions, so profits are higher than other larger competitors.
The company is looking to triple its earnings this year to $195 million, according to Northern CEO Michael Rege. Next year, in 2012, it should nearly double to $352 million. That has investors excited about the still relatively undervalued stock. Prices gapped up and hit a 52Wk high of $32.88 on Monday morning, but pulled back on some profit taking, still managing to close up . Shares should continue trending higher moving forward as they appear to be trading off newly established support levels and higher on increased volume and awareness.
Barchart, which offers web-integrated charting and technical analysis applications, gives the company a "Strong Buy" rating with a first point of resistance point at $32.59 and a 2nd resistance point at $ 33.42.
click to enlarge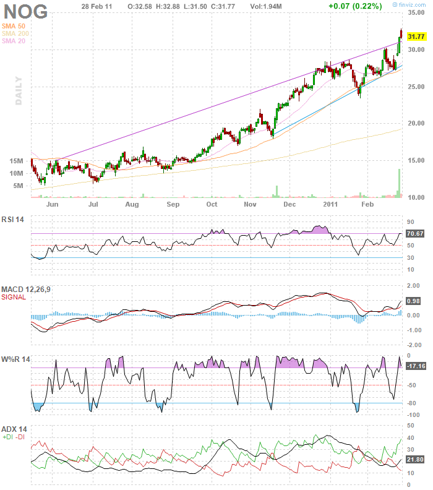 In addition, our bullish sentiment on the stock is increased due to the fact that institutional and mutual fund investors have been net purchasers of the company's shares over the last two quarters, suggesting that the smart money thinks there's more upside to the stock. Institutional investors have been net buyers of 11.0M shares during the most recent quarter, vs. 1.8M net shares purchased in the previous quarter.
An up to the minute technical chart for the stock can be found here.
Disclosure: I have no positions in any stocks mentioned, but may initiate a long position in NOG over the next 72 hours.