George Soros is a billionaire investor who uses a hedge fund strategy that searches for mispriced assets based on macroeconomics. Those assets can come from anywhere in the world and be of any type, including bonds, currencies, stocks, interest rates or commodities. Soros also concentrates his portfolio among a few assets (see here). I think this strategy of "concentrating" is important because:
It allows the investor to spend less on transaction fees.
It increases the odds of getting higher yields. If the investor has a basket of stocks, all assets need to gain 100% to double all of the invested money.
This strategy, however, also has risks, because if the assets fall, the investor could get burnt. Thus, it is important to pick an asset that has minimal downside. However, picking an asset that has minimal upside is not a very good move either, in my opinion. I also like looking for an asset (or stock) that I can hold for at least a year to minimize taxes while still enjoying a strong yield.
So let's look at the top stocks that George Soros is buying as of February 23rd. The top black line in each graph is overbought, and the bottom line is oversold. Green circles are bullish signals. Red circles are bearish signals.
Ford (NYSE:F)
This iconic American automaker was the only one of its that did not take federal bailout money, which says a lot about its financial strength. The low PEG ratio says that Ford is a good buy. Shares can grow about 100% or slightly more, though this may take a few years. I highly doubt that Ford will have a market cap greater than $110 billion.
click to enlarge images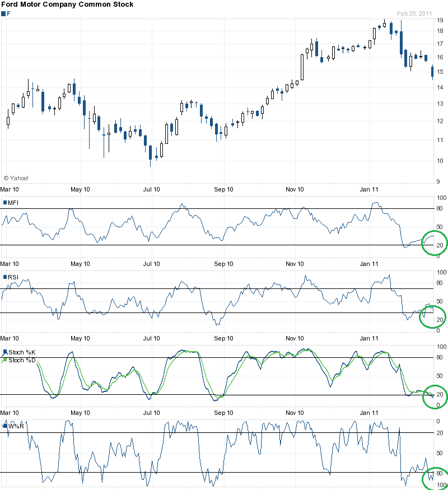 Comcast (NASDAQ:CMCSA)
The media giant is in everything from cable TV to phone service to internet. Besides some sports channels, it even owns two professional sports teams and a multi-purpose arena. However, the rather high PEG ratio makes me skeptical. And at slightly over $70 billion, how much can it grow?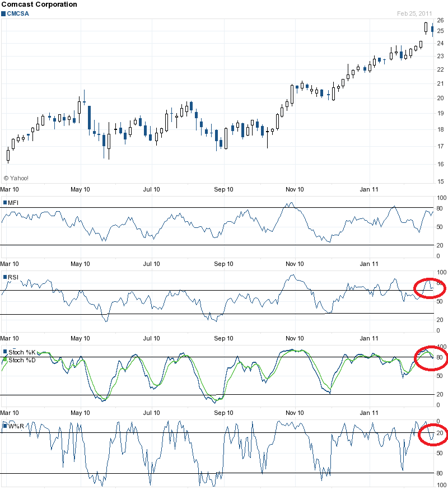 Citigroup (NYSE:C)
The second largest bank in the U.S. is recovering from the credit crisis in which it got billions of dollars in bailout money, effectively diluting shares. Although the shares can still triple from here, the high PEG ratio makes me cautious of buying. And that triple may take several years.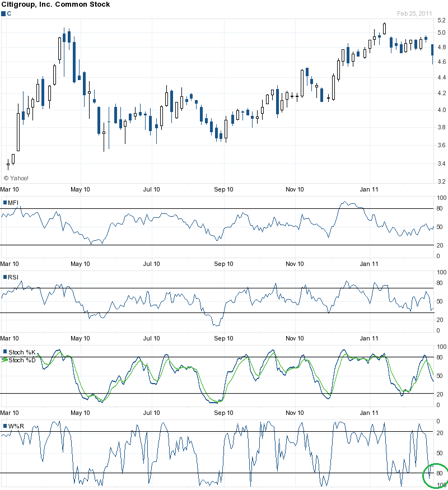 Wal-Mart (NYSE:WMT)
The world's largest retailer just reported earnings on February 22nd which beat analysts' estimates by 3 cents. Weakness in sales caused the stock to plunge. But has it plunged too far, too fast? After all, the company did beat analysts' estimates. The PEG is not too pricy but not cheap either. The stock could double to a market cap of $367 billion, but that will likely take years.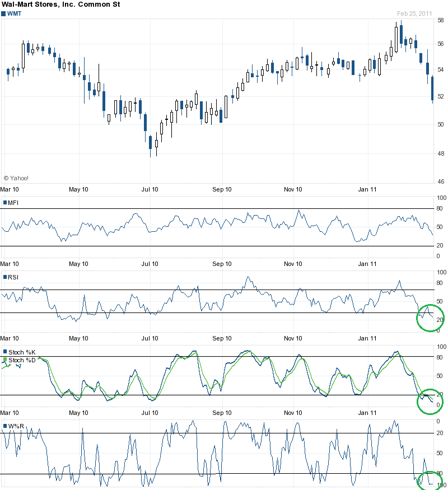 Coca-Cola Enterprises (NYSE:CCE)
The PEG ratio and market cap looks good for the bottler of brands which include Coca-Cola, Diet Coke/Coca-Cola light, Sprite, Dr Pepper, Fanta, Schweppes, Capri-Sun, POWERade, Nestea, Chaudfontaine, and Schweppes Abbey Well. The market cap is small enough and has plenty of room to grow. And it's possible, though I wouldn't bet on it, that Coca-Cola (NYSE:KO) may place a bid for the bottler. After all, Coke (KO) did buy out its Latin American bottler last year.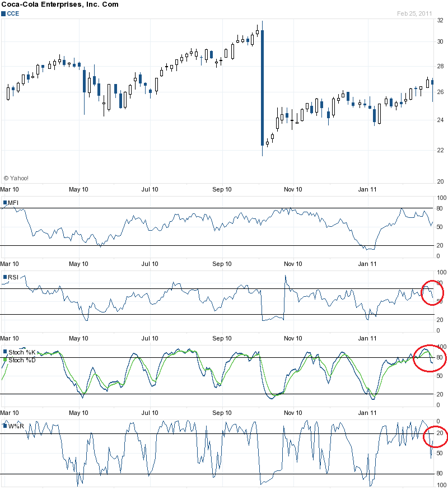 Best Buy (NYSE:BBY)
The largest electronic retailer in the country has an attractive PEG ratio. The market cap is small enough to leave enough room to grow. Times may get better for the retailer as the economy recovers.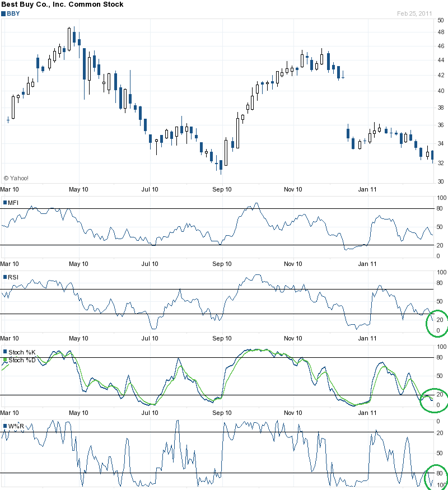 Dendreon (NASDAQ:DNDN)
This is a big surprise bet by a value investor. The drug maker is losing money but has some very promising drugs in its pipeline. The company reports on Tuesday March 1st after the close. Earnings are expected at -$0.49, worse than the -$0.29 a year ago. Does Soros think that they will impress?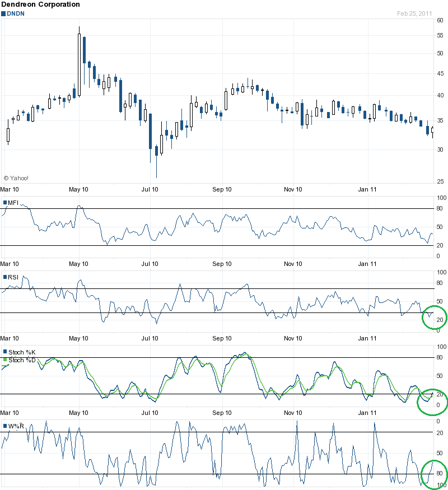 Delta Air Lines (NYSE:DAL)
The world's largest airline looks to improve earnings as the economy recovers and as people start flying more. The PEG looks reasonable, though it is not cheap. The biggest risk is oil prices, but if oil falls, which it probably will once the Middle East tensions ease, airlines will fly.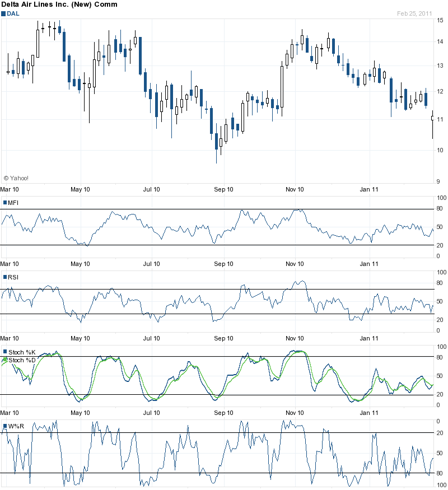 Disclosure: I have no positions in any stocks mentioned, and no plans to initiate any positions within the next 72 hours.