Last week The New York Times announced that the NHL has signed a 7 year deal with Molson Coors Brewing Company (NYSE:TAP) worth $400 million. This will put increased pressure on Anheuser-Busch InBev (NYSE:BUD) who previously held the deal for less than half the price, but retains the rights to the NFL and MLB. However, an executive from Molson Coors insists they have data that shows that hockey fans drink more beer than any other professional sports league.
Now I'm not sure if I believe their statistics regarding hockey fan beer consumption, but as a die-hard fan speaking from observation I would think that its generally correct. Beer tends to be very inelastic in terms of price, in that demand remains relatively constant as prices rise. Evidence of this can be found by standing in the long beer lines at the Prudential Center where the New Jersey Devils, and where people are quick to shell out $10 for a pint. (The Flyers have tried to combat this issue with this new dispenser).
Here's some basic math as to the profitability of this: A keg of cheap beer costs roughly $50 and if you're buying in bulk its obviously going to be much cheaper. It sells 120 cups at $10 each; not including permits, labor, licenses, and the deal discussed above they are still coming out very far ahead in terms of profit.
More importantly, will this have any effect on TAP? Surely some, Molson Coors is a Canadian company, and there are 6 NHL teams in Canada that sell close to a million tickets a year (including playoffs). Molson Coors then owns 42% of Miller Coors, the American subsidiary, where there are 24 teams. Again, I am not privy to the statistics regarding total consumption so it would be impossible to predict how much of an effect this will have. Before proceeding, imagine what happens if the NFL or NBA go on strike next year, hockey ticket sales could thrive and BUD will be stuck with their NFL contract.
Outside of hockey, Molson Coors is in a position to thrive right now. They formed their joint venture with Miller in 2008 establishing their dominance in the American markets. This is also what skews the TAP revenue curve as seen below. But you'll notice that earnings have been doing well. They've also been stockpiling cash, with $1.2 billion as of 14 months ago. This is six times as much as they had at the end of 2008. This means there could be investments coming in the future. For instance, Miller Coors launched a craft brewer last year called, Tenth and Blake Beer Company, in an effort to capitalize on this growing trend.
click to enlarge images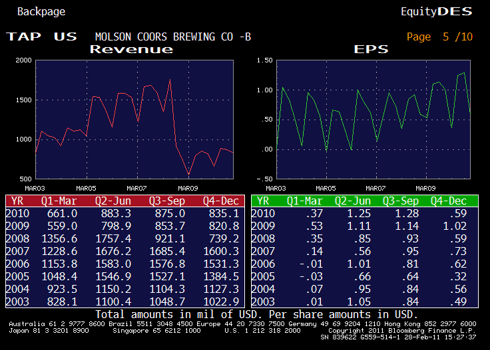 Furthermore, they own A LOT of popular beers. The list includes all of the Coors, Miller, and Molson lines but also Leinenkugel's , Blue Moon, Killian's Irish Red, Olde English, and Steel Reserve; and there are also partnerships with Corona, Heineken, and Foster's.
Making the stock even more attractive is their upcoming dividend hike. Currently TAP's dividend of $1.12 a share has a yield of 2.5% but there will be an increase next quarter to either $1.20 to $1.28 bringing the yield to around 2.7%. Then there's the very low P/E of 12 as compared to BUD at 20 and a beta under 1 meaning there is not that much risk surrounding this stock.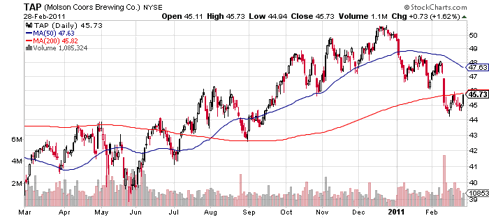 This is a one year chart and as you can see the stock has taken a beating the last two months. Right now TAP is in the $45 range and the Bloomberg one-year consensus target is $54.25 from analysts reporting in the last month. This would be a greater than 20% gain not including the dividend.
The biggest threat to the stock, like most of the in the industry, is the rising costs of commodities. I cannot predict when inflation is going to calm down, but one would think that it has to at some point. Also, again the price inelasticity really helps in this regard. People will continue to drink beer and pay unthinkable amounts for it, especially at hockey games and this will help Molson Coors prosper in the future. They have amazing brand strength, in addition to exceptional advertising, but are trading for much less than they should be right now.
Disclosure: I have no positions in any stocks mentioned, but may initiate a long position in TAP over the next 72 hours.